Provenance and binding
The 'Chepman & Myllar Prints' – provenance and binding
At present the original leaves printed by Chepman and Myllar are each separately mounted into a paper frame and then bound into a volume in white vellum. This work dates from 1951, and had become necessary for preservation reasons.
Prior to the white vellum binding, the leaves, already separated, had been similarly mounted into paper and bound into a brown-leather binding with a gilt spine-title reading 'PORTEOUS / OF / NOBLENES / AND / TEN OTHER / RARE TRACTS / EDINBURGH, / M.CCCCC.VIII. / BE / W. CHEPMAN / AND / A. MILLAR'. This was the binding in which the volume was transferred by the Faculty of Advocates into the ownership of the nation in 1925 on the foundation of the National Library of Scotland. The discarded binding, including the mounts, has been preserved intact. It was executed by the London binder Charles Hering in the period 1798-1808, most probably in or shortly before 1808, the year of the ex-libris stamp. (Read more about Hering's binding.)
Advocates Library
As the number of leaves missing would suggest, the binding which Hering replaced was not a sturdy binding which had protected the books since the time of their printing. It seems that the volume was in an 18th-century parchment binding when it was presented to the Advocates Library sometime before August 1788 by one John Alston of Glasgow.(Read more about the Advocates Library's acquisition.)
Research into ownership
This was how the volume returned to Edinburgh, the city where it was printed, but how did it leave? The only evidence known at present for its whereabouts between being seen in Glasgow in 1785 and being assembled in the early 16th century is internal evidence, which was not properly assembled and interpreted until John Durkan and Anthony Ross's article in 'Innes Review', 9 (1958), 5-167, reprinted as 'Early Scottish Libraries' (1961). They drew attention to three names in two inscriptions, 'W. [or M.T.] Prat forret' (p.51) and 'Liber florentini mertine' and 'Amen borthuyk' (p.89), and they pointed out mentions of 'Florentine Martin of Gibbieston', Thomas Pratt, and Alexander Borthwick of Gordonshill in early 16th-century Fife legal records ('The Sheriff Court Book of Fife', ed. W C Dickinson [1928]). In their opinion the annotations below 'Prat' on p.51 are in Florentine Martin's hand and suggest that he was the original owner. That is where the matter now rests; the scans may enable this research to be progressed.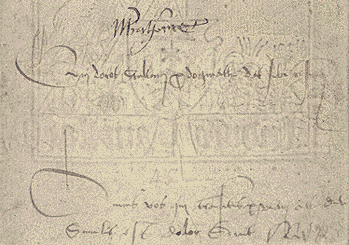 Page 51: early ownership inscription.

Page 89: Early ownership inscription.