Introduction
Androw Myllar device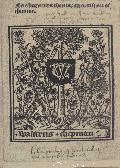 Walter Chepman device
The only known copies of nine of the earliest books printed in Scotland are the most precious items held by the National Library of Scotland in its role as custodian of the nation's printed heritage.
Known as 'The Chepman & Myllar Prints', they were produced in or about 1508 on Scotland's first printing press, established in Edinburgh (in what is now the Cowgate) by Walter Chepman and Androw Myllar. Chepman, an Edinburgh merchant, provided the money. Myllar, an Edinburgh bookseller who had previously been involved with printing in France, brought with him experience in the book trade.
Small books
The 'The Chepman & Myllar Prints' were originally produced, as far as can be told, as separate items. The books in this collection are all small enough (around 15 cm high) to be held in the hand, although we know that Chepman and Myllar also printed at least one book in folio format, i.e. Blind Hary's 'Wallace'[1508?], which only survives in fragments.
Henryson and Dunbar
The nine books originally totalled 216 pages, of which 44 are now missing. The shortest, Dunbar's poem on the arrival of Lord Bernard Stewart in Scotland, is only eight pages long, while the longest, 'Golagros and Gawane', comprises 48 pages. The booklets contain works by two of Scotland's most important medieval poets, Robert Henryson and William Dunbar, although Henryson is not identified as an author.
Romance and lyrical poetry
The other pieces are a range of romance, instructive and lyrical poetry and one item in prose, of Scots and English origin, and many of them printed anonymously. Dunbar is particularly well represented, with some of his major poems included, notably 'The Goldyn Targe, The tretis of the twa mariit wemen and the wedo', and his 'Flyting' with the poet Walter Kennedy. Several of the Chepman and Myllar pieces were circulating in Scotland in the late 15th century, as is shown by their inclusion in the Bodleian MS Arch. Selden. B. 24 (circa 1489-1500).
Important sources
Others are found in the three most important 16th-century Scottish manuscript anthologies: the Asloan MS (MS.16500; circa 1515-1525) and the Bannatyne MS (Adv.MS.1.1.6; dated 1568), both in the National Library of Scotland, and the Maitland Folio MS (circa 1570) in the Pepys Library, Magdalene College, Cambridge. The Chepman and Myllar publications are now the only surviving witnesess for three works: 'Golagros and Gawane', Dunbar's 'The Ballade of Lord Bernard Stewart', and the incomplete 'Ballade', 'In all oure gardyn'.
'The Chepman and Myllar Prints' DVD