The Chepman and Myllar Prints DVD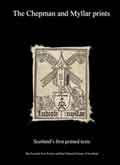 'The Chepman and Myllar Prints'
Digitised facsimiles with introduction, headnotes and transcriptions
Edited by Sally Mapstone
A DVD of the Chepman and Myllar prints is available from the National Library of Scotland (personal visitors only) or from Boydell & Brewer.
This digital edition contains facsimiles of all the items in the volume known as 'The Chepman and Myllar Prints'. Accompanying each facsimile is:
- An explanation of the work's literary significance
- Information about technical features
- A transcription of the text.
General Editor Sally Mapstone's introduction puts the Chepman and Myllar press within the contexts of early 16th-century Scotland and Scottish book history. The DVD was produced by the Scottish Text Society in association with the National Library of Scotland in 2008 to mark the 500th anniversary of printing in Scotland.
Contributors: Priscilla Bawcutt; A S G Edwards; Janet Hadley Williams; Ralph Hanna; Luuk Houwen; Emily Lyle; Sally Mapstone; Joanna Martin; Nicole Meier; Rhiannon Purdie.
ISBN: 9781897976302
BIC class: WTL
Where to buy
By ordering from Boydell & Brewer
Price: £25.00.
In person from the National Library of Scotland, George IV Bridge, Edinburgh
Price: £14.99 (for single use only).