Traditional soups
The menu card for Edinburgh Skating Club's annual dinner of 1879 includes 'Cockieleekie Soup' and 'Sheep Head' — two traditional Scottish soups.
Cock-a-leekie soup — a chicken soup with vegetables and prunes — is still a popular traditional soup. It is often served at Burns Suppers held annually to celebrate the life and achievements of Robert Burns, Scotland's national poet.
'Sheep heid' broth has not survived the test of time. This was a barley broth cooked with a singed sheep's head. Traditionally, it was served with the sheep's head in the tureen.
Jassintour Rozea, chef to the Earl of Hopetoun, gives a recipe for 'Barley broth a L'ecossaise or Sheep heid broth the Scots way' in his book 'The gift of comus, or practical cookery' of 1753. He comments: '… it makes a monstrous smoke and stink in the kitchen … King James was the first that ate a sheep head dressed this way in England.'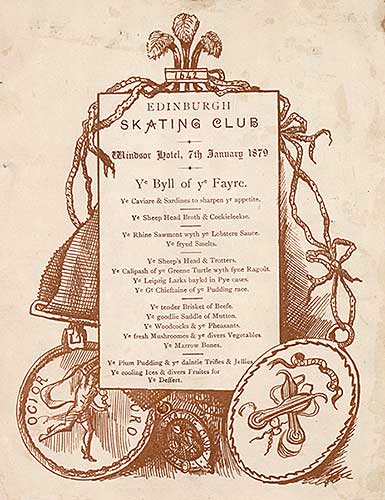 Menu card for the Edinburgh Skating Club's annual dinner in 1879.
[Library reference: MS.24642, f.39]
View zoomable image