‹‹‹ prev (63) [Page 57]
(65) next ››› [Page 59]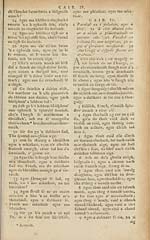 Download files
Complete book:
Individual page:
Thumbnail gallery: Grid view | List view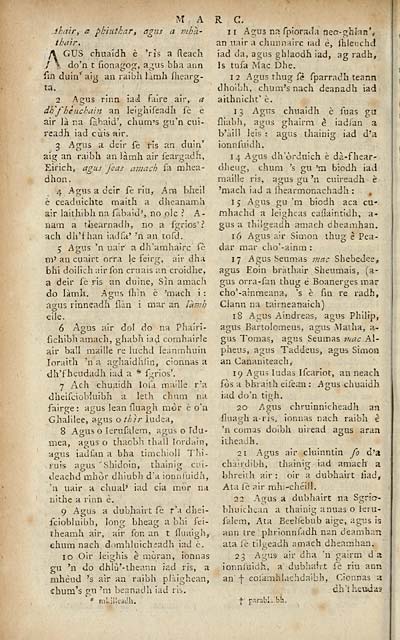 M A
ihaìr, a phiuthar, agus a 7?ihà-
thair.
GUS chuaidh è 'rìs a fleach
A GUS c.
j\ do'n t
fionagog, agus bha ann
fin duin v aig an raibh tàmh fhearg-
ta.
2 Agus.rinn. iad faire air, a
dhfhèuchaìn an leighifeadh fè è
air Jà na fabaìd , chunvs gu'n cui-
readh iad cìris air.
3 Agus a deir fè i'is an duin'
aig an raibh an làmh air feargadh,
Eirich, agus fcas amach fa mhea-
dhon.
4 Agusadeir fè riti, Ara bheil
è ceadaichte maith a dheanamh
air laithibhna fìibaid', no plc ? A-
nam a thearnadh, no a fgrios'?
ach dh'f han iadfa' 'n an tofd.
5 Agus 'n uair' a dh'amhairc fè
m' an cuairt orra le feirg, air dha
bhi doilich air fon cruais an croidhe,
a deir fè ris an duine, Sìn amach
do làmh. Agus fhìn c 'mach i :
ao-us rinneadh flàn i mar an làmh
o
eiJe.
6 Agus air dol do na Phairi-
fìchibhamach, ghabh iad comhairte
air ball maille re luchd leanmhuin
loraith 'h a aghaidhlin, cionnas a
dh'fheudadh iad a * fgrios'.
7 Ach chuaidh Iofa maille r'a
dheifciobluibh a leth chum na
fairge: agus lean fluagh mòr è o'n
Ghalilee, agus o thìr ludea,
8 Agus o lerufalem, agu's o Idu-
mea, agus o thacbh thalì Iordain,
aàus iadfon a bha timchioll Tlii-
i'uis agus "Sliidom, thauiig ciu-
deachd mhòr dhiubh d'a ionnfuidh,
'n uair a chual' iad cia mor na
nithe a rinu è.
9 Agus a dubhairt fc f'a dhei-
fciobluibh, fone; bheacr a bhi fei-
theamh air, air fon an t fluaigh,
ehum nach domhluicheadh iad è.
io Oir Jeighis è mòran, ionnas
gu 'n do dhlù'-theanri h:d ris, a
mhèud 's air an raibh plàighean,
shum's èu 'm beanadh iad ris.
* ml.iiitaJh.
R C.
1 1 AgU3 na fpiorada neo-ghlan',
an uair a chunnairc lad è, ihleuchd
iad da, agus ghlaodh iad, ag radh,
Is tufa Mac Dhe.
i 2 Agus thug fè fparradh teann
dhoibh, chum'snach deanadh iad
aithnicht' c.
13 Agus chuaidh c fuas gu
fliabh, agus ghairm è iadìan a
b'àill leis : agus thainig iad d'a
ionnfuidh.
14 Agus dh'òrduich è dà-fhear-
dheug, chum 's gu 'm biodh iad
maille ris, agus gu 'n cuireadh è
'maeh iad a Ihearmonachadh :
15 Agus gu 'm biodh aca cu-
mhachd a leigheas eailaintidh, a-
gus a ìhilgeadh amach dheamhan.
16 Agus air Simon thug è Pea-
dar mar cho'-ainm :
17 Agus Seumas mac Shebedee,
agus Eoin bràthair Sheumais, (a-
gus orra-fan thug è Boanerges mar
cho'-ainmeana, 's è fm re radh,
Ciann na tairneanaich)
18 Agus AJndreas, agus Philip,
acus Bartolomeus, as;us Matha, a-
o - o 3
gus Tomas, agus Seumas mac Aì-
pheus, agus Taddeus, agus Simon
an Canauiteach,
19 Agus Iudas Ifcariot, an neach
fòs a bhraith eifean : Agus chuaidh
iad do'n tigh.
20 Agus chruinnicheadh an
fluagh a-rìs, ionnas nach raibh è
'n comas doibh uiread agus aran
kheadh.
2 1 Agus air cluinntin fo d'a
chairdibh, thatnig iad amach' a
bhreith air : oir a dubhairt tìad,
Ata fè air mhi-cheill.
22 Agus a dubhairt na Sgrio-
bhuichean a thainig anuas o leru-
falem, Ata Beeifebub aige, agus is
ann tre phrionnfadh nan deamhart
ata fè tilgeadh amach dheamhan.
23 Ainis air dha 'n gairm d'a
ionni'uidh, a dubhairt fè riu ann
an' -j- coi'amhlachdaibh, Cionnas a
dh'lheudas-
f psrabi..hh.

Set display mode to:
Universal Viewer |
Mirador | Large image | Transcription
Images and transcriptions on this page, including medium image downloads, may be used under the Creative Commons Attribution 4.0 International Licence unless otherwise stated.
(64) [Page 58]

| | |
| --- | --- |
| Permanent URL | https://digital.nls.uk/97181034 |
1767 - Tiomnadh Nuadh ar Tighearna agus ar Slanuigh-Fhir Iosa Criosd
Description
Eidir-theangaicht' o'n Ghreugais chum Gaidhlig Albannaich. Maille re seannaibh aith-ghearra chum a' ch'ain sin a leughadh. Air iarrtas na Cuideachd urramaich, a'ta chum eas Criosduidh a sgaoileadh feadh Gaidhealtachd agus eileana na h Alba. New testament in Scottish Gaelic. Translated from the Greek by James Stuart. Published at the expense of the Scottish S.P.C.K. Edinburgh: Balfour, Auld & Smellie, 1767. "Rules for reading the Galic language": p. [1]-9 at end.
Shelfmark
L.38.d
Additional NLS resources:
Attribution and copyright:

The physical item used to create this digital version is out of copyright

More information
Books and other items printed in Gaelic from 1631 to 1800
Rare items in Gaelic

| | |
| --- | --- |
| Description | Out-of-copyright books printed in Gaelic between 1631 and 1900. Also some pamphlets and chapbooks. Includes poetry and songs, religious books such as catechisms and hymns, and different editions of the Bible and the Psalms. Also includes the second book ever published in Gaelic in 1631. |