‹‹‹ prev (62) [Page 56]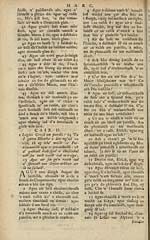 (64) next ››› [Page 58]
Download files
Complete book:
Individual page:
Thumbnail gallery: Grid view | List view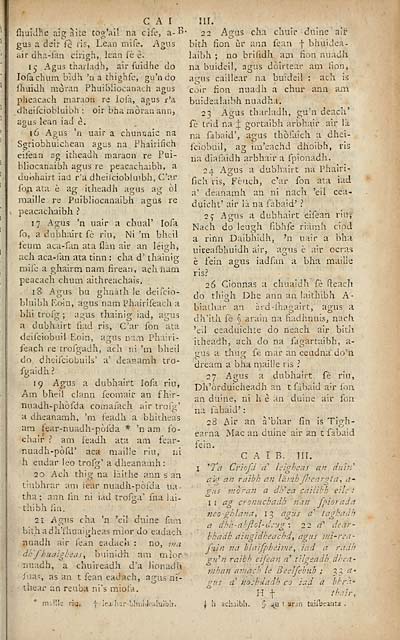 C A I
fhuidhe aìgàite tog'ail na cìfe, a-B'
gus a deir fè i is, Lean mìfe. Agus
air dha-fan cirigh,, lean fè è.
ic .Agus tharladh, air fuidhe <lo
Jofachura bìdh 'n a thighfe, gu'ndo
ihuidh mcYran Phuibliocanach agus
pheacach maraon re lofa, agus r'a
dheifciobluibh : oir bha rnòran ann,
agus lean iad è.
ì-6 Agits 'n uair a chunsaic na
Sgriobhuichean agus na Phairifich
eifean ag ìtheadh maraon re Pui-
bliocanaibh agus re peacachaibh, a
duohairt iad r'a dheifciobluibh, C'ar
fon ata è ag itheadh agus ag òl
raaille re Puibliocanaibh agus re
peacachaibh ?
17 Agùs 'n uair a chuaP Iofa
fo, a dubhairt fè rin, Ni 'm bheil
leum aca-fan ata flàn air an lèigh,
ach aca-fan ata tinn : cha d' thainig
miie a ghairm nam firean, ach nam
peacach chum aithreachais,
i3 Agus bu ghnàth le deifcio-
bluibh Roin, agus nam Phairifeach a
bhi trofg ; agus thainig iad, agus
a dubhairt iiad ris, C'ar fon ata
deifciobuil Eoin, agits n-arri Phairi-
fea.ch re crofgadh, a'ch rii 'm bheil
do. dheifciobuils' a' deanamh tro-
fgaidh ?
19 Agus a dubhairt Iofa riu,
Am bheil clann feomait an fhir-
nuadh-phòfda comafach air troig'
a dlieanamh, 'm feadh a bhitheas
am fear-nuadh-pòfda * 'n am fò-
chair ? am ieadh ata am fear-
nuadh-pòfd' aca maille riu, ni
h eudar leo trofg' a dheanamh:
20 Ach thig na iàithe ann s an
tiubhrar am iear nuadh-pòfda ua-
tha ; anft iìn ni ià'd trofga' fna lai-
thibh fm.
21 Agus cha 'n 'ei' duine fatri
bithadh.'fhuaigheas mìor cìo eadach
nuadh air feàn eadach : no, 'ina
dtìfhkaigtìèas'- buinid*h am mìor- v
nuadh, a chnireadh d'a fionadli
fùas 1 , as an t fean eadach, agus aì'-
tfoear an reuba ni's miòia.
maflle riu. '- >A.h~: lb\,Ue;dutkh.
III.
22 Agus cha chuir duine'aii?
bith fion ùr ann fean + bhuidea-
laibh ; no brifidh am fion nuadh
na buideil, agu's dòirtear am tìon,
agus caillear na b'uid'eil : ach is
coir fion nuadh a chur ann am
buidealaibh nuadha.
23 Agus tharladh, gu'n deach'
fè trid na | gortaibh arbhair air là
na fàbaid', agus thòfaich a dhei-
fciobuil, ag im'eachd dhoibh, ris
na diafaidh arbhair a fpionadh.
24 Agus a dubhairt na Phairi-
fich ris, Fèuch, c'ar fon ata iad
a' deanamh an ni nach 'eil cea-
duicht' air ià na fàbaid' ?
■25 Agus a dubhairt' eifean riu-
Nach do leugh fibhfe riamh ciod
a rinn Daibhidh, 'n uair a bha
uireafbhuidh air, agus è air ocras
è fein agus iadfan a bha mailie
ris?
26 Cionnas a chuaidh fè fteach
do thigh Dhe ann an laithibh A-
biathar an àrd-ihagairt, agus a
dh'ith fè § arain na fiadhnuis, nach
'eil ceaduichte do neach air bith
itheadh, ach do na fagartaibh, a-
gus a thug fè mar an ceudna do'n
dreara a bha maille ris ?
27 Ac;us a dubhairt fè riu,
Dh'òrduicheadh an t fàbaid air fon
an duine, ni h è an duine a'if fon
na fàbaid' :
28 Air an à'bhar fin is Tigh-
earna Mac an duine air an t fàbaid
feia.
C A I B. III.
I "Ta Criofì a ieigheas an du'ni
ai' r àh raibb an lamh ffiea'rata, a-
pji's rh'oran a dk'ea cailìbh eile i
1 1 ag cronuchadh nan fioradà
heo-gblàna, 13 agus a tagkadh
a dkd-akfloì-deug \ 22 if dear-
bhadk aiugidkeachd, agus 'inì-rea-
f.LÌn na biaifpheivie, iad a radh
i'idn raibh cifean a' tilgeadh dkea-
mhan amàch le Beeìfebuh ; 33 a-
gus a' noehdadh co iad a bkr.i*
H f thair,
f h achaibh. § ,aa ! arjn taifbeinta .

Set display mode to:
Universal Viewer |
Mirador | Large image | Transcription
Images and transcriptions on this page, including medium image downloads, may be used under the Creative Commons Attribution 4.0 International Licence unless otherwise stated.
(63) [Page 57]

| | |
| --- | --- |
| Permanent URL | https://digital.nls.uk/97181022 |
1767 - Tiomnadh Nuadh ar Tighearna agus ar Slanuigh-Fhir Iosa Criosd
Description
Eidir-theangaicht' o'n Ghreugais chum Gaidhlig Albannaich. Maille re seannaibh aith-ghearra chum a' ch'ain sin a leughadh. Air iarrtas na Cuideachd urramaich, a'ta chum eas Criosduidh a sgaoileadh feadh Gaidhealtachd agus eileana na h Alba. New testament in Scottish Gaelic. Translated from the Greek by James Stuart. Published at the expense of the Scottish S.P.C.K. Edinburgh: Balfour, Auld & Smellie, 1767. "Rules for reading the Galic language": p. [1]-9 at end.
Shelfmark
L.38.d
Additional NLS resources:
Attribution and copyright:

The physical item used to create this digital version is out of copyright

More information
Books and other items printed in Gaelic from 1631 to 1800
Rare items in Gaelic

| | |
| --- | --- |
| Description | Out-of-copyright books printed in Gaelic between 1631 and 1900. Also some pamphlets and chapbooks. Includes poetry and songs, religious books such as catechisms and hymns, and different editions of the Bible and the Psalms. Also includes the second book ever published in Gaelic in 1631. |