‹‹‹ prev (23) [Page 17]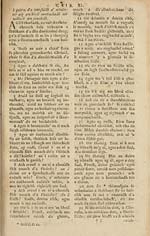 (25) next ››› [Page 19]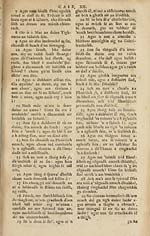 Download files
Complete book:
Individual page:
Thumbnail gallery: Grid view | List view
M A T
cumhachdach'arinneadh ionnuibh-
iè, air an deanamh ann an Tirus
agus ann an Sidon, is fada o 'n a
dheanadh iad aithreachas ann an
faic-eadach àgus ann luaith.
22 Àch a deirim ribh, Gu'm bi
ftaid Thiruis agus Shidoin ni's fo-
iomchair' ann là a' bhreitheamh-
nais, na bhitheas bhur flaid-fe.
23 Agus thus' a Chapernaum,
ata air do thogbhail iuas gu neamh,
tilgfear fios gu h ifrinn thu : oir
nam biodh na h oibridh cumhach-
dach' a rinneadh ionnadfa, air an ,
deanamh ann an Sodom, dh'fha-
nadh è gun a fgrios gus an diu.
24 Ach a deirim ribh, gur fo-
iomchair' a bhitheas è do luchd
dhùthcha Shodoim ann là a' bhrei-
theamhnuis, na dhuitfe.
25 Ann fan àm fin fhreagair
lofa agus a dubhairt fè, Bheirim
buidheachas dhuit, o Athair, a
Thighearna nèimh' agus talmhain,
air fon gu d' f holuich thu na nithe
iin o dhaoinibh eagnuidh agus
tuigfeach, agus gu d'fhoillfich thu
:ad do leanbuibh.
26 A feadh, Athair, do bhrigh
gur a b'ann mar fin a bha do
dheadh thoilfe.
27 Ata gach uile nithe air an
tabhairt thairis dhamh-fa o m'A-
thair : as;us ni h aithneadh do neach
air bith a' Mac ach an t Athair :
ni mò is aithne do neach air bith
ant Athair, ach 'a' Mac, agus gach
aon' d'an àill leis a' Mhac fhoillfi-
cheadh.
28 Thigibha' m'ionnfuidhs' uiie
ata re faothair, agus fui' throm
uallaich, agus bheir mife * fuaimh-
neas dhuibh.
29 Gabhuibh mo chuing oirbh,
agus fòghlomaibh uam, oir ata mife
macant' agus-j- umhal ann croidhe 1
agus gheibh fibh fois d'ar n an-
maibh.
30 Oir ata mo chuingfe fo-
* foiò. f iriofal.
rf A.
iomchar, agus ata m'uallach ea-
trom.
C A I B. XII.
I Ata Crìofd a 1 cronnchadh doilìs
nam P 'hairifeach mu thimchìoll
brifeadh na fàbaid' 3 le fcriob-
tuiribh, 1 1 le reafon, 12 le mior'
bhuil'. 22 Ata e Jlanuch 'an duine
dhoill a°us bhailbh, ann an raibb
deamhan. 3 1 Ni 'm fuighear
maiiheamhnas ann am blaifphemi
ann aghaidh an fpioraid naoimh
a choidhcF. 36 Theid cunntas a
thabhairt feachad ?nu fhoclaibh
diomhaotn. 38 Ata fe ag cro-
nucbadh dhaoine anacreidmheach,
ata 'g iarruidh comharthaidh,
3 9 agus ag nochdfa'co iad a bhrath-
air, a phiuthar, agus a mhathair.
DO chuaidh Iofa fa'n àm firt
airlà na Sàbaid' tre \ na gor-
taibh arbhair, agus bha a dheiìcio-
buil air ocras, agus thòfaich iad
air diafaidh arbhair a bhuain, agus
itheadh.
2 Ach an uair a chunnairc na
Phairifkh fo, a dubhairt fiad ris,
Fèuch, ata do dheifciobuit a' dea-
namh a' ni nach còir a dheanamh
air là na Sàbaid'.
3 Agus a dubhairt eifean riu,
Nach do leugh fibhfe creud a rinn
Daibhi an uair a bha ocras air fein,
agus air a' mhuintir a bha maille
ris,
4 Cionnas a chuaidh fè fteach
do thigh Dhe, agus a dh'ith fè
§-aranna fia'nais, nach raibh cead-
uicht' dha fein itheadh, nodhoibh-
fin a bha maille ris, ach do na fa-
gartaibh amhàin ?
5 No nach do Jeugh fibh faa
lagh, gu bhuil na fagairt ann fan
teampull air laithibh na Sàbaid' a'
brifeadhnaSàbaid',agus iad neimh-
chiontach ?
6 Ach a deirimfe ribh, gu bhuil
fan ionad fo ?ieach a's mò na 'n
teampuil.
7 Agus
| na h achaibh; § 2" t aran taiibcanta.

Set display mode to:
Universal Viewer |
Mirador | Large image | Transcription
Images and transcriptions on this page, including medium image downloads, may be used under the Creative Commons Attribution 4.0 International Licence unless otherwise stated.
(24) [Page 18]

| | |
| --- | --- |
| Permanent URL | https://digital.nls.uk/97180554 |
1767 - Tiomnadh Nuadh ar Tighearna agus ar Slanuigh-Fhir Iosa Criosd
Description
Eidir-theangaicht' o'n Ghreugais chum Gaidhlig Albannaich. Maille re seannaibh aith-ghearra chum a' ch'ain sin a leughadh. Air iarrtas na Cuideachd urramaich, a'ta chum eas Criosduidh a sgaoileadh feadh Gaidhealtachd agus eileana na h Alba. New testament in Scottish Gaelic. Translated from the Greek by James Stuart. Published at the expense of the Scottish S.P.C.K. Edinburgh: Balfour, Auld & Smellie, 1767. "Rules for reading the Galic language": p. [1]-9 at end.
Shelfmark
L.38.d
Additional NLS resources:
Attribution and copyright:

The physical item used to create this digital version is out of copyright

More information
Books and other items printed in Gaelic from 1631 to 1800
Rare items in Gaelic

| | |
| --- | --- |
| Description | Out-of-copyright books printed in Gaelic between 1631 and 1900. Also some pamphlets and chapbooks. Includes poetry and songs, religious books such as catechisms and hymns, and different editions of the Bible and the Psalms. Also includes the second book ever published in Gaelic in 1631. |