Robert Liston, a Scot, was an admired, influential diplomat who worked in Europe and in the United States in the late 18th and early 19th century. The Scottish Enlightenment, the American War of Independence, the French Revolution, and the Napoleonic Wars shaped Liston's life and career.
A man of composure, intelligence and a conciliatory manner, Liston is particularly noted for his success in posts at Philadelphia and Constantinople. He is remarkable as a rare example of a commoner reaching the highest diplomatic rank of ambassador in the 18th century.
Early life: Edinburgh, France and the Enlightenment
'The surname of Liston is one of the oldest in Scotland, and is met with, in fact, ever since the time when surnames began to be assumed', wrote Hardy Bertram McCall in his 1890 book 'Some Old Families'. The word 'liston' occurs often in the place names of the Lothians: Old Liston, Newliston, High-Liston, Hal Liston, and Kirkliston, where Robert Liston was born.
Robert's surname bore historic weight and was connected to the land in which he grew up. His upbringing was comparatively humble. Unlike most other 18th-century diplomats, he was a commoner. Robert inherited no title, had no lineage drawing him into the diplomatic service, or family connections to those in high places.
Robert Liston was born on 8 October 1742 at Overtoun in the parish of Kirkliston. His parents were Patrick Liston, a farmer, and Christian Dick, born about 1710, who was daughter of Alexander Dick, a bailie of Queensferry. Christian Dick Liston had three other children: James, who died young; Alexander, writer to His Majesty's Signet, who died around 1764; and Henrietta, who married Alexander Ramage, Captain of the Port of Leith. Robert's father died in 1749, but his mother, Christian, lived to be elderly, dying in 1790.
With the intention of entering the Church, Robert studied at the University of Edinburgh, where he shared lodgings with his school friend Andrew Dalzel (1742-1806). Dalzel was also intended for the Church, but became a classical scholar and co-founder of the Royal Society of Edinburgh. Andrew's letters to 'My dear ambassador' survive in the Liston Papers at the National Library of Scotland.
Studying at the heart of a city that was culturally and scientifically flourishing, and exposed to the intellectual zeitgeist of the day, Robert Liston was surrounded by the radical ideas of the Scottish Enlightenment, and came to know some of its important figures.
France and Marie-Jeanne Riccoboni
In 1762 Liston became tutor to two sons of the politician Sir Gilbert Elliot, third Baronet of Minto (1722-1777). In 1764 he went to France with the young boys Hugh and Gilbert, and saw to their studies in Paris, under the supervision of Sir Elliot's friend, philosopher David Hume (1711-1776). Hugh (1752-1830) and Gilbert Elliot (1751-1814), both became diplomats.
In Paris Robert met the retired French actress and successful novelist Madame Marie-Jeanne Riccoboni (1713-1792), a widow, who was 29 years his senior. They were probably introduced by David Hume.
Marie-Jeanne and Robert developed a close friendship and wrote to each other for many years. Over 80 of Riccoboni's moving letters addressed to 'Mon cher Bob' written from 1766 to 1782 survive in the Liston Papers at the National Library of Scotland. The letters speak of the love Madame Riccoboni had for Robert. Robert's letters to Riccoboni do not seem to have survived.
Robert returned to Britain in 1766, but continued to visit France. During 1769 and 1770 he kept journals of his travels from Calais to Blois, from Blois to Rochefort, Rochefort to Madrid and from Bayonne in south western France, to Lyons.
In 1772 Liston assisted Gilbert Stuart (1743-1786) in editing the 'London Magazine' and contributed writing about his French travels. Stuart, also from Edinburgh, was a historian, political writer and journalist.
Diplomatic career: 'Poco a poco'
Although he entered the diplomatic service relatively late, over the course of Robert Liston's distinguished career he held important posts. The Liston family motto 'poco a poco' — little by little — seems to reflect Liston's ascent to rank of ambassador.
Robert's talent for languages made him especially well-suited to diplomacy — it is understood he could speak 10. In her American travel journals Mrs Liston often remarks on her husband's fluent German aiding their progress through the eastern United States:
'I alleged that the marked kindness of their treatment of us, was owing to Mr Liston's conversing with them in German'. [See note 1]
Robert's diplomatic career began when his former pupil Hugh Elliot started his own in the diplomatic service. In 1774 Robert became secretary to Elliot, then Envoy-Extraordinary in Munich. Robert then became Chargé d'Affaires in Ratisbon (Regensburg) from 1774 to 1776. In 1777 he accompanied Elliot, again as secretary, to Berlin where he remained until October 1781.
Liston was next offered the post of secretary to diplomat John Stuart (1744-1814) then styled Lord Mountstuart, in Turin, Italy. Lord Mountstuart did not take up his appointment at Turin, but was appointed Ambassador to Spain. Liston was asked to remain as secretary to the embassy and was sent directly from Turin to Madrid.
Having taken up his role as Chargé d'Affairs in Madrid, in May 1783 Liston was appointed Minister-Plenipotentiary there, and held the post until 1788. The main themes of Liston's work were: the endeavours of Spain to retrieve Gibraltar, and the negotiations for the removal of British settlers from the Mosquito Coast (now Nicaragua and Honduras).
Liston's constant pressure eventually resulted in an amicable settlement on the settler issue, but his attempts to induce Spain to sign a commercial treaty with Britain were unsuccessful.
Sweden and Constantinople
Liston next served as Envoy-Extraordinary to Sweden from 1788 to 1793. His general instructions were to report on the progress of the Russo-Swedish war. His official papers contain copies of reports from Swedish generals, and also deal with the internal structure of the Swedish Government, and economic affairs.
In Stockholm, in 1790, Robert commissioned a summer residence, Liston Hill, which still stands. The building was designed by the Swedish architect Fredrik Magnus Piper (1746-1824). A 1791 plan of the location of Liston Hill, survives in the Liston Papers archive at the National Library of Scotland. [See note 2]
In 1794 Liston was appointed Ambassador to the Sublime Porte, Constantinople (Istanbul), during the reign of the Ottoman sultan, Selim III (1761-1808). Selim III's reign from 1789 until 1807 was characterised by reform and by his interest in France and in European culture.
Liston's earliest dispatches from Constantinople report on the outbreak of trouble between the Jews and the British members of the East India Company's factory, but his main occupation was the predominance of French influence at the Turkish court. A series of Liston's letters discuss the question of tariffs paid by Russian merchants in Turkey, which Liston persuaded the Turkish not to increase.
Marriage and the United States
Robert Liston was appointed Envoy-Extraordinary and Minister-Plenipotentiary to the United States of America in early 1796, only 13 years after the end of the War of Independence. He was the second person to hold the post. His unpopular predecessor George Hammond (1763-1853), had been appointed in 1791. The United States post was not rated a full Ambassador until 1893, when Ambassadors where first exchanged between the United States and Britain.
Although taking up the role in 1796, Robert had been thought of as a good choice for some years. His name occasionally appears in connection with the post in American and British correspondence from the late 1780s.
Robert's salary as minister was £4,320. He had two secretaries; Lord Henry Stuart (1777-1809), and the secretary of legation, Edward Thornton (1766-1852), who later became Chargé d'Affaires when Robert was granted leave of absence from the United States in 1800.
When Liston arrived in New York on 1 May 1796 he had been married to Henrietta Marchant for just two months. Henrietta, his first and only wife, was then about 44, and he 53. She accompanied Robert for the duration of his service in the United States and on all his subsequent embassies. Mirroring a letter sent by Henrietta about her happiness to her uncle James Jackson, Robert wrote to Jackson:
'She has arrived here in good Spirits, in improved health, and rejoicing in the exertion of all those good qualities for which she has so long been remarkable. My expectations have been fully answered, & I feel myself perfectly happy. Accept of my repeated thanks for the share you have had in preparing the felicity I now enjoy.' [See note 3]
The Minister to the United States
On 17 March 1796 when Robert was just about to begin his transatlantic journey, Lord Grenville (1759-1834), British Secretary of State for Foreign Affairs, wrote to John Jay (1745-1829) who was then Governor of New York:
'I cannot let Mr Liston go, without taking the occasion of his departure to recommend him to you, and to express my hope that his character and conduct will be found well calculated to continue and promote that harmony, which it was the object of our labours to establish.' [See note 4]
Appointed at a crucial and unstable time in Anglo-American relations, Liston's main work was to improve the relationship between the United States and Great Britain and to resolve issues outstanding after the end of the Revolutionary War. Primarily he was to implement the various clauses of the Jay Treaty, or Treaty of Amity, Commerce and Navigation negotiated by John Jay. Congress moved to implement the treaty in early May 1796, the very time of Robert's arrival.
Over the course of Robert's four and a half years in the USA, difficulties arose over settling claims of the British merchants for debts left unpaid at the Revolution, and over the Maine boundary. Robert also worked to ensure that the British government would agree not to intercede in the south and south-western America. Liston's dispatches describe the negotiations between the Americans and British about the island of Santo Domingo, (Hispaniola), and comment on internal American politics, such as the presidential elections of 1796 and 1800.
The actions and shifting allegiances of France increasingly influenced Robert's work as anti-French feeling increased and strained Franco-American relations led to an undeclared naval war — the 'Quasi War' in 1798-1800. Despite Philadelphia's yellow fever epidemic in late summer 1798, Robert stayed in the city to issue passports to French citizens, including to the controversial figure Constantin-François de Chasseboeuf Volney (1757-1820), a friend of Thomas Jefferson. Mrs Liston recorded that:
'Volney called the other day to thank Mr L- for the Passport so readily granted to him — No person of his Nation seemed less disposed to trust his safety to the Americans, — in the Event of a War.' [See note 5]
Robert Liston's American papers at the National Library of Scotland, offer a wonderful diplomatic archive of the transactions, work and relationships in which he was involved. Financial documents, receipts and bills tell us what the Listons ate, what Robert wore, and how much brandy he provided for his servants as they travelled around the States. Robert's expenses in the United States were many.
Philadelphia: 'Marks of friendship'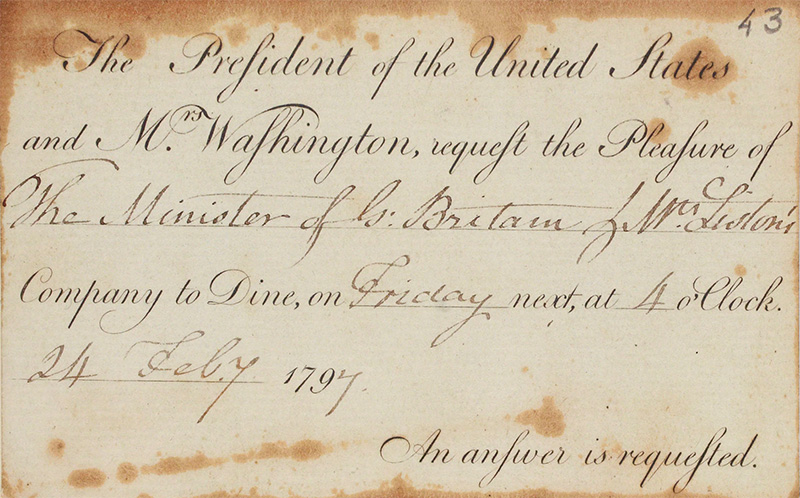 Robert was pleased with his welcome by the Americans — to James Jackson he wrote of 'nothing but marks of friendship from the people of the Country'. [See note 6]]
Liston was based in Philadelphia, then seat of the United States government. The city of Washington, DC, to which Congress would move in 1800, was being built. Robert rented a house in Arch Street, Philadelphia, and it was filled with friends, acquaintances, overseas guests, and people seeing him on business. As Mrs Liston put it, they always had 'company at home.' [See note 7]
Mrs Liston was a key part of Robert's success as minister. Through her soft power and social abilities — the occasions and dinners she arranged — Henrietta was deeply involved in the work Liston carried out to impress, befriend, and earn the trust of the Americans. Enabling Robert to reciprocate the hospitality they received, Henrietta ensured they were accepted in the right elite and political circles, and that they could establish a supportive social and professional network through which to improve British-American relations.
The Listons immersed themselves in Philadelphian society and became friends with the influential families and figures of early national America: the Washingtons, Benjamin and Julia Rush, the Bond and Bingham families of Philadelphia, Dr Joseph Priestly, Secretary of State Timothy Pickering, architect Benjamin Latrobe, William Hamilton of The Woodlands, as well as many others.
Robert was elected as a member of the Society of the Sons of St George, Philadelphia in 1797, and to the American Philosophical Society in 1800. He leant books to Thomas Jefferson, and he, like Jefferson, other friends and members of the international diplomatic corps in the city, subscribed to 'Birch's Views of Philadelphia'. William Russell Birch's (1755-1834) series of engravings depicted: the President's house, where the Listons dined; Arch Street, where they lived; the Lutheran Church where they heard General Lee's funeral oration; the library, which Mrs Liston thought 'a fine building'.
Perhaps the most important friendship the Listons enjoyed was with the Washingtons. They developed a genuine and politically significant relationship with George and Martha. Liston and Washington both came from humble backgrounds and eschewed ostentation. Robert had a strong interest in farming and it was an interest he shared with Washington.
Interestingly, a few weeks before travelling to the United States, Robert was 'unanimously admitted' an Honorary Member of the Board of Agriculture a letter from John Sinclair, Whitehall, informed him. [See note 8]
In May 1800, six months before departing, the Listons had their portraits painted in Philadelphia by the renowned Gilbert Stuart (1755-1828). Stuart depicted slight smiles on Robert and Henrietta's faces — perhaps smiles of satisfaction at diplomacy well executed.
Londoner Anthony Merry (1756-1835) followed Robert Liston as Minister to the United States in 1803, and the two men corresponded. Similarly to Robert, Anthony Merry married not long before he went to the United States; his wedding to Elizabeth Leathes took place on 21 January 1803. But, in contrast to the Listons who were popular and socially accepted, the Merrys were disliked by many — particularly by Thomas Jefferson — and were excluded from social occasions.
The Hague, Denmark, and Constantinople
Following their return to Britain from the United States via the West Indies in May 1801, the Listons briefly resided at Robert's Damhead Farm, just south of Gogar village, outside Edinburgh.
Over August and September 1802 the Listons travelled through France to The Hague where Robert took up his appointment as Envoy-Extraordinary and Plenipotentiary to the Batavian republic. Liston was instructed to put relations between the new Batavian Republic and Britain on a good footing. After the outbreak of hostilities between France and Britain in 1803, he received orders to return immediately if France would not give guarantees to respect Batavian neutrality by withdrawing her troops.
In 1803 Liston was sent on an extraordinary mission to Denmark empowered to sign a convention with Denmark and Russia guaranteeing that peace would not be concluded with France until any territories Denmark had lost had been restored to her. After the closing by the British of the Elbe and Weser rivers, any prospect of a rapprochement with Denmark faded and Liston was recalled.
The years 1804-1811 Robert spent in retirement improving and cultivating his estate. Damhead Farm then became Millburn Tower when construction of his Gothic style, castellated house began in 1805.
In 1811 Robert was appointed British ambassador to the Sublime Porte at Constantinople (Istanbul): 'Ma chérissime amie […] the transaction is complete […] my appointment will appear in the Gazette of next Saturday' he wrote to Henrietta, adding: 'I hope you will find the frolic agreeable. Their frolic was to be played out against the background of 'Bonaparte's ambition', the Congress of Vienna, the Russo-Turkish conflict, Ottoman reform, outbreaks of plague, and the clamour of Grand Tourists seeking ambassadorial assistance.
At the age of almost 70, Robert succeeded Stratford Canning (1786-1880) who, then only in his mid-20s, had been Minister-Plenipotentiary at the Ottoman Court. Along with a number of others who made up a large embassy suite, Liston was accompanied by Brigadier-General Sir Robert Wilson (1777-1849), as special military commissioner. The posting was the finale of the Listons' career; it began on 8 April 1812 when they sailed from Portsmouth on the 'Argo'.
At this time Sultan Mahmud II (1754-1839) was in the third year of his reign and sought to continue the social and administrative reforms of his cousin Sultan Selim III, who had been assassinated.
The objects of Liston's second embassy to Constantinople were to build up good relations between Turkey and Russia who were at war, and to frustrate any prospect of an alliance between Turkey and France. By the Congress of Vienna, Britain acquired the protectorship of the seven Ionian Islands, and it was understood that she should hand back Parga (on the Ionian coast, in Greece) to the Ottoman Empire; negotiations on this point strained relations severely, and it took all his skill to preserve peace.
In 1836 the 'Edinburgh Evening Courant' stated that 'under no British minister has British influence been more ably maintained than during Sir Robert Liston's last embassy to Turkey.' [See note 9]
Retirement and Millburn Tower
In 1821, at the age of 79, Liston permanently retired. He and Henrietta returned to Millburn Tower where they lived the rest of their life. After over 37 years in the diplomatic service Robert received a pension of £2,300 per annum. Writing to his good friend Daniel McCormick of New York in April 1821, Robert said:
'I have thought it right to resign my situation as Ambassador & make way for younger men, who have for years been sighing for my situation & swearing at me for living so long.' [See note 10]
He attended to further improving his estate and the village of Gogar. He planted thousands of trees on his land. Robert received many friends and visitors at Millburn Tower. Novelist and poet Walter Scott (1771-1832) called on the Listons in June 1828 and recorded in his journal that 'the good old knight and his lady' were 'worthy' of their home, 'for they enjoy it'. [See note 11]
Robert had been sworn a Privy Councillor on 26 March 1812, and was knighted on 21 October 1816.
Death and obituary
Robert died at Millburn Tower on 15 July 1836, aged almost 94. He is buried with Henrietta at Gogar Kirk, Edinburgh. The tomb stone of classical design under which they are buried still stands. The Listons had no children. Robert left Millburn Tower to his nephew Captain Robert Ramage, RN, who then added the name Liston to his own.
In 1836 'The Gentleman's Magazine' stated 'Sir Robert Liston was the father of the diplomatic body, it is believed, throughout Europe'. Liston's obituary continued:
'The last years of a life so distinguished and so protracted, were in every way worthy of its brightest periods. With an entire freedom from ostentation, and in the enjoyment of universal esteem, Sir Robert was distinguished by the uniform urbanity of his deportment, by activity in the promotion of every good work, and by an enlightened regard for the interests of the poor in his neighbourhood, who will long deplore his loss.' [See note 12] /p>

Robert Liston's diplomatic roles
Secretary to the Envoy-Extraordinary, Germany, Munich, 1774.
Chargé d'Affaires, Germany, Ratisbon, 1774-1776.
Chargé d'Affaires, Germany, Berlin, 1777-1781.
Chargé d'Affaires and then Minister-Plenipotentiary to Spain, Madrid, 1783-1788.
Envoy-extraordinary to Sweden, Stockholm, 1788-1793 (Salary £1,825 with extra annual allowance of £400; £2,225 in total) [See note 13].
Ambassador-Extraordinary to the Sublime Porte, Constantinople, Ottoman Empire, 1794-1796.
Minister-Plenipotentiary to the United States, Philadelphia, 1796-1800 (Salary, £4,320) [See note 14].
Envoy-Extraordinary and Plenipotentiary to the Batavian Republic, The Hague, 1802-1803.
Minister to Denmark, Copenhagen, 1803-1804.
Ambassador to the Sublime Porte, Constantinople, Ottoman Empire, 1812-1820.