Henrietta Marchant Liston was a diarist and botanist. She was an informed, biased, spirited observer of the many countries she visited in her lifetime.
In addition to her North American, West Indian, and European travel journals, the Liston Papers archive at the National Library of Scotland contains Henrietta's marriage contract, her fascinating correspondence, and two wills — made 20 years apart.
The archive allows us to discover Henrietta's politics, prejudices and fears, her talents, interests and childhood memories.
Family and early life: Antigua and Glasgow
Henrietta Marchant was born on 19 December 1751 in Falmouth, Antigua, and baptised there at St Paul's Church, on 17 March 1752.
The Marchant family in Antigua can be traced back to about the 1670s. They were a family of planters and merchants.
Henrietta's West Indies journal gives some information on her family which supplements that available from records. She wrote that her brother, Dr Nathaniel Marchant, owned the Dimsdale Estate, an Antiguan sugar plantation, and that it once belonged to her grandfather, adding that her mother and aunts were born at Dimsdale. Henrietta recalls that as a child she was cared for by a 'Negro maid', and, on visiting St Paul's Church, that it was 'where I had witnessed the Funerals of both my Parents before I was eight years old'.
Henrietta's mother, Sarah Nanton, and her father, Nathaniel Marchant, a planter, had 11 children, five of whom died in childhood. She was their only surviving daughter. After her mother's death around 1759, Henrietta's father married again — to Anne. Her father died in 1761; his will was dated 24 January 1761.
The will stated: 'To my daughter Henrieta Marchant £2000 c at 21 & 4 negros, her legacy if she die without issue to my 5 sons'. Henrietta directly profited from slavery. Our research into the Liston Papers and the wider archival record has so far revealed no other references to the lives of the four enslaved people Henrietta inherited. Further work is needed to do justice to their history.
Henrietta's brothers were Benjamin, born 1746; Nathaniel, baptised 1754; Ambrose, baptised 1756; William Maxwell, baptised 1758; and Samuel, (date of birth unknown) who married a Mary, had a son Henry, and had died by 1786. [See note 1]
Nathaniel's will also named James Jackson (1725-1806) as an executor and guardian for his children and gave the instruction for his sons to be educated in Glasgow. The orphan Henrietta, with at least three of her brothers, was sent to Glasgow to live with Jackson and his wife, who was Henrietta's maternal aunt, Henrietta Nanton (died 1802).
Henrietta's brothers enrolled in the University of Glasgow. Benjamin matriculated in 1762, Nathaniel in 1766, and Ambrose in 1769.
Jackson was an affectionate and faithful guardian. He ensured Henrietta was educated. She could speak French, owned a guitar and music books, and read novels and newspapers. Henrietta described herself a 'gentlewoman'.
Henrietta's 1786 will mentions Jackson's 'uncommon care of and attention' to her 'from infancy' [See note 2]. Their bond is evident from their regular, candid, and affectionate letters in the Liston Papers archive. Jackson always began his letters 'My dear Hennie', but when he addressed his first letter to her after her wedding 'Dear Mrs Liston', Henrietta chided him, saying: '… you must not do this again' [See note 3].
James Jackson was Post Master of Glasgow for 50 years. 'The Scots Magazine and Edinburgh Literary Miscellany' stated that Jackson's 'scrupulous punctuality and ardent zeal in the discharge of the duties of his office' was 'joined to a gentleman like behaviour in private life' which 'procured him the respect of all' [See note 4].
In Glasgow Henrietta lived with her relatives in Charlotte Street — a fashionable address. Charlotte Street was built and developed in the 1780s, particularly by David Dale, Scottish philanthropist, merchant and cottonmaster. Henrietta was part of a society connected to the colonies and to trade. In both Antigua and Glasgow, the colonies and the profits thereof, were a background to Henrietta's upbringing.
In early childhood Henrietta witnessed slavery on the island of Antigua. When visiting the West Indies in 1800-1801, she wrote 'it was not one of my smallest gratifications in Antigua to see some of my Fathers old Negroes & my own […] free & in good circumstances.' [See note 5] In her North American and West Indies journals, Henrietta does not comment on the system or conditions of slavery.
Henrietta Marchant's marriage, at the age of 44, to Robert Liston then 53, was transformative. As diplomat's wife, she was required to leave her private life in Glasgow, exchanging it for a public one of politics, royal courts, travel, and socialising on a grand scale.
Miss Marchant and Mr Liston had known each other for over a decade before they married. Her attachment is demonstrated in her will of 1786: 'I give to and request that Robert Liston will be pleased to accept a ring with my hair, as a small memorial of Friendship' [See note 6]. Henrietta does not seem to have expected that their relationship would ever be more than friendship, writing about Robert in 1794:
'I have never since I first saw him, met a Man so interesting or so much to my tast, this attachment will now probably continue for my life. His Marriage or mine are perhaps the only circumstances which could weaken it … but I entertain not the most distant idea of our being ever more to each other than the very best of friends.' [See note 7]
Their wedding ceremony, performed by Mr John Falconer, Minister of the Episcopal chapel in Glasgow, took place at Hernietta's uncle James Jackson's lodgings on Charlotte Street, Glasgow, on 27 February 1796. Unusually, Henrietta's marriage contract, signed the day before her wedding, allowed her to maintain control of her own wealth:
'… it is hereby declared that the said Miss Henrietta Marchant shall have the full Disposal of the Fee of her said whole property Estate and Effects of every kind, in any manner she shall think proper, without Consent of the said Robert Liston, who hereby renounces Jus Mariti'. [See note 8]
On the very day of their marriage ceremony the Listons began the journey to London where Robert was to meet King George III. In an early letter from this journey Henrietta writes to her uncle reporting Robert's observation that he had brought her up 'an excellent Traveller, to take what I can get, & be content' [See note 9]. In America this ability would prove essential. Henrietta travelled through 16 states by stagecoach, carriage, boat, canoe, cart and horseback, and took what accommodation and sustenance she could get.
Before leaving London, the Listons dined with George Hammond, Robert's unpopular predecessor:
'We dine with Mr Hammond, late Minister to America, it is our first formal visit, I would fain have been excused from it, but as these things are I must go through I thought it as well to comply with Mr Liston's first request cheerfully'. [See note 10]
In America the things Henrietta went through and the work she had to do sometimes overwhelmed her. In a letter to her uncle she said of her public life: 'I have now got into the Vortex'. [See note 11]
This 'Vortex' does not appear to have diminished Henrietta — the Americans warmed to her and were impressed by her social grace. Eleanor 'Nelly' Parke Custis (1779-1852), granddaughter of the Washingtons, writing to a friend in 1797, said 'All who have seen Mrs Liston must love her kind and friendly manners.' [See note 12]
Robert Liston's salary for Philadelphia was £4,320. Henrietta wrote to her uncle that this salary —
' … sounds great, but, when I see five Servants, & hear that they are little more than half the number we must have, & other expenses, to-gether with the Style in which We must live, I doubt whether We can save any thing.' [See note 13]
The style in which they lived was indeed something: they entertained, travelled extensively, and had a 'very handsome' house on Arch Street in Philadelphia. They acquired furniture upholstered in blue for Henrietta's room and in rose coloured satin for the drawing room. In 1796 they also rented a country residence in Germantown, and in 1800 took 'Solitude', an elegant house (now in the grounds of Philadelphia Zoo), for their final months in the United States.
Philadelphia: 'People I really believe like us'
Rather like Robert, Henrietta seems to have been a natural diplomat. She was central to her husband's success in the U.S. Through her soft power — her social abilities, the occasions and dinners she arranged — she was deeply involved in the work Liston carried out to impress, befriend, and earn the trust of the Americans.
Enabling Robert to reciprocate the hospitality they received from the important families of the United States, Henrietta ensured they were accepted in the right aristocratic and political circles, and that they could establish a supportive social and professional network through which to improve British-American relations.
In America Henrietta made many friends — some in high places. She esteemed George Washington and John Adams — Presidents during the Listons' time in America — and felt herself 'perfectly easy and familiar with both Great Men'. [See note 14]
Of Adams she wrote: 'There is a good deal of amusement in the conversation of Adams, a considerable degree of wit and humour'. And, of his wife Abigail Smith Adams, who she did not meet often, but said 'how much pleased' she was with her — 'she has spirit enough to laugh at Bache's abuse of her Husband'. [See note 15]
It was the first President, George Washington, and his wife Martha whom Henrietta knew and liked best. The Listons and Washingtons formed a real and politically significant friendship. This friendship is reflected in how keenly Henrietta strives to describe the character of Washington in her North American journals.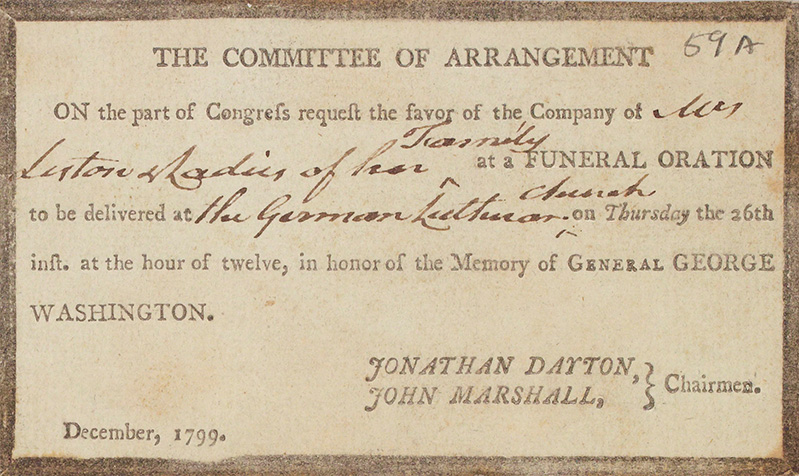 Departure from the United States
In May 1800, six months before departing for Antigua, the Listons had their portraits painted in Philadelphia by Gilbert Stuart (1755-1828).
Stuart had been trained by Scotsman Cosmo Alexander (1724-1772) and as a teenager accompanied him to Scotland as an apprentice. Returning to America, Stuart became hugely popular and painted the important figures of early national America, some of whom were the Listons' good friends: the Washingtons, Eleanor Parke Custis, James Madison, John Jay, Joseph Brant, and William and Anne Bingham to name a few.
It was possibly one of these friends who, pleased with their own portrait, urged the Listons to sit for Stuart. Henrietta thought Stuart's paintings 'really pictures as well as portraits'. [See note 16]
Stuart depicted slight smiles on Robert and Henrietta's faces — perhaps smiles of satisfaction at diplomacy well executed. Henrietta, painted in an outdoor setting wearing bonnet and shawl, and putting on her gloves, appears ready for her travels, which seems just right as travel was a defining feature of the Listons' time in the United States.
From their Philadelphia home the Listons had travelled hundreds of miles north to Quebec in Lower Canada and south to Charleston, South Carolina. And, when they left America in December 1800, they did not return immediately to Scotland, but embarked on an island-hopping trip in the West Indies — a special homecoming trip for Henrietta.
Mrs Liston left with the United States with the inspiration to create an American garden in Scotland, which in 1804, she did. The garden was one of her 'principal occupations and enjoyments' in later life. [See note 17]
Other lasting pleasures from the United States were the friends who wrote to the Listons for years after their return — Dr Benjamin Rush and Daniel McCormick of New York, to name two affectionate correspondents.
In a letter written in the summer of 1814, while the War of 1812 was still being fought, Henrietta wrote to an American friend:
'Why, may I ask, my dear sir, did you Americans after all the pleasant & tranquil days that we past together in the United States, go to War with Great Britain. Was it because Mr Liston & I were not there to keep you all in order.' [See note 18]
Henrietta's light-hearted jest suggests she was well aware of her husband's — and her own — efficacy, influence, and success in the young United States.
Later life and travels: Europe and Constantinople
After their return in 1801, the Listons did not spend long at their Scottish home, then a 'thatched cottage' on Robert's Damhead Farm, before travelling again, this time to The Hague in 1802 where Robert took up his appointment as Envoy-Extraordinary and Plenipotentiary to the Batavian republic.
Henrietta also accompanied her husband to Copenhagen when he was appointed Minister to Denmark in 1803. When Robert was recalled from Copenhagen in 1804 he temporarily retired from public life and the Listons began to build their house Millburn Tower and establish its gardens. Then, in 1812, when Robert was re-appointed ambassador to the Sublime Porte, Constantinople (Istanbul), off they went again.
As in the United States, in Ottoman Istanbul, Henrietta was an observer of a rarefied realm of power, politics, wealth and influence. And, as in the USA, Henrietta's botanical collection was inspired by the country: from Turkey to Scotland she sent specimens of Clusius's tulip, the Musk Hyacinth and many other plants.
Robert retired permanently in 1820 and the Listons returned to Scotland. No longer travelling, they received many friends and acquaintances at Millburn, including novelist Walter Scott (1771-1832) who visited the 'good old knight and his lady' [See note 19] on 28 June 1828, less than four months before Henrietta died. Robert was knighted on 21 October, 1816 and Henrietta became Lady Liston.
Aged 77, Henrietta passed away on 6 October 1828 and was buried in Gogar Kirkyard, Edinburgh. The tomb stone of classical design where she and Robert are buried still stands. The Listons had no children.
Millburn Tower and Henrietta's plants
In the Liston Papers archive at the National Library of Scotland there is extensive correspondence between the Listons and their friends and associates about the Millburn Tower estate.
Planning for Millburn Tower itself, the gothic style, castellated two-storey house, began in 1800 and construction started in 1805. The architect the Listons employed, William Atkinson (1774/5-1839), was known for his country houses, and became particularly famous for Abbotsford, Sir Walter Scott's home.
The architecture at Millburn is also connected to the Listons' time in the USA. In Philadelphia they became friends with the architect Benjamin Latrobe (1764-1820). Appointed by President Thomas Jefferson, Latrobe was second architect of the Capitol in Washington, DC. The South Lodge at Millburn was based on a round-house design drawn up by Latrobe in 1800.
Henrietta established an important American garden at Millburn. In 1804 the Listons employed landscape architect and artist George Isham Parkyns (1749/50-1820) to design it. Parkyns, an Englishman, had worked on gardens in the USA, and had produced early watercolours of George Washington's estate Mount Vernon. Parkyns travelled from America to Scotland to work at Millburn in 1804.
In December 1805 Henrietta wrote to her nephew Captain Robert Ramage, 'My American Garden has received a great accession of Plants — some for love some for Money'. [See note 20]
Five years later the garden had flourished and received many visitors. In 1810 the Earl of Torphichen wrote to Mrs Liston:
'Your American garden is unquestionably without rival or parallel in this country with the choice of the plants, in their arrangement and above all in their wonderful beauty and thriving condition' [See note 21]
As well as plants from North America, Henrietta grew specimens from the Caribbean and Mediterranean — many of these in a conservatory, built in 1811. In 1814 Henrietta received, a 'Tamarind tree, stones of a fine kind of nectarine' from fellow horticulturalist, John Barker (1771-1849), a diplomat and Consul of the Levant Company, in Aleppo. [See note 22] While living in Ottoman Istanbul, Henrietta cultivated the British Embassy garden, and seeds from plants she grew in her conservatory there were sent to the the Royal Botanic Garden in Edinburgh. Plant Receipt Registers record the many donations of seeds Henrietta made to the Royal Botanic Garden (see Royal Botanic Garden Edinburgh Plant Receipt Registers, 1810–1820).
Correspondence to Henrietta from the Earl of Torphichen and from William McNab of the Royal Botanic Garden Edinburgh, mentions plants at Millburn — mimosa chenille, hillock bush, passion flower, African hemp, guava, orange trees and varieties of rose and camellia. William McNab (1780-1848) looked after Henrietta's plants while she was in the Ottoman Empire.
McNab was instrumental in the move of the Royal Botanic Garden Edinburgh to Inverleith in 1820 and invented transplanting machines for the collection of mature trees.
McNab's work at Millburn Tower relates to transplanting. In 1814 he wrote to Henrietta:
'Everything in the American garden is in a very luxuriant state and it has been kept in very neat order, some of the larger rarest trees and the commoner sorts, which you know would so completely fill the garden to the great injury of the better plants, and as they are yet in a size fit to be moved without injury, it appears necessary to move some of the commoner ones elsewhere, & let them grown to what size the climate will wish them to do.' [See note 23]
An evocative description of Millburn Tower was written by Walter Scott after a visit in June 1828:
'This morning the two Annes and I went to Sir Robert Liston at Millburn Tower — a beautiful retreat. The travels of the venerable diplomatist are indicated by the various articles of curiosity which he has picked up in different corners of the world and put together with much taste. The conservatory and gardens are very fine, and contain, I suppose, very curious plants … But then the little Gothic tower, embowered amid trees and bushes, surrounded by those pleasant garden, offering many a sunny walk for winter, many a shade for summer, are inexpressibly pleasing. The good old knight and his lady are worthy of it, for they enjoy it. The artificial piece of water is a failure, like most things of the kind. The offices, without being on an extravagant scale, are most substantial; the piggery in particular, is quite a palace and the animals clean and comfortable.' [See note 24]