‹‹‹ prev (1)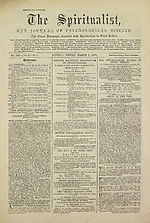 (3) next ›››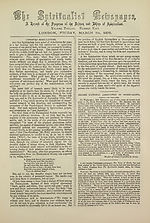 Download files
Complete book:
Individual page:
Thumbnail gallery: Grid view | List view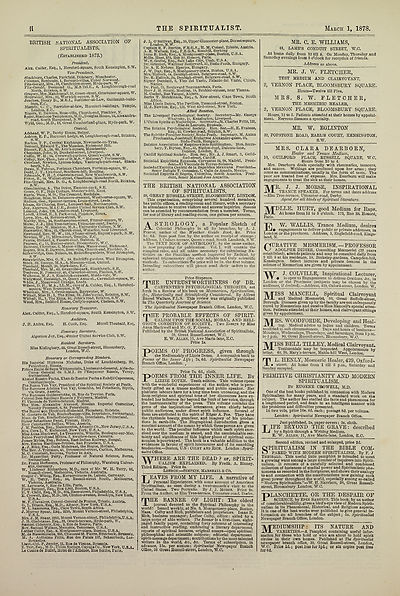 11
THE SPIRITUALIST,
March 1, 1878,
BRITISH NATIONAL ASSOCIATION OF
SPIRITUALISTS.
(Established 1873.)
President,
Alex. Calderj Esq., l, Hereford-square, South Kensington, S.W.
Vice-Presidents.
Blackburn, Charles, Parkfleld, Didsbury, Manchester.
Coleman, Beniamin, 1, Bernard-villas, Upper Norwood.
Fitz-Gerald, Mrs., 19, Cambridge-street, Hyde-park. W.
Fitz-Gerald, Desmond G., M.S.Tel.E., 6, Loughborough-road
North, Brixton, S.W.
Gregory, Mrs. Makdougall, 21, Green-street, Grosvenor-square, W.
Honvwood, Sirs., S2, Warwick-square, S.W.
Jencken, Henry D., M.K.I., Barrister-at-Law, Goldsmith-build¬
ings, E.C. -• W- .. _
Slassey, 0. C., Barrister-at-law, Harcourt-buildings, Temple,
London, E.C.
Rogers, E. Dawson, Rose-villa, Church-end, Finchlev, N.
Speer, Stanhope Templeman, M.D., Douglas House, 13, Alexandra-
road, South Hampstead, N.W.
Wyld, Geo., M.D., 12, Great Cumberland-place, Hyde-park, W.
Council.
Adshead, W. P., Derby House, Belper.
Ashton, E. P., Harcourt Lodge, 86, Loughborough-road, Brixton,
S.W.
Barkas, T. P., Central Exchange, Newcastle-on-Tyne.
Bennett, Edward T., The Mansion, Richmond Hill,
Binney, F. A., 24, St. Ann's-square, Manchester.
Chapman, John, 10, Dunkeld-street, Liverpool.
Comn, W. H., 94, Cornwall-gardens, Queen's-gate, S.W.
Colley, Rev. Thos., late of H.M.S. " Malaoar," Portsmouth.
Crosland, Newton, Lynton-lodge, Vanbrugh-park-road, Black-
heath, S.E.
Dawe. N. Fabyan, Portman Chambers, Portman-square, W.
Dodd.'J. T., Lynwood, Southern-hill, Reading.
Edmands, T. H., 7, Oberstein-road. New Wandsworth, S.W.
Fitton, R., 34. Walnut-street, Cheetham, Manchester.
Fitz-Gerald, Mrs. D. G., 6, Loughborough-road North, Brixton,
S.W.
Glendinning, A., The Drive, Enmore-park, S.E.
Green, G. F., Hale Cottage, Sbeoter's-hill, Kent.
Hayle, Thos., M.D., The Crescent, Rochdale.
Houghton, Miss, 20, Delamere-crescent, Westbourne-square, W.
Hudson, Geo., Spencer-terrace, Louis-street, Leeds.
Isham, Sir Charles, Bart., Lamport-hall, Northampton.
Joy, Algernon, M.I.C.E., Junior United Service Club, S.W.
Lament, John, 199, London-road, Liverpool.
Lovell, Alfred, E., 3, Park-road, Plaistow, Essex.
Lowe, Mrs., 64, Berners-street, W.
Maltby, Mrs., 16, Southampton-street, Fitzroy-square, W.
Morse, J. J., Elm Tree-terrace, Uttoxeter-road, Derby.
Moses, Rev. W. Stainton, M.A., University College, N.W.
Nosworthy, Mrs., 21, Church-road, Waterloo, near Liverpool.
Newbould, Rev. W. W., 118, Albany-street, Regent's-park, N.W.
Newton, W., 11, Mitre-court, Temple, E.C.
Pearce, Richard, 8, Fassett-road, Dalston, E.
Pearson, C., 15, Harper-street, Bloomsbury, W.C.
Reimers, Christian, 6, Manor-villas, Manor-road, Richmond.
Rogers, Mrs. E. Dawson, Rose-villa, Church-end, Finchley, N,
Scrawbridge, Geo. Nelson, 84, Redcliffe-gardens, West Brompton,
S.W.
Strawbxidge, Mrs. G. N.. 84. Redcliffe-gardens. West Brompton.
Stock. St. George, M.A., 8. Museum-villas, Oxford.
Theobald, Morel!, 30, Mark-lane, E.C.
Theobald, Mrs. M., 62, Granville-park, Blackheath, S.E.
Tredwen, R. Pomeroy, 40, Claverton-street, Pimlico, S.W.
Walhouse, M. J., 9, Randolph-crescent, Maida-vale, W.
Wedgwood, Hensleigh, 31, Queen Anne-st., Cavendish-square, W.
White, J.,Meanwood Grange, Leeds.
Wilson, D. H., M.A., LL.M., care of A. Calder, Esq., 1, Hereford-
square,'West Brompton, S.W.
Wiseman, Mrs., 1, Orme-square, Bayswater, W.
Withall, Miss H., 1, The Elms, St. John's-road, Brixton, S.W.
Withall, H., 1, The Elms, St, John's road, Brixton, S.W.
Wood, Mrs., Bedford House, Carlyle-square', Chelsea, S.W.
Honorary Treasurer.
Alex. Calder, Esq., 1, Hereford-square, South Kensington, S.W.
Auditors.
J. H. Andre, Esq. H. Cook, Esq. Morell Theobald, Esq.
Honorary Secretary.
Algernon Joy, Esq.,Junior United Service Club, S.W.
Resident Secretary.
Miss Kislingbury, 88, Great Russell-street, Bloomsbury,
London, W.C.
Honorary or Corresponding Members.
His Imperial Highness Nicholas, Duke of Leuchtenberg, St.
Petersburg, Russia.
Prince Emile de Sayn Wittgenstein, Lieutenant-General, Aide-de-
Camp' General de S.M.I. de I'Empereur Russie, Vevey,
Switzerland.
Ahmed Rassim Pacha, Khan de Rassim Pacha a Bahdi6 Capoussou,
Constantinople.
The Baron Von Vay, President of the Spiritual Society at Pesth.
The Baroness Adelma Von Vay, Gonobitz, bei Potschach, Styria,
via Gratz, Austria.
The Baroness Guldenstubbe, 29, Rue de Trevise, Paris.
Colonel Don Santiago Bassols y Folguera, Madrid.
El Visconde de Torres-Solanot, Madrid.
The Hon. Alexandre Aksasof, Russian Imperial Councillor,
Nevsky Prospect, 6, St. Petersburg.
The Baron von Dirckinck-Holmfeld, Pinneberg, Holstein.
M. Gustave de Veh, Bischofberger-vilia, Interlaken, Switzerland.
Mme. de Veh, Bischoffsberger-villa, Interlaken, Switzerland.
Signor Sebastiano Fenzi, Firenze, Italy.
Herr Constantin Delhez, Wien, Austria.
J. M. Peebles, Esq., Hammonton, Atlantic Co.,New Jersey,U.S.A.
Mrs. Cora L. V. Richmond, New York, U.S.A.
Miss Anna Blackwell, La Tresorerie, Wimille, Boulogne-sur-Mer.
Baboo Pearychand Mittra, 7, Swallow-lane, Calcutta.
James Mylne, Esq., Beheea. East Indian Railway, Bengal.
Mrs.Emma Hardinge-Britten, San Francisco, U.S.A.
A. J. Riko, Esq., Oude Molstraat, the Hague, Holland.
The Rev. J. Tyerman, 45, Drummond-street, Carlton, Melbourne.
M. C. Constant, Smyrna, Turkey in Asia.
Dr. Maxmilian Perty, Professor of Natural Science, Berne,
Switzerland.
Dr. Franz Hoffmann, Professor of Philosophy, Wurzburg Univer¬
sity, Germany.
W. Lindesay Richardson; M.D., care of Mr. W. H. Terry, 96,
Russell-street, Melbourne, Victoria, Australia.
Gregor C. Wittig, Esq.. Kornerstrasse 2b, Leipsic, Germany.
W. H. Terry, Esq., 84, Russell-street South, Melbourne,
Victoria, Australia.
M. Leymarie, 7, Rue de Lille, Paris.
Epes Sargent, Esq,, Box 2,985, Boston, U.S.A.
H. T. Child, Esq., M.D., 634, Race-street, Philadelphia, U.S.A.
E. Crowell, Esq., M.D.,196, Clinton-avenue, Brooklyn, New York,
U.S.A.
M.F. Clavairoz, Consul-General de France, Trieste, Austria.
G. L. Ditson, Esq., M.D., Albany, New York, U.S.A,
W. L. Sammons, Esq., Cape Town, South Africa.
J. Murray Spear, Esq., 2210, Mount Vemon-street, Philadelphia,
U.S.A.
Mrs. J. M. Snear, 2210, Mount Vemon-street. Philadelphia,U.S.A.
J. H. Gledstanes: Esq., 33, Orsett-terrace, Hyde-park, W.
Samuel Chinnery, Esq-, 2, Rue de Rocroi, Paris.
Rev. Samuel Watson, Memphis, Tennessee, U.S.A.
Luther Colby, Esq., 9, Montgomery-place, Boston, U.S.A.
M. de Bassompierre, 285, Chaussee St. Pierre, Etterbeck, Brussels.
M. A. Anthelme Fritz, Rue des Palais 137, Schaerbeck, Lez-
Bruxelles.
LUut.-Ool. P. Jacoby, 11, Rue de Vienne, Brussels.
Z. Test, Esq., M.D., Union Springs, Cayuga Co., New York, U.S.A.
Le Comte de Bullet, Hotel de TAtheuee, Rue Scribe, Paris,
J. L. O'Sullivan, Esq., 30, Upper Gloucester-plaee.Dorset-square,
London, N.W.
Captain R. F. Burton, F.R.G.S., H. M. Consul, Trieste, Austria.
A. R. Wallace, Esq., F.R.G.S., Rosehill, Dorking
Isaac B. Rich, Esq., 9, Montgomery-plaee, Boston, U.S.A.
Mdlle. Huet, 173, Rue St.Honore, Paris.
W. S. Godbe, Esq., Salt Lake City, Utah, U.S.A.
Dr. Grunhut, Waitzner Boulevard, 67, Buda-Pesth, Hungary.
Dr. A. E. Nehrer, Eperjes, Hungary.
J. W. Day, Esq., 9, Montgomery-place, Boston, U.S.A.
Mrs.'Hallock, 54, Denbigh-street, Belgrave-road, S.W.
Dr. R. Hallock, 54, Denbigh-street, Belgrave-road, S.W.
Signor Damiani, 2, Vico del Vasto, Palazzo del Vasto, Chiaja,
Naples. .
Dr. Puel, 73, Boulevard Beaumarchais, Paris.
Herr J. H. Stratil, Modling, 18, Bruhler-strasse, near Vienna,
M. Cochet, Rue Tanger, Algiers.
Berks T. Hutchinson, Esq., 2, New-street, Cape Town, South
Africa.
Miss Lizzie Doten, The Pavilion, Tremont-street, Boston.
H. J. Newton, Esq., 128, West 43rd-street, New York,
Allied Societies.
The Liverpool Psychological Society. Secretary—Mr. George
Wharmby, 45, Kensington, Liverpool.
L'Union Spirite et Magnetique. Secretary—M. Charles Fritz, 121,
Rue de Louvain, Brussels.
The Brixton Psychological Society. Hon. Sec.—H.E. Frances,
. Esq., 22, Cowley-road, Brixton, S.W.
The Spiriter-Forscher Society, Buda-Pesth. Secretary, M. Anton
Prochaszka, Josefstadt Erzherzog Alexander-gassc, 23,
Buda-Pesth, Hungary.
Dalston Association of Enquirers into Spiritualism. Hon. Secre¬
tary, T. Blyton, Esq., 53, Sigdon-road, Dalston-lane,
Dalston, London, E.
Cardiff Spiritual Society. Hon. Sec., Mr. A. J. Smart, 3, Guild-
ford-street, Cardiff.
Sociedad Espiritista Espanola, Cervantes 34, 28, Madrid. Presi¬
dent—El Visconde de Torres-Solanot.
Sociedad.'Espirita Central de la Republica Mexicana. President—
Senor Refugio T. Gonzalez, 7, Calle de Amedo, Mexico.
Sociedad Espirita di Bogota, Colombia, South America. Presi¬
dent, Senor Manuel Jose Angarita.
THE BRITISH NATIONAL ASSOCIATION
OP SPIRITUALISTS.
38, GREAT RUSSELL STREET, BLOOMSBURY, LONDON.
This organisation, comprising several hundred members,
has public offices, a reading-room and library, with a secretary
in attendance to receive visitors and answer inquiries. Seances
can be attended by recommendation from a member. Terms,
for use of library and reading-room, one guinea per annum.
ASTROLOGY, a Popular Sketch of
Celestial Philosophy in all its branches, by A. J.
Pearce, author of the Weather Guide Book, &c. Price
Is. 6d. Sent post free by the author on receipt of stamps ;
address, 3, Cedars-terrace, Queen's-road. South Lambeth, S.W.
The TEXT BOOK OF ASTROLOGY, by the same author,
is now preparing for publication. Vol. I. will contain the
complete rules, and all tables necessary for calculating Na¬
tivities on the Placidian method improved by Zadkiel, by
spherical trigonometry (the only reliable and truly scientific
method). To subscribers the price will be 7s. the first volume.
Intending subscribers will please send their orders to the
author.
Price Sixpence.
The untrustworthiness of dr.
CARPENTER'S PSYCHOLOGICAL THEORIES, set
forth in a Review of his book on Mesmerism, Spiritualism,
(fc., Historically and Scientifically Considered. By Alfred
Russel Wallace, F.L.S. This review was originally published
in The Quarterly Journal of Science.
The Spiritualist Newspaper Branch Office, London, W.O.
THE PROBABLE EFFECTS OF SPIRIT¬
UALISM UPON THE SOCIAL, MORAL, AND RELI¬
GIOUS CONDITION OF SOCIETY. Two Essays by Miss
Anna Blackwell and Mr. G. F. Green.
Published by the British National Association of Spiritualists,
38, Great Russell-street, W.C.
E. W. Allen, 11, Ave Maria-lane, E.C.
Price Is.
POEMS OF PROGRESS, given through
the Mediumship of Lizzie Doten. A companion book to
Poems of the Inner lAfe; 7s. 6d. Spiritualist Newspaper
Branch Office, London. t
Price 7s. 6d., cloth.
POEMS FROM THE INNER LIFE. By
LIZZIE DOTEN. Tenth edition. This volume opens
with the wonderful experiences of the author, who is pecu¬
liarly gifted as a trance medium and public speaker. Her
platform labours have for a long time been unceasing, and the
deep religious and spiritual tone of her discourses have ex¬
tended her influence far beyond the limit of her voice, through
the instrumentality of the press. This volume contains the
gems of the inspirational utterances, given chiefly before
public audiences, under direct spirit influence. Several of
them are attributed to the spirit of Edgar A. Poe. They have
the rhythmic beauty, grandeur, and imagery of his produc¬
tions in earth-life. The Biographical Introduction gives a
succinct account of the means by which these poems are given
to the world. The peculiar influence which each spirit exer¬
cised over the medium is stated, and the unmistakable cer¬
tainty and significance of this higher phase of spiritual com¬
munion ispourtrayed. The book is a valuable addition to the
evidences in favour of spirit intercourse and of its ennobling
tendencies.—Boston, U.S : Colby AND RICH. London : Spirit¬
ualist Office.
WHERE ARE THE DEAD ? or, SPIRIT¬
UALISM EXPLAINED. By Fredk. A. Binney.
Third Edition. Price 3s.
London:—Simpkin, Marshall & Co.
LEAVES FROM MY LIFE, a narrative of
Personal Experiences, with some account of American
Spiritualism, as seen during a twelvemonth's visit to the
United States. Two Portraits. By J. J. MORSE. Price 2s.
From the Author, at Elm Tree-terrace, Uttoxeter-road. Derby.
THE BANNER OF LIGHT: The oldest
journal devoted to the Spiritual Philosophy in the
world! Issued weekly, at No. 9, Montgomery-place, Boston,
Mass. Colby and Rich, publishers and proprietors. Isaac B.
Rich, business manager; Luther Colby, editor: aided by a
large corps of able writers. The Banner is a first-class, eight-
paged family paper, containing forty columns of interesting
and instructive reading, embracing a literary department,
reports of spiritual lectures, original essays—upon spiritual
philosophical and scientiflc subjects; editorial department
spirit-msssage department; contributions by the most talented
writers in the world, &c., <fcc. Terms of subscription, in
advance, 15s. per annum; Spiritualist Newspaper Branch
Office, 38 Great Russell-street, London, W.C.
MR. C. E. WILLIAMS,
61, LAMB'S CONDUIT STREET, W.C.
At home daily from 12 till 5. On Monday, Thursday.and
Saturday evenings from 8 o'clock for reception of friends.
Address as above. ,
MR. J. W. FLETCHER,
TEST MEDIUM AND CLAIRVOYANT,
2, YERNON PLACE, BLOOMSBURY SQUARE.
Hours—Twelve till Five.
MRS. S. W. FLETCHER,
THE MESMERIC HEALER,
2, YERNON PLACE, BLOOMSBURY SQUARE.
Hours, 12 to 5. Patients attended at their homes by appoint¬
ment. Nervous diseases a specialty.
MR. W. EGLINTON
32, FOPSTONE ROAD, EARL'S COURT, KENSINGTON,
S.W.
MRS. CLARA DEARBORN,
Healer and Trance Medium,
10, GUILFORD PLACE, RUSSELL SQUARE, W.O.
Hours from 10 to 4.
Mrs. Dearborn deals specially with rheumatics, tumours,
and cancer. Writings are produced upon her arms; they
come as communications, usually in the form of tests. The
poor are treated free of expense. Mrs. Dearborn will make
engagements to treat the sick at their homes.
Mr. j. j. morse, inspirational
TRANCE SPEAKER. For terms and dates address
—Elm Tree-terrace, Uttoxeter-road, Derby.
Agent for all kinds of Spiritual literature.
MDLLE. HUET, good Medium for Haps.
At home from 12 to 5 o'clock. 173, Rue St Honord,
Paris.
EW. WALLIS, Trance Medium, desires
• engagements to deliver public or private addresses, in
London or the provinces. Address, 1, Englefleld-road, Kings-
land, N.
CURATIVE MESMERISM. — PROFESSOR
ADOLPHE DIDIER, Consulting Mesmerist (33 years
established), attends patients and may be consulted daily from
2 till 5 at his residence, 10, Berkeley-gardens, Campden-hill,
Kensington. Select lectures and private lessons in the
science of Mesmerism are given by appointment.
WJ. COLVILLE, Inspirational Lecturer,
• is open to Engagements to deliver Orations, Ac., in
London or the Provinces (subjects may be chosen by the
audience, if desired).—.Address, 429, Oxford-street, London, W.
MISS MANCELL, Spiritual Clairvoyant
and Medical Mesmerist, 99, Great Suffolk-street,
Borough. Diseases given up by the faculty are not unfrequently
cured by Mesmerism and receive Miss ManceU's special atten¬
tion. Patients attended at their homes, and clairvoyant sittings
given by appointment.
MRS. WOODFORDE, Developing and Heal¬
ing. Medical advice to ladies and children. Terms
modified to suit circumstances. Days and hours of business—
Mondays, Wednesdays, Thursdays, and Saturdays, from 1 p.m,
to 5 p.m. 90, Great Russell-street, Bloomsbury, W.O.
MISS BELL TILLEY, Medical Clairvoyant.
Testimonials may be inspected. Appointments by
letter. 40, St. Mary's-terrace, Maida-hill West, London.
TL. HENLY, Mesmeric Healer, 429, Oxfrord-
• street. At home from 1 till 3 p.m., Saturday and
Sunday excepted.
PRIMITIVE CHRISTIANITY AND MODERN
SPIRITUALISM.
By EUGENE CROWELL, M.D.
One of the best books published in connection with Modern
Spiritualism for many years, and a standard work on the
Eubject. The author has studied the facts and phenomena for
a lengthened period, and deals in an intelligent manner with
the problems and difficulties presented.
In two yols, price 10s. 6d. each; postage 8d. per volume.
London: Spiritualist Newspaper Branch Office.
Just published, 2s. paper covers; 3s. cloth.
LIFE BEYOND THE GRAVE: described
by a Spirit through a Writing Medium.
E. W. Allen, 11, Ave Maria-lane, London, E.O.
Second edition, revised and enlarged, price 2d.
SPIRITUALISM IN THE BIBLE COM-
pared WITH MODERN SPIRITUALISM. By F. J
Theobald. This useful little pamphlet is intended to meet
a growing want among a large number of inquirers into Spirit¬
ualism. It consists of a carefully selected and condensed
collection of instances of medial power and Spiritualistic phe¬
nomena as recorded in the Scriptures, and shows their analogy
to and connection with the manifestations now gaining such
great power throughout the world, especially among so-called
" Modem Spiritualists."—W. H. Harrison, 38, Great Russell-
street, Bloomsbury London, W.O.
PLANCHETTE, OR THE DESPAIR OF
SCIENCE, by Epes SAROEnt. This book, by an author
of considerable ability, gives a bird's-eye view of Modern Spirit¬
ualism in its Phenomenal, Historical, and Religious aspects.
It is one of the best works ever published to give general ip-
formation on all branches of the subject; 5s. Spiritualist
Newspaper Branch Office, London.
Mediumship : its nature and
VARIETIES.—A Pamphlet containing useful infor¬
mation for those who hold or who are about to hold spirit
circles in their own homes. Published at The Spiritualist
newspaper branch office, 38, Great Russell-street, London,
W.C. Price Id.; post free for lid.; or gix copies post free
for 6d.

Set display mode to:
Universal Viewer |
Mirador | Large image | Transcription
Images and transcriptions on this page, including medium image downloads, may be used under the Creative Commons Attribution 4.0 International Licence unless otherwise stated.
(2)

| | |
| --- | --- |
| Permanent URL | https://digital.nls.uk/137370624 |
No.288, March 1st 1878
Attribution and copyright:

This work is likely to be free of known copyright restrictions

More information
Volume 12, Jan - Jun 1878 - The Spiritualist newspaper

| | |
| --- | --- |
| Shelfmark | P.20 |
| Additional NLS resources: | |
The Spiritualist
Description
A complete run of 'The Spiritualist', later 'The Spiritualist Newspaper', and a partial run of its short lived successor 'Psyche'. Published in London from 1869-1882. A key title of the spiritualist movement, and significant in relation to the development of the movement in the UK. Unusually for this era, it has a strong focus on women. Edinburgh-born Sir Arthur Conan Doyle was among supporters of spiritualism. Detractors included his friend Harry Houdini, who collected spiritualist publications: this title is in the Harry Houdini Collection in the Library of Congress.
More information