(2) next ›››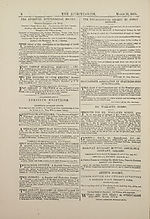 Download files
Complete book:
Individual page:
Thumbnail gallery: Grid view | List view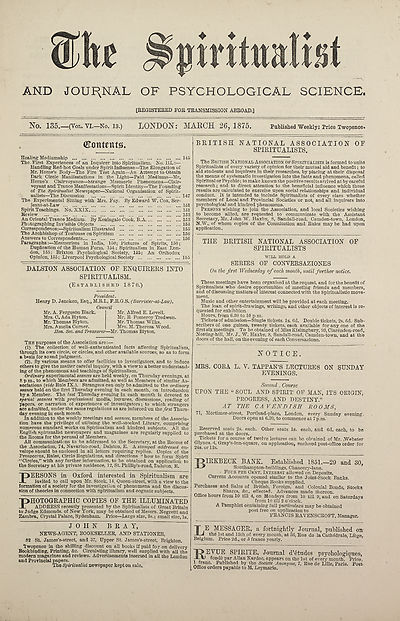 AND JOURNAL OF PSYCHOLOGICAL SCIENCE.
[BEGISTEBED FOB TRANSMISSION ABROAD.]
No
135.—(Vol. VL—No.
is.) LONDON:
MARCH 26, 1875. Published Weekly; Price Twopence.
arontents.
Healing Mediumship 145
The.First Experiences of an Inquirer into Spiritualism. No. III.:—
Handling Red-hot Coals under Spirit Influenee—The Elongation of
Mr. Home's Body—The Fire Test Again—An Attempt to Obtain
Dark Circle Manifestations in the Light—Paid Mediums—Mr.
Heme's Clairvoyance—Strange Mesmeric Phenomena—Clair¬
voyant and Trance Manifestations—Spirit Identity—The Founding
of The Spiritualist Newspaper—National Organisation of Spirit¬
ualists—The Discussion 147
The Experimental Sitting with Mrs. Fay. By Edward W. Cox, Ser-
jeant-at-Law 151
Spirit Teachings. No. XXIX 151
Review ... 153
An Oriental Trance Medium. By Keningale Cook, B.A 153
Photographing Invisible Objects 154
Correspondence:—Spiritualism Illustrated 155
The Archbishop of Toulouse on Spiritism * 156
Answers to Correspondents ... 156
Paragraphs:—Mesmerism in India, 150; Pictures of Spirits, 150;
Duplication of the Human Form, 154; Spiritualism in East Lon¬
don, 155; Brixton Psychological Society, 155; An Orthodox
Opinion, 155; Liverpool Psychological Society 155
DALSTON ASSOCIATION OF ENQUIRERS INTO
SPIRITUALISM.
(Established 18 7 0.)
President.
Henry D. Jeneken, Esq,, M.R.I., F.R.G.S. (Barrister-at-Law).
Council
Mr. A. Ferguson Black.
Mrs. C. Ada Blyton.
Mr. Thomas Blyton.
Mrs. Amelia Comer.
Hon. Sec. and Treasurer-
Mr. Alfred E. Lovell.
Mr. R Pomeroy Tredwen.
Mr. Thomas Wilks.
Mrs. M. Theresa Wood.
■Mr. Thomas Blyton.
The purposes of the Association are:—
(1) . The collection of well-authenticated facts affecting Spiritualism,
through its own circle, or circles, and other available sources, so as to form
a bnsis for sound judgment.
(2) . By various means to offer facilities to investigators, and to induce
others to give the matter careful inquiry, with a view to a better understand¬
ing of the phenomena' and teachings of Spiritualism.
Ordinary experimental seances are held weekly, on Thursday evenings, at
8 p m., to which Members are admitted, as well as Members of similar As¬
sociations (vide Rule IX.). Strangers can only be admitted to the ordinary
seance held on the first Thursday evening in each month, on introduction
by a Member. The last Thursday evening in each month is devoted to
special seances with professional media, lectures, discussions, reading of
papers, or narration of experiences of investigators; to which strangers
are admitted, under the same regulations as are inforced on the Jirst Thurs¬
day evening in each month.
In addition to the weekly meetings and seances, members of the Associa¬
tion have the privilege of utilising the well-stocked Library, comprising
numerous standard works on Spiritualism and kindred subjects. Ail the
English Spiritualist newspapers and magazines are regularly supplied to
the Rooms for the perusal of Members.
All communications to be addressed to the Secretary, at the Rooms of
the Association, 74, Navarino-road, Dalston, E. A stamped addressed en¬
velope should be enclosed in all letters requiring replies. Copies of the
Prospectus, Rules, Circle Regulations, and directions ? how to form Spirit
"Circles," with any further information, to be obtained on application to
the Secretary at his private residence, 12, St. Phillip's-road, Dalston, E.
PERSONS in Oxford interested in Spiritualism are
invited to call upon Mr. Stock, 14, Queen-street, with a view to the
formation of a society for the investigation of phenomena and the discus¬
sion of theories in connection with Spiritualism and cognate subjects.
Photographic copies of the illuminated
ADDRESS recently presented by the Spiritualists of Great Britain
to Judge Edmonds, of New York, may be obtained of Messrs. Negretti and
Zambra, Crystal Palace, Sydenham. Price—Large size, 3s.; small size, Is.
BRITISH NATIONAL ASSOCIATION OF
SPIRITUALISTS.
The British National Association of Spiritualists is formed to unite
Spiritualists of every variety of opinion for their mutual aid and benefit; to
aid students and inquirers.in their researches, by placing at their disposal
the means of systematic investigation into the facts and phenomena, called
Spiritual or Psychic; to make known the positive results arrived at by careful
research; and to direct attention to the beneficial influence which those
results are calculated to exercise upon social relationships and individual
conduct. It is intended to include Spiritualists of every class whether
members of Local and Provincial Societies or not, and all inquirers into
psychological and kindred phenomena.
Persons wishing to join the Association, and local Societies wishing
to become allied, are requested to communicate with the Assistant
Secretary, Mr. John W. Haxby, 8, Sandall-road, Camden-town, London,
N.W., of whom copies of the Constitution and Rules may be had upon
application.
THE BRITISH NATIONAL ASSOCIATION OF
SPIRITUALISTS
WILL hold a
SERIES OF OONYERSAZIONES
On the first Wednesday of each month, until further notice.
These meetings have been organised at the request, and for the benefit of
Spiritualists who desire opportunities of meeting friends and members,
and of discussing matters of interest connected with the Spiritualistic move¬
ment.
Music and other entertainment will be provided at each meeting.
The loan of spirit-drawings, writings, and other objects of interest is re¬
quested for exhibition.
Hours, from 6.30 to 10 p.m.
Tickets of admission—Single tickets. Is. 6d. Double tickets, 2s. 6d. Sub¬
scribers of one guinea, twenty tickets, each available for any one of the
first six meetings. To be obtained of Miss Kislingbury, 93, Clarendon-road,
Notting-hill, Mr. J..W. Haxbv, 8, Sandall-road, Camden-town, and at the
doors of the hall, on the evening of each Conversazione.
NOTICE.
MRS. CORA L. V. TAPP AN'S LECTURES ON SUNDAY
EVENINGS.
Second , Course
UPON THE " SOUL AND SPIRIT OF MAN, ITS ORIGIN,
PROGRESS, AND DESTINY."
AT THE CAVENDISH ROOMS,
71, Mortimer-street, Portland-place, London, every Sunday evening.
Doors open at 6.30, to commence at 7 p.m.
Reserved seats Qs. each. Other seats Is. each, and 6d. each, to be
purchased at the doors.
Tickets for a course of twelve lectures can be obtained of Mr. .Webster
Glynes. 4, Gray's-inn-square, on application, enclosed post-office order for
24s. or 12s.
BIRKBECK BANK. Established 1851.—29 and 30,
Southampton-buildings, Chancery-lane.
Four per Cent. Interest allowed on Deposits.
Current Accounts opened similar to the Joint-Stock Banks.
Cheque Books supplied.
Purchases and Sales of British, Foreign, and Colonial Bonds, Stocks
Shares, &c., effected. Advances made thereon.
Office hours from 10 till 4, on Mondays from 10 till 9, and on Saturdays
from 10 till 2 o'clock.
A Pamphlet containing full particulars may be obtained
post free on application to
FRANCIS RAYENSCROFT, Manager.
JOHN BRAY,
NEWS-AGENT, BOOKSELLER, AND STATIONER,
82 St. James's-street, and 37, Upper St. James's-street, Brighton.
Twopence in the shilling discount on all books if paid for on delivery
Bookbinding, Printing, &c. Circulating library, well supplied with all the
modern magazines and reviews. Advertisements inserted in all the London
and Provincial papers.
The Spiritualist newspaper kept on sale.
E MESSAGER, a fortnightly Journal, published oh
the 1st and 15th .of every month, at 36, Rue de la CatMdrale, Lifege,
Belgium. Price 2d., or 5 francs yearly.
T> EVUE SPIRITE, Journal d'etudes psychologigues>
J-V fonde par Allan Kardec, appears on the 1st of every month. Price,
1 franc. Published by the Soeiete Anonyme, 7, Rue de Lille, Paris. Post-
Office orders payable to M. Leymarie.

Set display mode to:
Universal Viewer |
Mirador | Large image | Transcription
Images and transcriptions on this page, including medium image downloads, may be used under the Creative Commons Attribution 4.0 International Licence unless otherwise stated.
(1)

| | |
| --- | --- |
| Permanent URL | https://digital.nls.uk/135912267 |
No.135, March 26th 1875
Attribution and copyright:

This work is likely to be free of known copyright restrictions

More information
Volume 6, Jan - Jun 1875 - The Spiritualist newspaper

| | |
| --- | --- |
| Shelfmark | P.20 |
| Additional NLS resources: | |
The Spiritualist
Description
A complete run of 'The Spiritualist', later 'The Spiritualist Newspaper', and a partial run of its short lived successor 'Psyche'. Published in London from 1869-1882. A key title of the spiritualist movement, and significant in relation to the development of the movement in the UK. Unusually for this era, it has a strong focus on women. Edinburgh-born Sir Arthur Conan Doyle was among supporters of spiritualism. Detractors included his friend Harry Houdini, who collected spiritualist publications: this title is in the Harry Houdini Collection in the Library of Congress.
More information