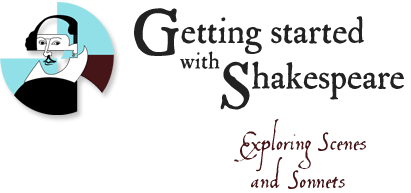 Getting started with Shakespeare
Exploring scenes and sonnets
What comes to mind when you hear the name Othello, Romeo or Macbeth? Does the idea of a Shakespearean sonnet inspire you or just fill you with dread? This resource looks at a selection of characters, scenes and sonnets to help pupils get started in reading and understanding some of Shakespeare's work.
The primary area prompts pupils to look at a selection of still images and decide what type of character is being portrayed and to describe what they think is happening in a particular scene.
The secondary area provides a brief history of the sonnet and introduces pupils to three different sonnet types through an interactive rhyming exercise. At the end, students are invited to create their own sonnet through a series of online writing exercises.
You can also download a lesson plan for P6 and P7 pupils (PDF: 592 KB; 9 pages) created by TAG, the learning team at the Citizens Theatre, Glasgow. Based on workshop sessions held at the National Library of Scotland, this plan will help you to introduce Shakespeare to your class using drama, performance, and language.