1981 - Lanark
This novel by Alasdair Gray was at least twenty years in the making, and heralded an era of new vitality in Scottish writing. It is firmly rooted in the traditions of the Scottish urban novel, but breaks the boundaries of realism by combining its portrayal of Duncan Thaw's struggle to pursue a career as an artist in Glasgow with a surrealistic exploration of his afterlife as Lanark, in the apocalyptic city of Unthank.
This is not only a novel but an 'imagined object', whose text is complemented by Gray's own illustrations and a supporting framework of footnotes and typographical devices. The novel is ambitious in its themes and its construction, and has been described by Anthony Burgess as a 'shattering work of fiction in the modern idiom'. Its originality and eccentricity marked the beginning of a period of renewed confidence in Scottish writing.
Alasdair Gray. Lanark. Edinburgh, 1981. FB.s.749.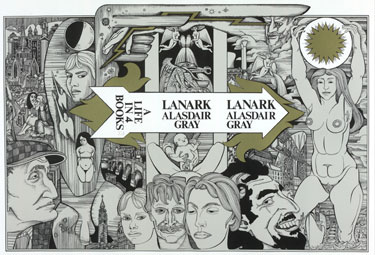 300mm