1926 - A Drunk Man Looks at the Thistle
The place of Hugh MacDiarmid as the giant of 20th-century Scottish poetry who led a Scottish Renaissance movement is secure. Among a prolific output, his long 2,685-line poem A Drunk Man looks at the Thistle, published in 1926, is acknowledged as his finest and most sustained piece of work. A principal aim of the poem is to grapple with 'this root-hewn Scottis soul' and to analyse the nation of Scotland.
Hugh MacDiarmid (a pen-name adopted by Christopher Murray Grieve) almost single-handedly forged a Scottish Renaissance movement that severed the nation's literary ties with the folksy sentimentality of the 19th century and dragged it into the European mainstream. MacDiarmid chose to write in Scots rather than Gaelic, but saw that it was necessary to improve the capabilities of the language by reviving old Scots words and borrowing freely from Gaelic and other sources. Thus he created a synthetic Scots, later sometimes known as 'Lallans'.
Critics continue to debate the dominant themes in MacDiarmid's poetry and rake through the embers of this awkward genius's life. Perhaps he is best summed up in his own words from A Drunk Man Looks at the Thistle: 'I'll hae nae hauf-way hoose, but aye be whaur Extremes meet.'
Hugh MacDiarmid. A drunk man looks at the thistle. Edinburgh, 1926. Aitken Collection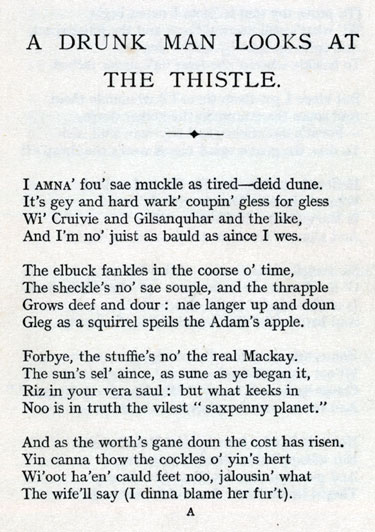 110mm