1824 - The Bell Rock Lighthouse
The Stevenson family provides one of the best examples of the enormous influence of Scottish engineering in the 19th century. The Stevensons designed 97 lighthouses and lights around the Scottish coast, and worked on projects throughout Britain and as far afield as Japan. This published account of one of their greatest projects, the building of the Bell Rock lighthouse, belonged to Robert Stevenson, grandfather of the author Robert Louis Stevenson, and has been heavily annotated by him.
Robert Stevenson (1772-1850), was the first Stevenson in a business established by his father-in-law, Thomas Smith. It was the construction of the lighthouse on the Bell Rock - twenty-seven miles off Dundee, and a major hazard for North Sea shipping - that made his name. He lived and worked on the rock with his men, and was responsible for the lighthouse's design and innovative construction. The illustration shown gives a vivid impression of the technical complexity of the works on a reef that was lashed by frequent gales during the building period. As well as building lighthouses and lights, the Stevensons designed, surveyed or built harbours, docks, roads and bridges throughout the British Isles and beyond from the 1790s until well into the 20th century.
Stevenson Papers Acc.10706/217, plate ix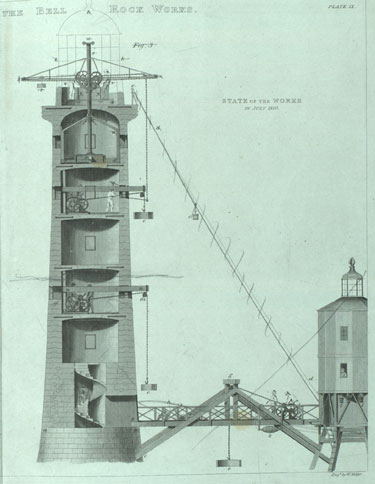 275mm