1822 - Emigration poster
Despite increased wealth and productivity at home, 19th-century Scotland exported a significant proportion of her people throughout the world. For many, emigration was fuelled by the desire to create a better life abroad. Others might find themselves under direct of indirect pressure to leave - as with the still controversial Highland Clearances. This Gaelic poster shows another situation: an overseas territory trying to attract Scottish settlers.
'Listen! Listen! Listen!', begins the poster. Nahum Ward, who describes himself as an American from Ohio, was an agent sent to persuade prospective emigrants to settle there. He was probably targeting Gaelic-speakers in districts where agricultural change was forcing tenants off the land at a time when Ohio was at the centre of the expanding American frontier. Ward paints a rosy picture of a fertile and fruitful new land: 'Corn of every kind is grown and it is exceedingly plentiful and heavy . [The inhabitants] have apples and pears; peaches and grapes, pomegranates . melons and cucumbers, tomatoes . They have only to buy tea, coffee and spices, and they can be got at half the price they are in Scotland.'
Posters of this kind rarely survive, and Gaelic examples from this period are particularly rare.
Nahum Ward. Eisdibh! Eisdibh! Eisdibh! Stirling, 1822. RB.Case 1 (6).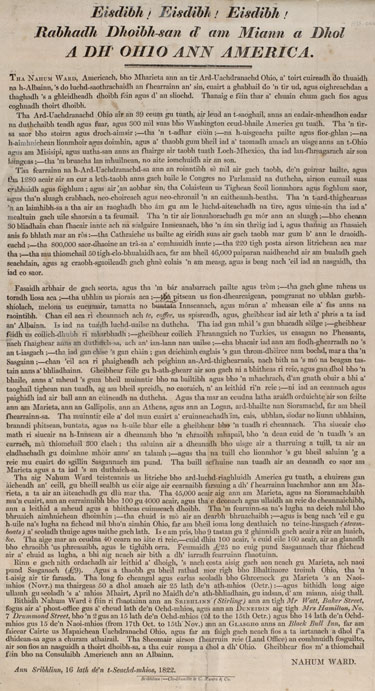 240mm