1786 - Boswell & Johnson in Scotland
James Boswell's Life of Samuel Johnson is perhaps the greatest example of biography in the English language. The coming together of James Boswell, Edinburgh advocate and author, and Dr Johnson (of 'dictionary' fame) may provide the supreme example of a happy meeting between the biographer and his subject from which both benefit.
Johnson, who had published his Dictionary in 1755, was immortalised by Boswell's biography, which came out in 1791. Boswell first met Johnson in 1763, and from that very first meeting made notes of Johnson's conversation which he was later to use in the biography. The longest period the two men spent together was on a tour to the Hebrides, August-November 1773, but Boswell was able to draw on a large range of informants. As shown here, Sir William Forbes of Pitsligo writes about a meeting where a group of eminent persons wanted to criticise Johnson's epitaph for Oliver Goldsmith but out of fear did so in a 'round robin' where the position of the signatures in a circle placed nobody in the firing line more than anybody else.
James Boswell. The life of Samuel Johnson. 2 vols. London: Charles Dilly, 1791 [Jac.I.1.30-31]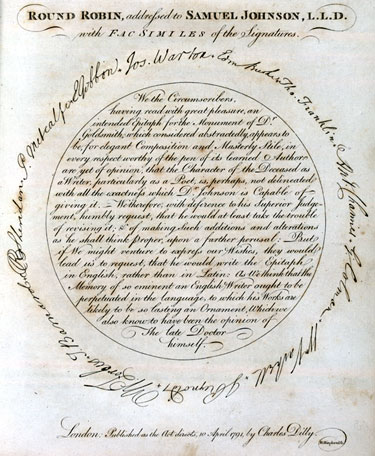 200mm