1778 - Edinburgh bookbinding
Like other decorative arts, bookbinding underwent significant development in the 18th century. This is an outstanding example of the distinctive work of Edinburgh bookbinder James Scott, who introduced new styles into Scottish bookbinding. It shows elements both of Scott's earlier rococo style and his later neo-classical style.
In the 1770s and 1780s James Scott developed a distinctive style of binding, breaking away from the traditional Scottish 'wheel' and 'herringbone' designs. He replaced these with first rococo and then neo-classical styles. Bindings by James Scott and his son William are much sought after by collectors, and the Library has the most extensive collection in existence. The binding shown here is on a fine edition of the greatest of English epics, John Milton's Paradise Lost, printed at the Foulis Press in Glasgow in 1770. Scott bound at least eight copies of that book. In its red morocco with green inlays, the binding is almost as fresh as the day it was made. It was purchased at auction in November 1997. Previously unknown, it came to light when taken to a BBC Television Antiques Roadshow programme.
See more Scottish bookbindings at www.nls.uk/bookbinding.
Binding by James Scott on John Milton. Paradise lost. Glasgow: Foulis, 1770. Bdg.m.146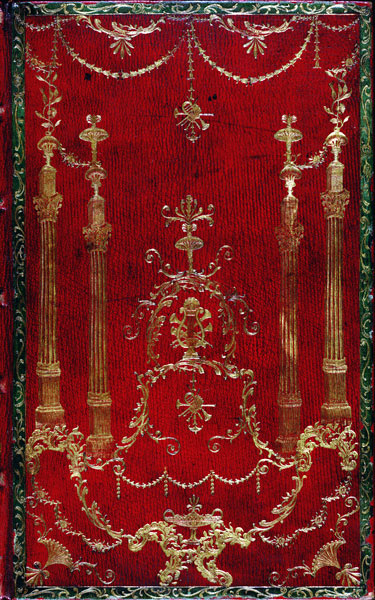 220mm