1683 - First Scottish gardening book
This first Scottish gardening book is sometimes also seen as the first Scottish cookery book. Published in 1683, it stands at the head of a rich tradition of Scottish gardening literature, which was also well known in England where many great estates employed Scots as their head gardeners.
John Reid was born in 1656 and practised gardening at various estates before moving to Shank, East Lothian, in 1680. Shank was the estate of Sir George ('Bluidy') Mackenzie, known as the founder of the Advocates Library, the National Library of Scotland's precursor.
The left-hand page shown is the last of a chapter 'Of some Physick herbes, shrubs, and Flowers'. It refers to Reid's friend James Sutherland, first superintendent of the Physic Garden (later Royal Botanic Garden) in Edinburgh. The right-hand page begins an appendix on preserving and cooking fruits and vegetables which some see as the first Scottish cookery book.
John Reid. The Scots Gard'ner. Edinburgh: David Lindsay, 1683. M.42.e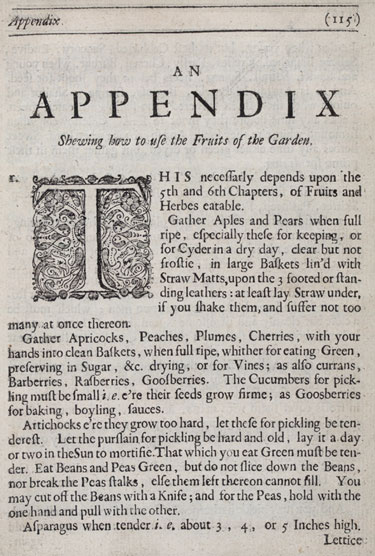 150mm