1568 - Bannatyne Manuscript
In 1568 the plague struck Edinburgh. Hidden away in a country retreat, trying to escape the pestilence, city merchant George Bannatyne whiled away the time compiling an anthology of poetry. Little did he know that his manuscript would play a unique part in preserving his country's poetic heritage.
The Bannatyne manuscript contains some of the best work of Scotland's most important mediaeval poets. It is our only source for some poems: without it, we would have lost Alexander Scott's welcome to Mary Queen of Scots ('Welcum illustrat Ladye and oure quene'), William Dunbar's poem to Queen Margaret Tudor ('O lusty flour of yowth benyng and bricht'), Robert Henryson's pastoral love-poem 'Robene and Makyne', and many others. In other cases, the Bannatyne Manuscript preserves the most reliable text for modern scholars. The works it contains range widely: religious verse, love poems, moral fables and scandalous flytings, all find a place in it. The manuscript is open at Henryson's 'Ane prayer for the pest': an appropriate poem given the volume's pestilent origins!
Adv.MS. 1.1.6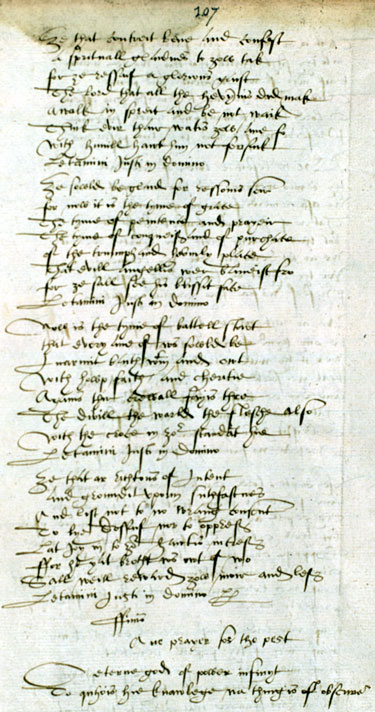 160mm