1542 - Earliest Printed Act of Parliament
The earliest printing of any Act of the Scottish Parliament and the earliest Scottish book used as part of the process of government. The title page includes one of the earliest printed illustrations of the arms of Scotland.
Thomas Davidson, who printed this volume, was Scotland's second printer (apart from a very shadowy John Story recorded as the printer of a single undated book). Just as this is the first legislation printed in Scotland, so also his other famous book, The hystory and croniklis of Scotland (John Bellenden's translation of Boece's Scotorum historiae), printed about this same date, is the earliest history printed in Scotland.
Davidson's books are splendid pieces of printing compared with the known productions of Chepman & Myllar, who set up Scotland's first printing press. As if to underline this, in the tradition of the fine continental productions of the 15th century, two of the three known copies of the Actis are printed on vellum, the earliest example of this in Scotland.
The new actis and constitutionis of parliament maid be the rycht excellent prince Iames the fift kyng of Scottis. Edinburgh: T. Davidson, 1542. Ry.II.a.7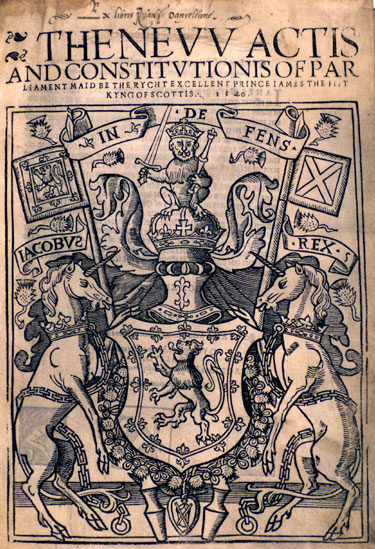 190mm