1489 - The Bruce
One of the two earliest surviving manuscripts of 'The Bruce', John Barbour's 14th-century verse epic. It shows a description of the initial phases of the battle of Bannockburn. The poem celebrates the struggles and eventual victories of Robert the Bruce, the hero-king who finally achieved the independence for Scotland which Wallace and earlier patriot leaders had sought.
Archdeacon John Barbour of Aberdeen began his poem in the mid 14th century, when there were still veterans of the Wars of Independence to help him get his story straight. He deliberately wrote his poem in Scots, not Latin, so that people of all ranks could share Bruce's story.
By the time that John Ramsay, Prior of the Carthusian monks at Perth, made this copy of the poem in 1489, literacy had spread beyond the Church and the highest nobles to Scottish lairds. They wanted not just pious books but tales of derring-do which made them proud to be Scots. 'The Bruce' fitted that market perfectly. Ramsay made this copy at the request of 'Magister Symon Lochmalony' of Fife, and its final leaf gives the names of a number of Aberdeenshire landed families through whose hands it later passed. With the arrival of the printing press, the poem would become even more popular.
Adv.MS. 19.2.2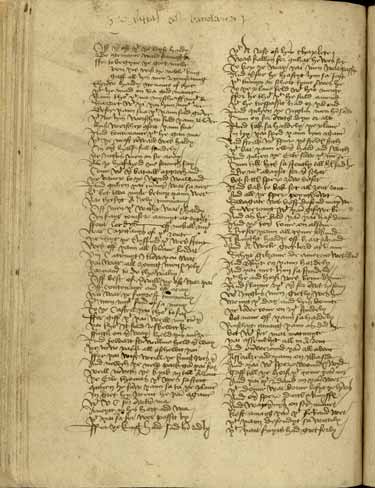 210mm