1454 - Scotichronicon
'He is not a Scot who is not pleased with this book.' So wrote Walter Bower, Abbot of Inchcolm, when he finished this epic history of the Scots - probably the most important mediaeval account of early Scottish history. It provides a strong expression of national identity and offers a window into the world view of mediaeval commentators.
Bower wrote Scotichronicon at the request of David Stewart of Rosyth, a Fife laird - showing that literacy, even in Latin, was no longer the preserve of the church. He took over materials ascribed to an earlier historian, John of Fordun, and continued them down to his own day. Among the famous stories he covers is the myth that the Scots took their name originally from Scota - Pharaoh's daughter.
This particular manuscript belonged to the Abbey of Coupar Angus, and is of the shorter version of Bower's work. In its prologue he denounces Edward I of England as a tyrant, blaming his military incursions into Scotland for the destruction of much of Scotland's manuscript heritage - a situation which Scotichronicon was designed to remedy. He ends his prologue with the hope that 'all those who are depressed will be given over to joy by reading it'.
Adv.MS. 35.1.7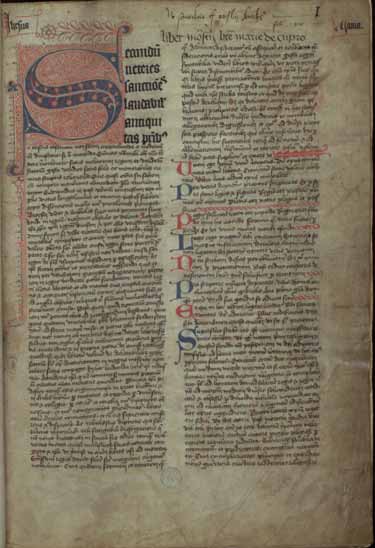 250mm