Household accounts
Glasgow was growing rapidly in size and status when William, 10th Earl of Angus, lodged there for five months in 1608.
The Earl's household accounts show that fresh meat came on the hoof from his estates in Lanark, but many supplies were bought in from Glasgow tradesmen and merchants. There was French wine from wine merchants, ale from the landlady, and bread from Glasgow bakers.
Manchet ('menschottis' in the accounts) — the most expensive white bread — was a favourite and was bought most days. Although it usually came from Glasgow bakers, family visiting Edinburgh sometimes bought these light loaves there.
Cheaper 'aitt' or oat bread, the standard fare of most Scots, was bought locally.
Waidinesdey ye Last dey of august

Enterit of menschottis — iiii xx
Enterit of aitt bred — iiii xx
Enterit of aill &cost - xvi qrts —Restes xviii sh
Enterit of Frensche wyne -iii poynts — xxxiii sh
Enterit of canerie wyne ane choipin — viii sh
Today artisan loaves are highly sought after by some, while others prefer white bread.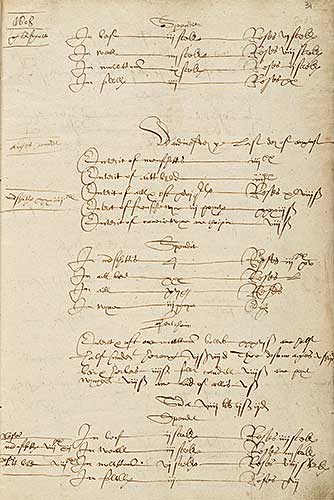 A page from the household accounts of the Earl of Angus, 1608. [Library reference: MS.2200, f.31]