Rhubarb recipes
Dried rhubarb root was first used in Britain as a medicine in the 17th century. Its culinary use — in which rhubarb stalks were eaten as a fruit — came later.
Hannah Glasse considered rhubarb a curiosity, and comments:
'… these tarts may be thought very odd, but they are very fine ones and have a pretty flavour'.— Hannah Glasse, 'The complete confectioner', London, 1760.
Three rhubarb recipes
Stephana Malcolm gives three recipes for rhubarb which she calls 'spring fruit'.
Her 'Spring fruit pudding' is for rhubarb stewed with lemon-peel, cinnamon, cloves, and sugar until reduced 'to a marmalade'. The resulting mixture was sieved and more lemon-peel, nutmeg, butter, and eggs added, then put in a pie and baked.
'Spring cream or mock gooseberry fool' was a cold dessert with a pint of cream added to the stewed fruit. The fool could be served up at once in glasses.
Stephana's third rhubarb recipe is for a savoury soup.
Uses for rhubarb
These very different uses of rhubarb suggest it was a fashionable novelty, with a wide variation in uses as a vegetable and a fruit.
All three rhubarb recipes appear, along with two others, in the 1823 edition of Dr Kitchiner's 'The cook's oracle'.
Dr Kitchiner was an enthusiast for gastronomic purges, and the medicinal qualities of rhubarb, as well as its value as a food, appealed to him. His book may have been Stephana's source.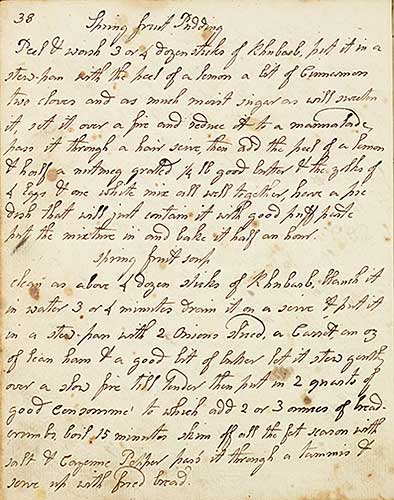 Stephana Malcolm's 'Spring fruit recipes'
From Stephana Malcolm's recipe book begun in 1791. [Library reference: Acc.10708/3]