Mother Eve's Pudding
Stephana Malcolm was the daughter of George Malcolm of Burnfoot in rural Dumfriesshire.
She and her female relations compiled seven recipe books covering four generations and over 100 years from the 1780s to the 1890s.
Many of the recipes are common to more than one author, but the arrival of new dishes and cooking methods distinguishes the generations.
Orchard fruits
Stephana was fond of sweet dishes, especially practical hot and cold puddings for family meals using orchard produce, such as gooseberries, pears, redcurrants, blackcurrants and apples.
Apples were a particular favourite. Her recipe for Mother Eve's Pudding shown here is written amusingly in verse. Stephana also has an 'Apple Charlotte' recipe. Traditionally, this is named after George III's Queen Charlotte.
In this recipe, stewed apples are mixed with lemon juice, cloves, nutmeg and sugar before baking in a mould lined with thin slices of bread.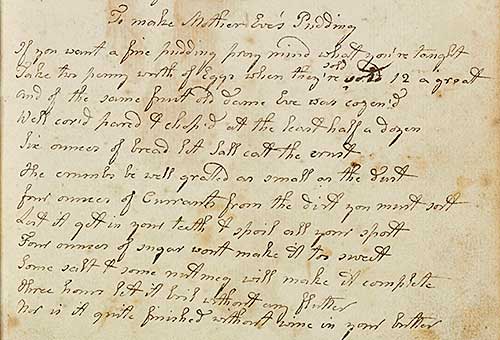 Stephana Malcolm's recipe, 'To make Mother Eve's Pudding'
From Stephana Malcolm's recipe book begun in 1790 . [Library reference: Acc.10708/2]