‹‹‹ prev (44) [Page 38]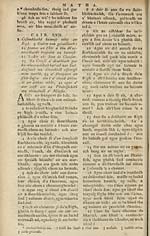 (46) next ››› [Page 40]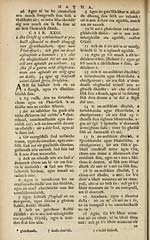 Download files
Complete book:
Individual page:
Thumbnail gallery: Grid view | List view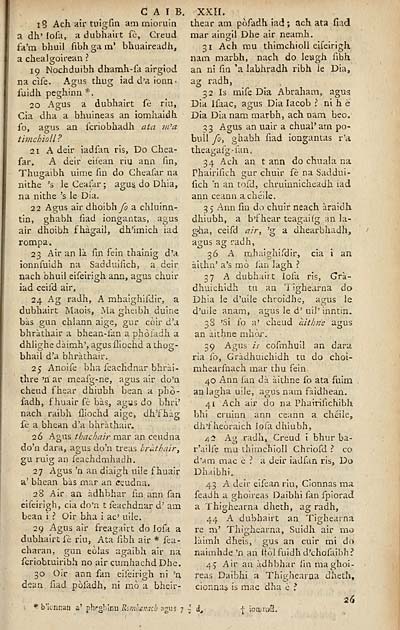 CAIB.
i3 Ach air tuigfin am mioruin
a dh' lofa, a dubhairt fc, Creud
fa'm bhuil fibh ga m' bhuaireadh,
a chealgoirean ?
19 Nochduibh dhamh-fa airgiod
na cìfe. Agus thug iadd'aionn-
iuidh peghinn *.
20 Agus a dubhairt fè riu,
Cia dha a bhuineas an iomhaidh
fo, agus an fcriobhadh ata m'a
tìmchioll ?
21 A deir iadfan ris, Do Chea-
far. A dèir eifean riu ann fin,
Thugaibh uime fin do Cheafar na
nithe 's le Ceafar ; agus. do Dhia,
na nithe 's le Dia.
22 Agus air dhoibhytf a chluinn-
tin, ghabh fiad iongantas, agus
air dhoibh fhàgail, dh'imich iad
rompa.
23 Air an là fin fein thainig d'a
ionnfuidh na Sadduifich, a deir
nach bhuil eifeirigh ann, agus chuir
iad ceifd air,
24 Ag radh, A mhaighifdir, a
dubhairt Maois, Ma gheibh duine
bàs gun chlann aige, gur còir d'a
bhràthair a bhean-fan a phòfadh a
dhlighe dàimh', agus fliochd a thog-
bhail d'a bhràthair..
25 Anoife bha feachdnar bhrài-
thre 'n ar meafg-ne, agus air do'n
cheud fhear dbiubh bean a phò-
fadh, f huair fè bàs, agus do bhri'
nach raibh fliochd aige, dh'fhàg
fè a bhean d'a bhràthair.
26 Agus thachair mar an ceudna
do'n dara, agus do'n treas bràthair,
gu ruig an feachdmhadh.
27 Agus 'n an diaigh uile fhuair
a' bhean bàs mar an ffeudna.
28 Air an àdhbhar fin ann fan
eifeirigh, cia do'n t feachdnar d' am
bean i ? Oir bha i ac' uile.
29 Agus air freagairt do lofa a
dubhairt fè riu, Ata fibh air * fea-
charan, gun eòlas agaibh air na
fcriobtuiribh no air cumhachdDhe.
30 Oir ann fan eiieirigh ni 'n
dean fiad pòfadh, ni mò a bheir-
* b'icnnan a' phrgliinn Rombenacb agus 7
XXII.
thear am pòfadh iad ; ach ata fiad
mar aingil Dhe air neamh.
31 Ach mu thimchioll eifeirigh,
nam marbh, nach do leugh fìbh.
an ni fin 'a Iabhradh ribh le Dia,
ag radh,
32 Is mife Dia Abraham, agus
Dia Ifaac, agus Dia Iacob ? ni h è
Dia Dia nam marbh, ach nam beo.
33 Agus an uair a chual' am po-
bulì fo, ghabh fiad iongantas r'a
theagafg-ian.
34 Ach an t ann do chuala na
rhairifich gur chuir fè na Saddui-
fich "n an tofd, chrumnicheadh iad
ann ceann achèile.
3 5 Ann fin do chuir neach àraidh
dhiubh, a b'fhear teagailg an la-
g'ha, ceifd air, 'g a dhearbhadh,
agus ag radh,
36 A mhaighifdir, cia i an
àithn' a's mò fan lagh ?
37 A dubhairt Iofa ris, Grà-
dhuìchidh tu an Tighearna ào
Dhia le d'uile chroidhe, agus le
d'uile anam, agus le d' uil' inntin.
38 'Si ib a? cheud àithne agus
an àithne mhòr.
39 Agus is cofmhuil an dara
ria ib, Gràdhuichidh tu do choi-
mhearfnach mar thu fein
40 Ann fan dà àithne fo ata fuim
an lagha uile, agus nam fàidhean.
41 Ach air do na Phairifichibh
bhi cruinn ann ceann a cheiic,
dh'fheòraich Iofa dhiubh,
42 Ag radh, Creud i bhur ba-
r'ailie mu ■thimchioll Chriofd ? co
d'am mac è ? a deir iadfan ris, Do
Dhaibhi.
43 A deir eifean riu, Cionnas ma
feadh a ghoireas Daibhi fan fpiorad
a Thighearna dheth, ag radh,
44 A dubhairt an Tighearna
re m' Thighearna, Suidh air mo
làimh dheis, gus an cuir mi do
naimhde 'n an itòlfuidhd'chofaibh?
4J Air an àdhbhar fin maghoi-
reas Daibhi a Thighearna dheth,
cionnas is mac dha è ?
] d, \ iororaH,

Set display mode to:
Universal Viewer |
Mirador | Large image | Transcription
Images and transcriptions on this page, including medium image downloads, may be used under the Creative Commons Attribution 4.0 International Licence unless otherwise stated.
(45) [Page 39]

| | |
| --- | --- |
| Permanent URL | https://digital.nls.uk/97180806 |
1767 - Tiomnadh Nuadh ar Tighearna agus ar Slanuigh-Fhir Iosa Criosd
Description
Eidir-theangaicht' o'n Ghreugais chum Gaidhlig Albannaich. Maille re seannaibh aith-ghearra chum a' ch'ain sin a leughadh. Air iarrtas na Cuideachd urramaich, a'ta chum eas Criosduidh a sgaoileadh feadh Gaidhealtachd agus eileana na h Alba. New testament in Scottish Gaelic. Translated from the Greek by James Stuart. Published at the expense of the Scottish S.P.C.K. Edinburgh: Balfour, Auld & Smellie, 1767. "Rules for reading the Galic language": p. [1]-9 at end.
Shelfmark
L.38.d
Additional NLS resources:
Attribution and copyright:

The physical item used to create this digital version is out of copyright

More information
Books and other items printed in Gaelic from 1631 to 1800
Rare items in Gaelic

| | |
| --- | --- |
| Description | Out-of-copyright books printed in Gaelic between 1631 and 1900. Also some pamphlets and chapbooks. Includes poetry and songs, religious books such as catechisms and hymns, and different editions of the Bible and the Psalms. Also includes the second book ever published in Gaelic in 1631. |