Oor Scots, yer Scots, the National Library of Scotland's Scots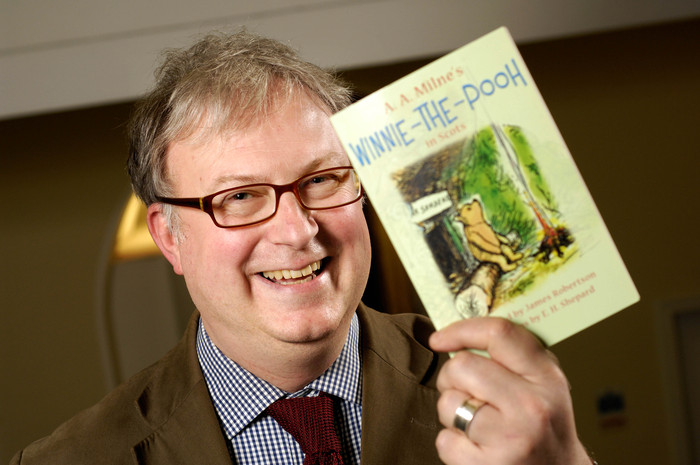 Andrew Martin, National Library of Scotland Literature and the Arts Curator
The National Library of Scotland is Scotland's lairgest library so it is nae surprise that is whar ye wull find aw the buiks that hae bin publisht in Scots.
We ettle tae hae aw buiks scrievit in Scots whither new or auld, and aw buiks scrievit aboot Scots, whaurivver they are publisht. In coorse we hiv Oor Wullie and The Broons bit mair tae.
Tak tent an hae a neb at the National Library of Scotland collections.
Oor collections include buiks, manuscripts, sangs, maps, soon recording, an film.
Here's a wee introduction tae some of the material we hae aboot Scots an in Scots.
Ye micht wint tae listen tae an auld Scots sang or ballad
'The Twa Corbies'
'Sir Patrick Spens'
'Thomas the Rhymer'
Tak tent tae Makars frae the auld days
John Barbour
Blind Harry
Robert Henryson
William Dunbar
Gavin Douglas
David Lyndsay
Dowie tales frae
Jean Elliot
Carolina Oliphant
Alicia Spottiswoode, Lady John Scott
Ye wull ken this yin
But why no gie these yins a go
Robert Fergusson
Allan Ramsay
Robert Tannahill
These gleg Scottish scrievers yaise English an Scots
Walter Scott
John Galt
S R Crockett
Robert Louis Stevenson
John Buchan
Jessie Kesson
Nancy Brysson Morrison
Nan Shepherd
Lichtsome wirds o poetry
Marion Angus
Hugh MacDiarmid
Violet Jacob
Helen Cruickshank
Kenspeckle wirds
'The New Testament in Scots' translated by W L Lorimer
Guid man wi smeddum
Braw plays in Scots
'Ane satire o the thrie estates' by David Lyndsay
'Jamie the Saxt' by Robert McLelland
'Mary Queen of Scots got her head chopped off' by Liz Lochhead
'The Guid sisters' by Michel Tremblay and Bill Findlay
'Bondagers' by Sue Glover
'Cyrano de Bergerac' by Edmond Rostand and Edwin Morgan
Fir the bairns
William Soutar
'Traditional Scottish nursery rhymes', edited by Norah and William Montgomerie
'The minister's cat'
'Katie Bairdie had a coo and onything' publisht by Itchy Coo
Sheena Blackhall
Weel kent bit noo publisht in Scots
'Winnie the Pooh' by A A Milne and  James Robertson
'Peter Rabbit – The Tale o Peter Kinnen' by Beatrix Potter and Lynne McGeachie
'Asterix and the Pechts' by Jean-Yves Ferri an Matthew Fitt
Tintin and 'The Derk Isle' by Hérge and Susan Rennie
Scrievers theday
Janet Paisley
Liz Lochhead
Tom Leonard
James McGonigal
Liz Niven
W N Herbert
James Robertson
Kathleen Jamie
Rab C Wilson
Matthew Fitt
Scrievers frae Shetland
Christine De Luca
Robert Alan Jamieson
Guid reads an aw
'S'cots – the language of the people' edited by Carl MacDougall
'The smoky smirr o rain' edited by Matthew Fitt and James Robertson
'New writing Scotland'
'Lallans'
Mair aboot Scots
'Scots: The mither tongue' by Billy Kay
The National Library of Scotland his wittens aboot so monie guid Scots buiks an Scottish scrievers, hae a leuk!
http://www.nls.uk
Ony questions? Ask away. Speir oot Andrew Martin, Curator, Literature and the Arts a.martin@nls.uk