(45) [ F3v-F4 recto (Page 86-87) ]
Thumbnail gallery: Grid view | List view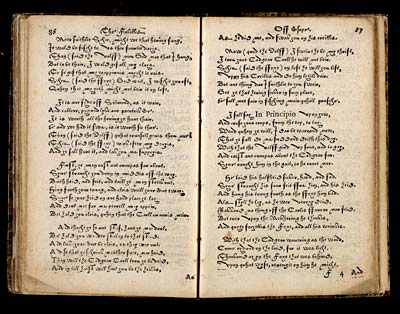 86 The Fabillis

Now suithlie schir, micht we that hering fang,
It wald be fische to vs thir fourtie dayis.
Than said the volff nou God nor that I hang,
Bot to be thair, I wald gif all my clays.
To se gif that my wappinnis mycht it rais.
Schir said the foxe God wait, I wischit zou oft,
Quhen that my pith micht not beir it on loft.

It is ane syde off salmond, as it wair,
And callour, pypand lyke ane pertrik ee.
It is worth all the hering ze haue thair.
Ze and we had it swa, is it worth sic thre.
Than (said the volff) quhat counsell geuis thou me?
Schir said the foxe wirk efter my deuyis,
And ze sall haue it, and tak zou na suppryis.

First, ze man cast ane cumpas far about.
Syne straucht zou doun in middis off the way.
Baith heid, and feit, and taill ze man streik out.
Hing furth zour toung, and clois weill zour ene tway.
Syne se zour heid on ane hard place ze lay.
And dout not for na perrell may appeir,
Bot hald zou clois, quhen that the carll cummis neir.

And thocht ze se ane staf, haue ze na dout.
Bot hald zou wonder still in to that steid.
And luke zour ene be clois, as thay wer out.
And se that ze schrink nouther fute, nor heid,
Than will the cadgear carll trou ze be deid,
And in till haist will hint zou be the heillis,

Off Esope 87

As he did me, and swak zou on his creillis.

Now (quod the volff) I sweir the be my thrift,
I trou zone cadgear carll dow not me beir.
Schir said the foxe on loft he will zou lift,
Vpon his creillis and do him lytill deir.
Bot ane thing dar I suithlie to zou sweir,
Get ze that hering sicker in sum place,
Ze sall not fair in fisching mair quhill pasche.

I sall say in principio vpon zow,
And crose zour corps, from the top, to tay.

Wend quhen ze will, I dar be warrand now,
That ze sall de na suddand deith this day.
With that the volff gird vp sone, and to gay,
And caist ane cumpas about the cadgear far,
Syne raucht him in the gait, or he come nar.

He laid his halfheid sicker, hard, and sad.
Syne straucht his four feit fra him, and his heid.
And hang his toung furth as the foxe him bad.
Als styll he lay, as he wer verray deid.
Rakkand na thing off the carlis fauour nor feid.
Bot euer vpon the nekhering he thinkis,
And quyte forzettis the foxe, and all his wrinkis.

With that the cadgear als wraith as ony wind,
Come rydand on the laid, for it wes licht.
Thinkand ay on the foxe that wes behind,
Vpon quhat wyse, reuenge him best he micht.


Set display mode to:
Universal Viewer |
Mirador | Large image | Transcription
Images and transcriptions on this page, including medium image downloads, may be used under the Creative Commons Attribution 4.0 International Licence unless otherwise stated.
(45) [ F3v-F4 recto (Page 86-87) ]
Permanent URL
https://digital.nls.uk/74507498
Shelfmark
F.5.b.48
Additional NLS resources:
More information
Morall fabillis of Esope the Phyrgia[n]
Description
Moral fables of Aesop put into Scots verse by the poet Robert Henryson.
Shelfmark
F.5.b.48
Additional NLS resources:
More information