(24) [ C6v-C7r (Page 44-45) ]
‹‹‹ prev (23) [ C5v-C6r (Page 42-43) ]
(25) next ››› [ C7v-C8r (Page 46-47) ]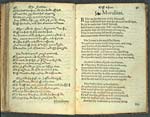 Download files
Complete book:
Individual page:
Thumbnail gallery: Grid view | List view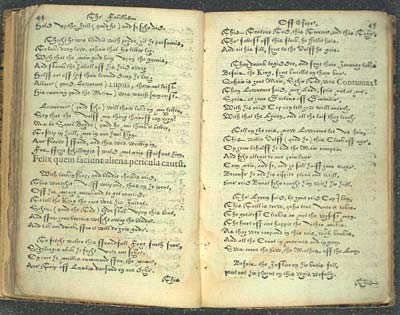 44 The Fabillis

Hald vp thy heill quod he and so scho did.

Thocht he wes blindit with pryde, zit he presumis,
To luke doun law, quhair that hir letter lay.
With that the meir gird him vpon the gumis,
And straik the hattrell off his heid away
Halff out off lyif thair lenand doun he lay,
Allace quod lowrence lupus, thow art loist.
His cunning quod the meir wes worth sum coist.

Lowrence quod scho will thow luke on my letter,
Sen that the volff na thing thairoff can wyn?
Na be sanct bryde quod he me think it better,
To sleip in haill, nor in ane hurt skyn.
Ane skrow I fand, and this wes writtin in,
For fyue schillingis I wald not anis forfaut him,
Felix quem faciunt aliena pericula cautum

With brokin skap, and bludie cheikis reid,
This volff weipand on his wayis went,
Off his menze markand to get remeid,
To tell the king the cace wes his intent.
Schir quod the tod byde still vpon this bent,
And fra zour browis wesche away the blude.
And tak ane drink, for it will do zow gude.

To fetche watter this fraudfull foxe furth fure,
Sydelingis a bank he socht vnto ane syke.
On cace he meittis cummand fra the mure,
Ane trip off lambis dansand on ane dyke.

Off Esope, 45

This tratour tod, this tirrant, and this tyke,
The fattest off this flock, he fellit hais.
And eit his fill, syne to the volff he gais.

Thay drank togidder, and syne thair iourney takis

Befoir the king, syne kneillit on thair kne.
Quhair is zone meir, schir tod, wes contumax?
Than lowrence said, my lord, speir not at me.
This new maid doctour off diuinitie,
With his reid cap can tell zow weill aneuch.
With that the lyoun, and all the laif thay leuch.

Tell on the cais, now lowrence let vs heir,
This wittie volff quod he this clerk off age,
On zour behalff he bad the meir compeir.
And scho allegit to ane priuilage
Cum neir, and se, and ze sall haiff zour wage.
Because he red hir rispite plane and weill,
Zone reid bonat scho raucht him with hir heill.

The lyoun said, be zone reid cap I ken,
This taill is trew, quha tent vnto it takis.
The greitest clerkis ar not the wysest men.
The hurt off ane happie the vther makis.
As thay wer carpand in this cais, with knakis,
And all the court in garray and in gam.
Swa come the zow, the mother off the lam.

Befoir the iustice on hir kneis fell,
Put out hir playnt on this wyis wofully.

Set display mode to:
Universal Viewer |
Mirador | Large image | Transcription
Images and transcriptions on this page, including medium image downloads, may be used under the Creative Commons Attribution 4.0 International Licence unless otherwise stated.
(24) [ C6v-C7r (Page 44-45) ]
Permanent URL
https://digital.nls.uk/74507456
Shelfmark
F.5.b.48
Additional NLS resources:
More information
Morall fabillis of Esope the Phyrgia[n]
Description
Moral fables of Aesop put into Scots verse by the poet Robert Henryson.
Shelfmark
F.5.b.48
Additional NLS resources:
More information