Frederick Douglass in Scotland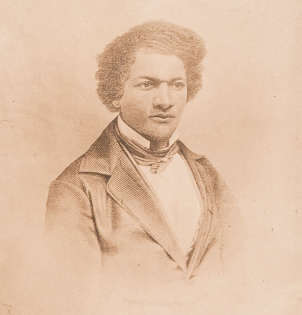 Scotland is at the heart of Frederick Douglass's journey from slavery to freedom. Working tirelessly as "Scotland's Anti-slavery agent", he delivered hundreds of public lectures during his antislavery tours in 1846 and 1847, and again in 1859 and 1860. His impassioned lectures and powerful oratory attracted standing-room only crowds and gained him international renown. Due to popular demand, he repeatedly gave speeches not only in the major cities of Edinburgh, Glasgow and Aberdeen but in smaller cities, towns, and villages including, Perth, Dundee, Arbroath, Montrose, Paisley, Ayr, Kilmarnock, Greenock, Duntocher, Bonhill, Hawick, Galashiels, Coldstream, Kelso, Falkirk, Dalkeith, Montrose, and Kirkcaldy. While for some cities, towns, and villages research is still on-going to identify the specific locations where he gave speeches, here on this interactive map we have provided you with information about the lectures he delivered in places for which we have verified details. Where available, we have provided selected excerpts from the speeches Douglass gave at each of these places identified on this map.
For further information regarding Douglass's speaking itinerary in Scotland, researchers are advised to consult two vital digital resources:
Dedicating a lifetime to the fight against tyranny and oppression in all forms – whether it be the Highland Clearances in Scotland or chattel slavery in the United States – Douglass endorsed the following creed: "Right is of no sex, truth is of no color – God is the Father of Us All, and all we are Brethren."
Browse places
Hover mouse, or tap, over places below to zoom map to them
Trades' Hall, 78 High Street, Arbroath
Abbey Church, West Abbey Street, Arbroath
Speaking here on February 12 1846, Frederick Douglass relies on hard-hitting language to inspire his Scottish audiences to a collective realization regarding the magnitude of the body-and-soul-destroying realities endured by enslaved people. In this speech, he demonstrates his painful realization regarding his responsibilities as a representative for women, children and men living and dying in slavery by urging, "I am here to speak for those who cannot speak for themselves, to plead the cause of the perishing slave, and to arouse the energies, excite the sympathies, and obtain the aid and cooperating of the good people of old Scotland in behalf of what I believe to be a righteous cause – the breaking of every yoke, the undoing of heavy burdens, and letting the oppressed go free!" Ultimately, Douglass took "heart and hope" that the freedom struggle would inspire all religious groups to work together: "Thank God! all religious denominations make work in this cause. The anti-slaveholders' platform is as broad as humanity, and is as strong at eternal justice; all my stand upon it and work together, without violating any Christian principle."
Relief Church, 17 Cathcart Street, Ayr
On the evenings of March 23 and 24 1846, Frederick Douglass spoke to full houses at the Relief Church where Robert Renwick was the white reverend and pastor. "I am here to-night to let you know the wrongs, the miseries, and the stripes of three millions of human beings for whom the Savior died," Douglass declares. He poignantly bears witness to the abuses and atrocities perpetrated by US chattel slavery by courageously sharing his own and his family's life stories: "I was born a slave. My master's name is Thomas Auld. Besides me, he had other relations of our family whom he counted as his own property, and at this moment I have four sisters and one brother in the same state of degradation and bondage from which I myself have happily escaped. I have a grandmother who has reared twelve children, all of whom have been driven to the Southern slave market and sold." Douglass holds noting back emotionally by unequivocally summarizing the very real damage done to enslaved families: "Thus does slavery break asunder the parental and domestic ties."
Cathcart Church, Fort Street, Ayr
Frederick Douglass made a second visit to the UK following the revolutionary raid of white freedom-fighter, John Brown (1800-59) on the Harpers Ferry arsenal in Virginia in October 1859. Brown's radical actions had tragic consequences: he and his supporters were captured and executed by the US government. As one of Brown's advocates and a suspected collaborator in his revolutionary actions, Douglass was forced to go on the run to the UK to avoid capture by white US officials. During this second visit in the early months of 1860 Douglass delivers an address at the church on Cathcart street in Ayr. During this speech, the reporter observes, "Mr. Douglass, though eloquent, was evidently labouring under a depression." The reason for Douglass's depression is immediately explained: "After having spoken nearly an hour, he apologised to the audience. He said he had that morning received a letter from America bringing the melancholy tidings of the death of one of his family, a girl of ten years of age, the light of the family. The meeting, which no doubt was disappointed a little in not hearing the address out, deeply sympathised with Mr. Douglass in his bereavement." Annie Douglass (1849-1860) was Douglass's youngest daughter and he was to live with his terrible grief over her premature death until the day he himself passed away. A freedom-fighter in her own right, Annie died at a tragically young age but not before she penned a letter to her father in which she expressed her outrage at the injustice of Brown's execution: "Poor Mr. Brown is dead. That hard-hearted man said he must die and they took him in an open field and about half a mile from the jail and hung him." Despite her young age, Annie Douglass's commitment to the freedom struggle was as unwavering and uncompromising as her father's: without doubt, the fight for all human liberties was a Frederick Douglass family business.
School Wynd Chapel, South Lindsay Street, Dundee
According to a firsthand witness, Douglass began his speech here on January 30 1846 by readily conceding that, "He was only here to plead the cause of the slave, and to arouse the energies and obtain the co-operation of the good people of old Scotland in behalf of what he believed to be a righteous cause – the undoing of the heavy burdens and letting the oppressed go free." Here he chose to expose slavery as a barbaric institution that was made possible solely by the villainy of white enslavers spuriously claiming they were Christians: "This state of pollution – of blood, for such it is – of Atheism – of gross and dark infidelity – of lawless murder and plunder – is upheld, as I can prove, by the churches, by the clergy of the United States."
Bell Street Chapel, 1-3 West Bell Street, Dundee
All his life Frederick Douglass celebrated Scotland as a nation in which he was free from exposure to daily instances of racist persecution. And yet, this speech confirms that he encountered very real difficulties in obtaining places to speak due to his vehement opposition to the Free Church of Scotland. While Free Church deacons closed their doors to him in Dundee, a reporter writes on October 29, 1846 that, "A place of meeting was at last obtained in the Relief Chapel, Bell Street." As the reporter confirms, this success was not without its problems: "It would appear, however, that some difficulty was experienced in procuring an audience, though the charge for admittance was made so low as two pence each." And yet this journalist records that the meeting was ultimately triumphant: "Messrs Garrison and Douglass we have no doubt, equalled the expectations formed of them."
McGavin's Chapel, Tay Square, Dundee
Corn Exchange Hall, 6 Bank Street, Dundee
41 West Bridge Street, Falkirk
Frederick Douglass spoke here on February 9 1860 during his second visit to the UK. In this speech, he prophesied that the ongoing perpetuation of white racist legislation would have only one result: immediate and final acts of just retribution executed by enslaved people. As he summarizes, "The law that grants no protection to a portion of the human race - that places them on a level with the beasts of the field; the judge who refuses them justice because the colour of their skin is black; the people who tolerate the existence of that law, are incurring a terrible responsibility which, sooner or later, we fear, will be consummated by the presence of a frightful retribution."
Secession House, 32 Main Road, Fenwick
On April 5 1846, the weavers living in Fenwick succeeded in bringing Frederick Douglass to their home town. According to the Annals of Fenwick, Douglass delivered an "uplifting and rousing speech to an uncommonly large crowd."
City Hall, 83 Albion Street, Glasgow
On April 21 1846, Frederick Douglass gave one of many speeches that was sponsored by the Glasgow Emancipation Society at City Hall. In this speech, Douglass condemns the visit of the Free Church of Scotland to the southern United States by calling this organization to account for its immoral actions: "The deputation had an excellent opportunity of aiming an effectual blow at slavery, but they turned a deaf ear and refused to listen to the friends of freedom. They turned a dear ear to the groans of the oppressed slave." He is unequivocal in his protest against their avaricious greed: "they went into the slave states, not for the purpose of imparting knowledge to the slave, but to go and strike hands with the slaveholders, in order to get money to build Free Churches and pay Free Church ministers in Scotland."
John Street United Presbyterian Church, 18 John Street, Glasgow
During his second visit to the UK, Douglass gave a speech here on February 14 1860. He lays bare the enormity of the sins of white enslavers by insisting he would rather be eternally exposed to the physical and psychological abuses he experienced in slavery than be responsible for the sins of an enslaver: "I... was born a slave. Before my birth the lash was twisted for my back, the fetters were forged for my limbs. Before I knew my own name it was inscribed in a book a long with horses, oxen, seep, and swine. I bear yet on my back the marks of the scourge of the surveyor. I have all or nearly all the physical horrors which are attendant upon slavery, and yet I conscientiously can declare, before my God and before my fellow-men, that I would suffer those horrors over again, aye if they were ten times worse, rather than change places with the haughtiest and wealthiest slave-owner in the Southern States."
Queen's Rooms, 1 La Belle Place, Glasgow
East Campbell Street Church, 29 East Campbell Street, Glasgow
West Blackhall Street Chapel, Greenock
Town Hall, Clyde Square, Greenock
West End Chapel, South Bright Street, Hawick
According to a reporter writing in the Kelso Chronicle in November 1846, "The Rev. Mr. Robertson, Secretary of the Anti-Slavery Society, Edinburgh, and Mr. Frederick Douglass, arrived in Hawick, per coach, on Monday afternoon, to address the people." For the reason that they were speaking on "The Free Church and the Evangelical Alliance" they were barred from using the Relief Chapel in a letter written by Free Church deacons and dated November 1 1846. As a source of hope in the face of despair, however, the reporter was jubilant: "Fortunately there was one Church which was not shut against the fearless advocates of freedom to the slave. On the promoters of the meeting applying to the Rev. Mr. Rodgie, minister of the West end Chapel, he most cheerfully consented." On an evening in November, "the Chapel was nearly filled with a most respectable audience," as the journalist confirms, "Mr. Douglass then came forward and spoke for nearly two hours, in a calm, cool, dignified, and impressive manner." "The details he gave of the sufferings of his brethren the slaves of America, of which he was himself so long a witness and a sharer, were enough to arouse the just indignation of any man possessing common feelings, and were utterly repugnant to Christianity," the reporter summarizes, confiding that, "From these harrowing details he passed on to the conduct of the Free Church in regard to the slave money." According to this journalist's transcription of his speech, Douglass knew how to manipulate his audiences: "In the course of his address, Mr. Douglass took occasion to express his fear that the people of Scotland would fall away from the agitation which was now going on to abolish slavery. ("Never, never," cried out several voices from different parts of the church). "Ah, said Mr. Douglas[sic], look at your Relief Church, why are the doors of it shut against us; surely there is something wrong or this would not have been?" The reporter closes his account by eulogizing Douglass's success: "Mr. Douglass was against and again cheered with an enthusiasm such as has rarely been witnessed here."
Bethelfield Church, Nicol Street , Kirkcaldy
Hyslop's Church, 59 John Street, Montrose
Writing in the Dundee Courier on March 17 1846, a journalist reports that Frederick Douglass "delivered another lecture on Monday last, in Mr. Hyslop's chapel, to an overflowing and respectable audience, who listened with profound and earnest attention to the eloquent and impressive appeal which was made by Mr. Douglass." According to his summary of Douglass's words, "His remarks were confined chiefly to the conduct of the Free Church in holding fellowship with the slaveholding states; and he certainly did expose their gross inconsistency not to mention their actual dishonesty in a style and manner which was actually thrilling." As per this report, Douglass insisted to his audiences that "it requires an appeal to be made, in the manner which these parties are now doing, against the Free Church" in order to put an end to their "practices" that are in a direct violation of "their professions of purity and freedom."
United Free Church, Abbey Close, Paisley
According to a report published in the Renfrewshire Advertiser on March 17 1846, "On Monday evening last, Mr. Frederick Douglass, whose eloquent appeals on behalf of the anti-slavery cause have attracted such crowded audiences here, again addressed an overflowing meeting of the inhabitants in the Secession Church, Abbey Close." For Douglass, the vital issue at hand was the traumatizing ways in which the institution of chattel slavery annihilated all emotion among whites. Douglass was under no illusion that, "People reared in the midst of slavery become indifferent to human wrongs, indifferent to the entreaties, the tears, the agonies of the slave under the lash." At the same time that his focus is on denouncing white racist persecution, he also succeeded in eulogizing missing histories of Black revolutionary heroism: "Our history shows the entire power of government to have been under the domination of slavery. It has elected our President, our senators, &c., and one of the first duties of our minister was to negotiate with Britain for the return to bondage of Maddison [sic] Washington, who braved the dangers of the deep; who, with one mighty effort, burst asunder the chains of one hundred and thirty-five fellow-men, and after much fatigue and many severe struggles, steered them into a British port, and there found shelter under the British lion. Our whole country was thrown into confusion by the fact of him liberating himself and so many of his brethren, and Britain thus aiding them in their emancipation." In this speech, Douglass held firm to his conviction regarding the power of language to effect lasting social change and inaugurate moral revolution: "as long as the tears of my sisters and brother continue to run down her streams unheeded in to the vast ocean of human misery, my tongue shall cleave the roof of my mouth ere I speak well of such a nation."
Exchange Rooms, 10 Moss Street, Paisley
One of many speeches he delivered in Paisley, Frederick Douglass spoke here on April 17 1846. During this speech, he shares an especially traumatizing story in which he lays bare the devastating impact of slavery upon families: "A case occurs to my mind at present, where a husband and wife were brought to the auction mart. The wife was sold to one man and the husband to another, and the husband looked imploringly to the man who had bought his wife. But the wife was to go one way and he another. The husband asked to shake hands with the wife for the last time. He attempted to do it. He was struck on the head, and when let go, he fell down dead. His heart was broken!" Douglass follows this poignant anecdote with an unequivocal accusation: "Who is responsible for slavery! The Free Church of Scotland has made itself responsible for slavery, by regarding these men as the followers of the meek and lowly Jesus. Think of this, Christian men and women of Scotland!" He relies on his own experience to further protest: "This religious denomination, claiming the high and holy title of Free – to be the exponent of all that is good and holy in the moral and religious sentiments of Scotland, comes forward and holds up the slaveholder as being a Christian, and then when I have thrown off my fetters, found my way here, and attempted to speak on behalf of my brethren, do they say welcome, bondsman, come let us see your wrongs and we are prepared to address them. No." Douglass is insistent that there is only way the Free Church of Scotland can redeem itself: "SEND BACK THAT MONEY." In this speech, he further observes, "In Arbroath there was painted in blood red capitals, SEND BACK THE MONEY. A woman was sent to wash it, but the letter still remained visible, SEND BACK THE MONEY. A mason was afterwards got to chisel it out, but there still was left in indelible characters, SEND BACK THE MONEY." He confides, "I want men, women, and children to send forth this cry wherever they go. Let it be the talk around the fireside, in the street, and at the market-place." "Scotland the slaveholder at one! Shall it be so? No. No," he declares as he is jubilant regarding the united will of the nation: "The people are with us in Arbroath, Dundee, Aberdeen, Montrose, Greenock, Glasgow, and they will be with us in Edinburgh." Douglass ends on an unequivocal rallying cry inspiring the people of Scotland to collective action: "We want to have the whole country surrounded with an anti-slavery wall, with the words legibly inscribed thereon, SEND BACK THE MONEY, SEND BACK THE MONEY."
Secession Church, George Street, Paisley
In a speech Frederick Douglass delivered here on March 30 1846 he proclaims, "I am proud to stand on this platform; I regard it a pleasure and a privilege – one which I am not very frequently permitted to enjoy in the United States, such is the prejudice against the colored man, such the hatred, such the contempt in which he is held, that no temperance society in the land would so far jeopardise its popularity as to invite a colored man to stand before him." He holds nothing back in his denunciation of white US prejudice by confirming, "The coloured man in the United States has great difficulties in the way of his moral, social, and religious advancement."
Secession Church, 21 George Street, Paisley
West Relief Church, Canal Street, Paisley
City Hall, Kirkside, Perth
Interactive Maps
Frederick Douglass was one of many African American abolitionists who came to Scotland in the 19th-century to campaign for social justice and freedom.
Our map collections, together with historic records have been used to create three interactive map viewers pinpointing the places where these campaigners lived, worked and spoke to their audiences.Ordnance Survey maps from the 1850s-1900s form the background to each map viewer, corresponding to the time when abolitionists were in Scotland. The viewers also include descriptions of events which took place and contemporary photographs and pictures of some of the places and people involved.
Using the different viewers, you can see specific buildings where events occurred, as well as the wider geographic distributions of these places within Edinburgh and Scotland. You can also change the backgrounds of the viewers to see the locations on present-day maps.