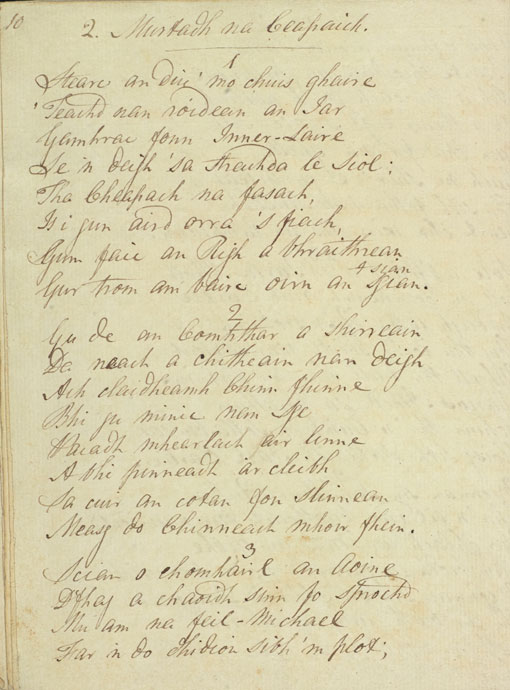 Listen to the song being read out
The Keppoch Murder
Iain Lom MacDonald
c.1663-1665
1.
Little is my source of laughter today
As I come by western roads,
To look upon the land of Inverlair
After it has been harrowed with seed;
Keppoch is an empty place,
Void of any ready provision,
May God behold, oh brothers,
How the blade has rent us asunder.
2.
What is the help I would seek
For a person I see pursued,
But a Chieftain's sword,
That is oft in flight;
A pack of thieves on a sea-loch
Are piercing our chests,
And donning coats about their shoulders
Amidst your own great tribe.
3.
Long from the assembly of the Friday
That has left us ever dejected,
About the time of Michaelmas
Where you suffered the carnage;
That left us as sickly creatures,
Mocked at every opportunity,
And when each clan gathers
We will be scattered about the hillside.
4.
It was on Saturday, not long hence,
That the tragedy despoiled us,
As I lamented the white bodies
Losing their blood about their cloaks;
My hands were drenched crimson
After cleaning your wounds,
Putting you into a coffin
Is the worst task I have known.
5.
The sweet-scented bodies I had loved
Were densely punctured with knives,
They are stretched on a floor
In a new chamber to be set below;
Under the feet of Sìol Dùghaill / descendents of Dùghaill,
The plunderers of the breasts,
The fury of their dirks left
As a shadow of a sieve your skin.
6. Where was he, under the sky,
Who would gaze well into your eye,
And not give you respect,
A man of your oration and virtue;
Except for the children of your uncle
Who were allied with the mighty Devil,
But if they have injured us
Heavy shall arise their own misfortune.
7.
Long is your sleep in the closed house,
Void of hearth's smoke and reek,
Where you received the rough awakening
Round your back and your mouth;
But if you were allowed a while
From your foes to stay,
It would not be a dwelling without cheer,
But with regard to mirth and musicians.
8.
The likes of the murder, there was never in Scotland,
Although you were fierce in your demeanour,
Wretched is the story between brothers
Going to dwell with the son of God;
Like the boat on the sea-loch
If anyone should seek it,
Such a degree of ruin
No chieftain under the sun has suffered.
9.
My mind is depressed
As I tell your deeds,
You caused injustice to them
When they were left by themselves;
You've put your cheese-making implements
In the abode of the champions,
And your cattle folds are
In the garden of the pears.
10.
It was there that the Clan
Was ruined without sense,
It was taken by a bad spirit
In the revered place of God;
That was the reason that knives
Will forever pursue us,
And the fist that did not strike
Shall reap it in deceit.
11.
But Morar MacDonald,
Long have you lived amongst Foreigners,
You left us confounded
When you did not react in time,
If you do not preserve those feathers
Which were unknowingly lost to you,
We are hopeless without you
As a body separated from its body.
12.
But many is the excellent young warrior,
Ringleted curls, bended shield,
Between the Bridge of Auldearn
And the Point of Sleat of the waves,
That would rise with you
If your body was full of holes,
That would swiftly avenge you
O great Sir James of the Galleys.
13.
I am grim and depressed
In the depths of my body,
But if it remains there
I would prefer to purge it a hundred times;
Although I cannot express it
I am sure of my story,
Those who would make venison
Are the length of the land favoured by me.
14.
The Lord made a tree of peace
That sheltered us well enough,
We should have maintained it
For as long as we lived;
And if we ourselves expelled it
Ruinous is the revenge that will befall us,
An axe will drop from the heavens
That shall hack off the limbs.
15.
Oh the clan of handsome youths that we had
On this side of Christ's heaven,
A deadly scourge came upon them
And they were robbed from us with a biting cut;
The prettiest flower
That was in the most revered field,
Mowed down as you would a pasture
With the sharp scythe.