Thumbnail gallery: Grid view | List view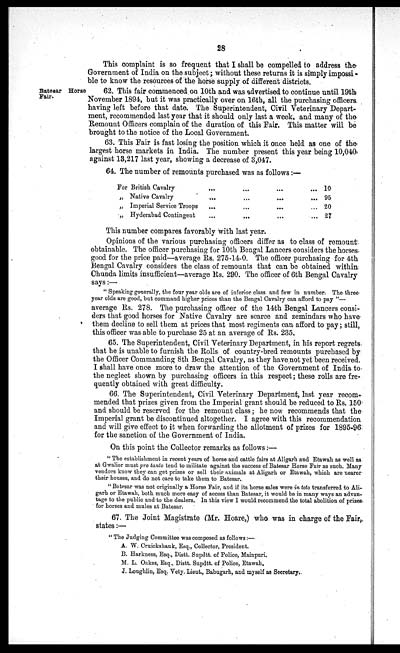 28
This complaint is so frequent that I shall be compelled to address the
Government of India on the subject; without these returns it is simply impossi-
ble to know the resources of the horse supply of different districts.
Batesar Horse
Fair.
62. This fair commenced on 10th and was advertised to continue until 19th
November 1894, but it was practically over on 16th, all the purchasing officers
having left before that date. The Superintendent, Civil Veterinary Depart-
ment, recommended last year that it should only last a week, and many of the
Remount Officers complain of the duration of this Fair. This matter will be
brought to the notice of the Local Government.
63. This Fair is fast losing the position which it once held as one of the
largest horse markets in India. The number present this year being 10,040
against 13,217 last year, showing a decrease of 3,047.
64. The number of remounts purchased was as follows:—
| | |
| --- | --- |
| For British Cavalry ... ... ... ... | 10 |
| " Native Cavalry ... ... ... ... | 95 |
| " Imperial Service Troops ... ... ... ... | 20 |
| " Hyderabad Contingent ... ... ... ... | 27 |
This number compares favorably with last year.
Opinions of the various purchasing officers differ as to class of remount
obtainable. The officer purchasing for 10th Bengal Lancers considers the horses
good for the price paid—average Rs. 275-14-0. The officer purchasing for 4th
Bengal Cavalry considers the class of remounts that can be obtained within
Chunda limits insufficient—average Rs. 290. The officer of 6th Bengal Cavalry
says:—
" Speaking generally, the four year olds are of inferior class and few in number. The three-
year olds are good, but command higher prices than the Bengal Cavalry can afford to pay "—
average Rs. 278. The purchasing officer of the 14th Bengal Lancers consi-
ders that good horses for Native Cavalry are scarce and zemindars who have
them decline to sell them at prices that most regiments can afford to pay; still,
this officer was able to purchase 25 at an average of Rs. 235.
65. The Superintendent, Civil Veterinary Department, in his report regrets
that he is unable to furnish the Rolls of country-bred remounts purchased by
the Officer Commanding 8th Bengal Cavalry, as they have not yet been received.
I shall have once more to draw the attention of the Government of India to
the neglect shown by purchasing officers in this respect; these rolls are fre-
quently obtained with great difficulty.
66. The Superintendent, Civil Veterinary Department, last year recom-
mended that prizes given from the Imperial grant should be reduced to Rs. 150
and should be reserved for the remount class; he now recommends that the
Imperial grant be discontinued altogether. I agree with this recommendation
and will give effect to it when forwarding the allotment of prizes for 1895-96
for the sanction of the Government of India.
On this point the Collector remarks as follows:—
" The establishment in recent years of horse and cattle fairs at Aligarh and Etawah as well as
at Gwalior must pro tanto tend to militate against the success of Batesar Horse Fair as such. Many
vendors know they can get prizes or sell their animals at Aligarh or Etawah, which are nearer
their houses, and do not care to take them to Batesar.
" Batesar was not originally a Horse Fair, and if its horse sales were in toto transferred to Ali-
garh or Etawah, both much more easy of access than Batesar, it would be in many ways an advan-
tage to the public and to the dealers. In this view I would recommend the total abolition of prizes
for horses and mules at Batesar.
67. The Joint Magistrate (Mr. Hoare,) who was in charge of the Fair,
states:—
" The Judging Committee was composed as follows:—
A. W. Cruickshank, Esq., Collector, President.
B. Harkness, Esq., Distt. Supdtt. of Police, Mainpuri.
M. L. Oakes, Esq., Distt. Supdtt. of Police, Etawah.
J. Loughlin, Esq. Vety. Lieut., Babugarh, and myself as Secretary.
Set display mode to: Large image | Zoom image | Transcription
Images and transcriptions on this page, including medium image downloads, may be used under the Creative Commons Attribution 4.0 International Licence unless otherwise stated.
(44) Page 28

| | |
| --- | --- |
| Permanent URL | https://digital.nls.uk/75501205 |
1894-1895
More information
Annual administration report of the Civil Veterinary Department of India
Description
Reports cover 1892-1911 and document the work of the CVD across India. Split into imperial and provincial reports. Describes horse, mule and cattle breeding, stock lists, animal fairs, bacteriological work, disease outbreaks. Veterinary education and staff activities included, supplemented by tables and maps.
Shelfmark
IP/RA.9
Additional NLS resources:
Attribution and copyright:
More information
Civil Veterinary Departments
Description
Reports dated 1887-1950 record activities of the Civil Veterinary Department across India. Plus minutes, memoirs and ledgers concerning veterinary officers and their work.
Shelfmark
India Papers
More information
Medicine - Veterinary
Description
The Veterinary collection consists of 146 volumes dating from 1864 to 1959. Divided into veterinary diseases, colleges and laboratories and Civil Veterinary Departments. Extensive research on trypanosomiasis and rinderpest. Reports show how veterinary medicine controlled disease, maintained livestock and alleviated famine. They explore its effect on military and local communities.
Shelfmark
India Papers
More information
India Papers
Description
The India Papers collection contains publications of the central (Imperial) Government and many Indian states. Most states came under British rule. Much of the collection dates from between the post-Mutiny re-organisation of the Indian Government and Indian Independence in 1947. Some items published in London by John Murray.
Shelfmark
India Papers
Additional NLS resources:
More information