‹‹‹ prev (33) Page 19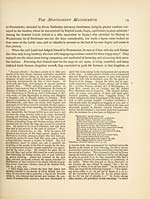 (35) next ››› Page 21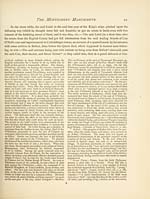 Download files
Complete book:
Individual page:
Thumbnail gallery: Grid view | List view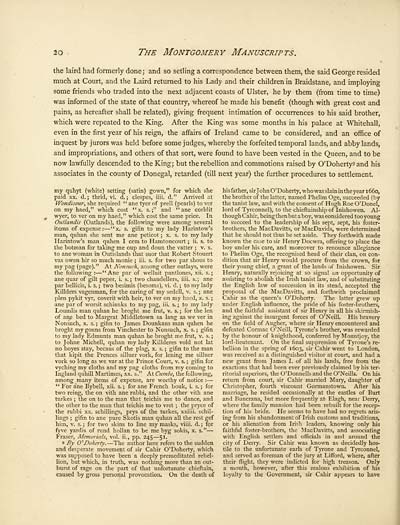 20
The Montgomery Manuscripts.
the laird had formerly done; and so setling a correspondence between them, the said George resided
much at Court, and the Laird returned to his Lady and their children in Braidstane, and imploying
some friends who traded into the next adjacent coasts of Ulster, he by them (from time to time)
was informed of the state of that country, whereof he made his benefit (though with great cost and
pains, as hereafter shall be related), giving frequent intimation of occurrences to his said brother,
which were repeated to the King. After the King was some months in his palace at Whitehall,
even in the first year of his reign, the affairs of Ireland came to be considered, and an office of
inquest by jurors was held before some judges, whereby the forfeited temporal lands, and abby lands,
and impropriations, and others of that sort, were found to have been vested in the Queen, and to be
now lawfully descended to the King; but the rebellion and commotions raised by O'Doherty? and his
associates in the county of Donegal, retarded (till next year) the further procedures to settlement.
my quhyt (white) setting (satin) gown," for which she
paid xx. d. ; thrid, vi. d. ; clespes, iiii. d." Arrived at
VVondisour, she required " ane tyer of prell (pearls) to ver
on my haed," which cost "x. s. ;" and "ane corldit
wyer, to ver on my haed," which cost the same price. In
Outlandis (Oatlands), the following were among several
items of expense: — "x. s. gifin to my lady Harintow's
man, quhan she sent me ane peticot ; x. s. to my lady
Harintow's man quhen I cem to Hamtoncourt ; ii. s. to
the botman for taking me oup and doun the vatter ; v. s.
to ane woman in Outislands that suor that Robert Stouert
vas owen hir so much monie ; iii. s. for two par shous to
my pag (page)." At Nonsuch, among other outlays, were
the following : — "Ane par of welluit pantlones, xii. s. ;
ane quar of gilt peper, i. s. ; two chandeliers, iiii. s. ; ane
par bellicis, i. s. ; two besimis (besoms), vi. d. ; to my lady
Killders vagenman, for the caring of my sedell, v. s. ; ane
plen pykit vyr, coverit with heir, to ver on my haed, x. s. ;
ane par of worsit schianks to my pag, iii. s. ; to my lady
Loumlis man quhan he broght me frut, v. s. ; for the len
of ane bed to Margrat Middletown sa lang as we ver in
Nonsuch, x. s. ; gifin to James Dounkans man quhen he
broght my gouns from Vinchester to Nonsuch, x. s. ; gifin
to my lady Edmunts man quhan he broght me frut, v. s. ;
to Johne Michell, quhan my lady Killderes void not lat
no boyes stay, becaus of the plag, x. s. ; gifin to the man
that kipit the Prences silluer vork, for lening me silluer
vork so long as we var at the Prince Court, v. s. ; gifin for
vyching my cloths and my pag cloths from my coming to
Ingland quhill Martimes, xx. s." At Cmnbe, the following,
among many items of expense, are worthy of notice : —
" For ane Bybell, xii. s. ; for ane French bouk, i. s. ; for
two reing, the on vith ane rubbi, and the other vith ane
turkes ; the on to the man that teichis me to dance, and
the other to the man that teichis me to vrel ; the pryce of
the rubbi xx. schillings, prys of the turkes, xxiiii. schil-
lings ; gifin to ane pure Skotis man quhan all the rest gef
him, v. s. ; for two skins to line my masks, viiii. d. ; for
fyve yardis of rund hollan to be me byg sokis, x. s." —
Eraser, Memorials, vol. ii., pp. 245 — 5 1 -
' By O'Doherty. — The author here refers to the sudden
and desperate movement of sir Cahir O'Doherty, which
was supposed to have been a deeply premeditated rebel-
lion, but which, in truth, was nothing more than an out-
burst of rage on the part of that unfortunate chieftain,
caused by gross personal provocation. On the death of
his father, sir John O'Doherty, who was slain in the year 1 660,
the brother of the latter, named Phelim Oge, succeeded (by
the tanist law, and with the consent of Hugh Roe O'Donel,
lord of Tyrconnel), to the chieftainship of Inishowen. Al-
though Cahir, being then but aboy, was considered too young
to succeed to the leadership of his sept, sept, his foster-
brothers, the MacDavitts, or MacDavids, were determined
that he should not thus be set aside. They forthwith made
known the case to sir Henry Docwra, offering to place the
boy under his care, and moreover to renounce allegiance
to Phelim Oge, the recognised head of their clan, on con-
dition that sir Henry would procure from the crown, for
their young chief, a grant of the lands of Inishowen. Sir
Henry, naturally rejoicing at so signal an opportunity of
assisting to abolish the Irish tanist law, and of substituting
the English law of succession in its stead, accepted the
proposal of the MacDavitts, and forthwith proclaimed
Cahir as the queen's O'Doherty. The latter grew up
under English influence, the pride of his foster-brothers,
and the faithful assistant of sir Henry in all his skirmish-
ing against the insurgent forces of O'Neill. His bravery
on the field of Augher, where sir Henry encountered and
defeated Cormac O'Neill, Tyrone's brother, was rewarded
by the honour of knighthood, conferred by Mountjoy, the
lord-lieutenant. On the final suppression of Tyrone's re-
bellion in the spring of 1603, sir Cahir went to London,
was received as a distinguished visitor at court, and had a
new grant from James I. of all his lands, free from the
exactions that had been ever previously claimed by his ter-
ritorial superiors, the O'Donnells and the O'Neills. On his
return from court, sir Cahir married Mary, daughter of
Christopher, fourth viscount Gormanstown. After his
marriage, he resided occasionally at the castles of Burt
and Buncrana, but more frequently at Elagh, near Derry,
where the family mansion had been rebuilt for the recep-
tion of his bride. He seems to have had no regrets aris-
ing from his abandonment of Irish customs and traditions,
or his alienation from Irish leaders, knowing only his
faithful foster-brothers, the MacDavitts, and associating
with English settlers and officials in and around the
city of Derry. Sir Cahir was known as decidedly hos-
tile to the unfortunate earls of Tyrone and Tyrconnel,
and served as foreman of the jury at Lifford, where, after
their flight, they were indicted for high treason. Only
a month, however, after this zealous exhibition of his
loyalty to the Government, sir Cahir appears to have

Set display mode to:
Universal Viewer |
Mirador | Large image | Transcription
Images and transcriptions on this page, including medium image downloads, may be used under the Creative Commons Attribution 4.0 International Licence unless otherwise stated.
(34) Page 20

| | |
| --- | --- |
| Permanent URL | https://digital.nls.uk/95233335 |
Montgomery manuscripts
Description
Compiled from family papers by William Montgomery and edited, with notes, by George Hill. Belfast: Archer and Sons, 1869. 'Volume 1' -- no more published.
Shelfmark
R.172.d
Additional NLS resources:
Attribution and copyright:

The physical item used to create this digital version is out of copyright

More information
Histories of Scottish families

| | |
| --- | --- |
| Description | A selection of almost 400 printed items relating to the history of Scottish families, mostly dating from the 19th and early 20th centuries. Includes memoirs, genealogies and clan histories, with a few produced by emigrant families. The earliest family history goes back to AD 916. |