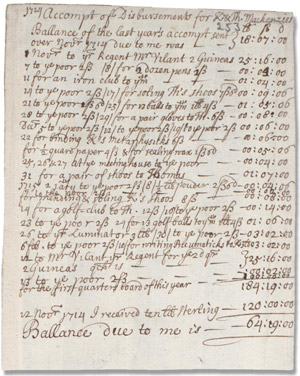 Extract from James Morice's accounts, 1714.
[National Library of Scotland reference: MS.1400, f.253]
James Morice's accounts
Tutor James Morice's accounts show that his employer's sons were on the links as often as 3 times a week.
This pattern only changed when the boys' exams loomed at St Andrews University.
Cost of new balls
Golf clubs generally lasted for 10 rounds, and the boys shared expensive iron clubs.
Featherie balls – made from pieces of leather stitched together and stuffed with goose feather – were easily mis-shapen and often burst. New balls at 4 shillings each were needed for every game.