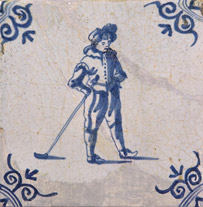 A 17th-century Dutch tile depicting a golfer.
From a private collection.
Background
Golf was one of a range of ball and stick games played in Scotland from the Middle Ages and before. There is evidence of it also being a pastime elsewhere, from the Low Countries and Germany to France and Italy.
Banned as 'dangerous'
Ordinary people played in enclosed public spaces – including churchyards. Often they played golf when they should have been at work, church or military training, which led the game being banned as dangerous and a nuisance.
This 'short' version of the game eventually died out. In Scotland, though, designated areas for recreation emerged, away from the crowded streets and churchyards.
Unique conditions in Scotland
Conditions in Scotland were uniquely right to allow the 'long game' of golf to take hold:
A temperate climate
Plenty of open spaces close to, but separate from, the town centres
Links that were idea for golf – sandy terrain, natural hollows, rabbit holes, good drainage, and excellent condition of the turf for winter games.
Most early 'golfing grounds' were coastal, and mainly on the east of Scotland .
Fixed courses and golfing terms emerge
At the same time as golf was banned for ordinary people, Scottish kings, nobles and other leading members of society were taking up the game. They used expensive handcrafted equipment suited for a long game in open spaces. Golf developed under their patronage, and fixed courses, specialist equipment, and golfing terms emerged.
As the disreputable short game faded away, ordinary golfers and gentlemen played side by side on the links.