‹‹‹ prev (275) Page 267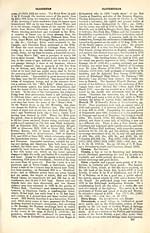 (277) next ››› Page 269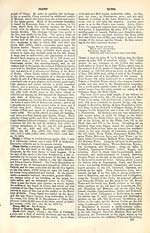 Download files
Complete book:
Individual page:
Thumbnail gallery: Grid view | List view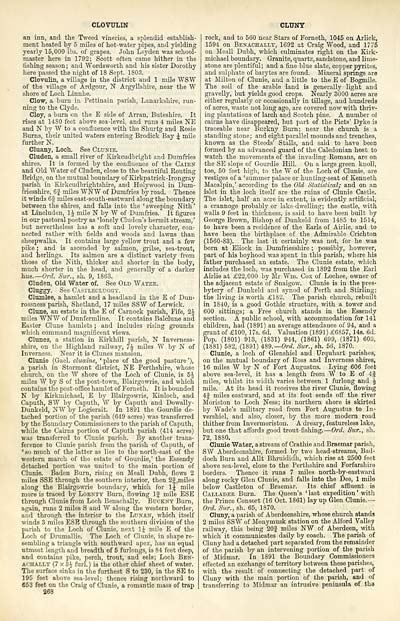 CLOVULIN
an inn, and the Tweed vineries, a splendid establish-
ment heated by 5 miles of hot-water pipes, and yielding
yearly 15,000 lbs. of grapes. John Leyden was school-
master here in 1792; Scott often came hither in the
fishing season; and Wordsworth and his sister Dorothy
here passed the night of 18 Sept. 1803.
Clovulin, a village in the district and 1 mile WSW
of the village of Ardgour, N Argyllshire, near the W
shore of Loch Linnhe.
Clow, a burn in Pettinain parish, Lanarkshire, run-
ning to the Clyde.
Cloy, a burn on the E side of Arran, Buteshire. It
rises at 14S0 feet above sea-level, and runs 4 miles NE
and N by W to a confluence with the Shurtg and Rosie
Burns, their united waters entering Brodick Bay J mile
further N.
Cluany, Loch. See Clt/nie.
Cluden, a small river of Kirkcudbright and Dumfries
shires. It is formed by the confluence of the Cairn
and Old "Water of Cluden, close to the beautiful Routing
Bridge, on the mutual boundary of Kirkpatriok-Irongray
parish in Kirkcudbrightshire, and Holywood in Dum-
friesshire, 6 J miles WFW of Dumfries by road. Thence
it winds 6g miles east-south-eastward along the boundary
between the shires, and falls into the ' sweeping Nith '
at Lincluden, 1J mile N by ¥ of Dumfries. It figures
in our pastoral poetry as 'lonely Cluden's hermit stream,'
but nevertheless has a soft and lovely character, con-
nected rather with fields and woods and lawns than
sheepwalks. It contains large yellow trout and a few
pike ; and is ascended by salmon, grilse, sea-trout,
and herlings. Its salmon are a distinct variety from
those of the Nith, thicker and shorter in the body,
much shorter in the head, and generally of a darker
hue.— Ord. Sur., sh. 9, 1863.
Cluden, Old Water of. See Old Water.
Cluggy. See Castlecluggy.
Clumlee, a hamlet and a headland in the E of Dun-
rossness parish, Shetland, 17 miles SSW of Lerwick.
Clune, an estate in the E of Carnock parish, Fife, 2J
miles WNW of Dunfermline. It contains Balclune and
Easter Clune hamlets ; and includes rising grounds
which command magnificent views.
Clunes, a station in Kirkhill parish, N Inverness-
shire, on the Highland railway, 7-J miles W by N of
Inverness. Near it is Clunes mansion.
Clunie (Gael, cluaine, ' place of the good pasture '),
a parish in Stormont district, NE Perthshire, whose
church, on the W shore of the Loch of Clunie, is 5J
miles W by S of the post-town, Blairgowrie, and which
contains the post-office hamlet of Forneth. It is bounded
N by Kirkmichael, E by Blairgowrie, Kinloch, and
Caputh, SW by Caputh, W by Caputh and Dowally-
Dunkeld, NW by Logierait. fn 1891 the Gourdie de-
tached portion of the parish (649 acres) was transferred
by the Boundary Commissioners to the parish of Caputh,
while the Cairns portion of Caputh parish (414 acres)
was transferred to Clunie parish. By another trans-
ference to Clunie parish from the parish of Caputh, of
'so much of the latter as lies to the north-east of the
western march of the estate of Gourdie,' the Essendy
detached portion was united to the main portion of
Clunie. Baden Burn, rising on Meall Dubh, flows 2
miles SSE through the southern interior, then 2J miles
along the Blairgowrie boundary, which for lj mile
more is traced by Lornty Bum, flowing If mile ESE
through Clunie from Loch Benachally. Buckny Burn,
again, runs 2 miles S and W along the western border,
and through the interior to the Lunan, which itself
winds 3 miles ESE through the southern division of the
Earish to the Loch of Clunie, next 1} mile E of the
loch of Drumallie. The Loch of Clunie, in shape re-
sembling a triangle with southward apex, has an equal
utmost leDgth and breadth of 5 furlongs, is 84 feet deep,
and contains pike, perch, trout, and eels; Loch Ben-
achally (7 x 3 J furl.) is the other chief sheet of water.
The surface sinks in the furthest S to 230, in the SE to
195 feet above sea-level; thence rising northward to
653 feet on the Craig of Clunie. a romantic mass of trap
268
CLUNY
rock, and to 560 near Stars of Forneth, 1045 on Arlick,
1594 on Benachally, 1692 at Craig Wood, and 1775
on Meall Dubh, which culminates right on the Kirk-
michael boundary. Granite, quartz, sandstone, and lime-
stone are plentiful; and a fine blue slate, copper pyrites,
and sulphate of barytes are found. Mineral springs are
at Milton of Clunie, and a little to the E of Bogmile.
The soil of the arable land is generally light and
gravelly, but yields good crops. Nearly 3000 acres are
either regularly or occasionally in tillage, and hundreds
of acres, waste not long ago, are covered now with thriv-
ing plantations of larch and Scotch pine. A number ol
cairns have disappeared, but part of the Picts' Dyke is
traceable near Buckny Burn; near the church is a
standing stone; and eight parallel mounds and trenches,
known as the Steeds' Stalls, and said to have been
formed by an advanced guard of the Caledonian host to
watch the movements of the invading Romans, are on
the SE slope of Gourdie Hill. On a large green knoll,
too, 50 feet high, to the W of the Loch of Clunie, are
vestiges of a ' summer palace or hunting-seat of Kenneth
Macalpin,' according to the Old Statistical; and on an
islet in the loch itself are the ruins of Clunie Castle.
The islet, half an acre in extent, is evidently artificial,
a crannoge probably or lake-dwelling; the castle, with
walls 9 feet in thickness, is said to have been built by
George Brown, Bishop of Dunkeld from 1485 to 1514,
to have been a residence of the Earls of Airlie, and to
have been the birthplace of the Admirable Crichton
(1560-83). The last it certainly was not, for he was
born at Eliock in Dumfriesshire ; possibly, however,
part of his boyhood was spent in this parish, where his
father purchased an estate. The Clunie estate, which
includes the loch, was purchased in 1892 from the Earl
AMie at £22,000 by Mr Wm. Cox of Lochee, owner of
the adjacent estate of Snaigow. Clunie is in the pres-
bytery of Dunkeld and synod of Perth and Stirling;
the living is worth £182. The parish church, rebuilt
in 1840, is a good Gothic structure, with a tower and
600 sittings; a Free church stands in the Essendy
section. A public school, with accommodation for 141
children, had (1891) an average attendance of 94, and a
grant of £100, 17s. 6d. Valuation (1891) £6S57, 14s. 6d.
Pop. (1801) 913, (1831) 944, (1861) 699, (1871) 603,
(1881) 582, (1891) iS9.— Ord. Sur., sh. 56, 1870.
Clunie, a loch of Glenshiel and Urquhart parishes,
on the mutual boundary of Ross and Inverness shires,
16 miles W by N of Fort Augustus. Lying 606 feet
above sea-level, it has a length from W to E of 4|
miles, whilst its width varies between 1 furlong and \
mile. At its head it receives the river Clunie, flowing
4| miles eastward, and at its foot sends off the river
Moriston to Loch Ness; its northern shore is skirted
by Wade's military road from Fort Augustus to In-
vershiel, and also, closer, by the more modern road
thither from Invermoriston. A dreary, featureless lake,
but one that affords good trout-fishing. — Ord. Sur., sh.
72, 1880.
Clunie Water, a stream of Crathie and Braemar parish,
SW Aberdeenshire, formed by two head-streams, Bad-
doch Burn and Allt Bhruididh, which rise at 2500 feet
above sea-level, close to the Perthshire and Forfarshire
borders. Thence it runs 7 miles north-by-eastward
along rocky Glen Clunie, and falls into the Dee, 1 mile
below Castleton of Braemar. Its chief affluent is
Callatjer Burn. The Queen's ' last expedition ' with
the Prince Consort (16 Oct. 1861) lay up Glen Clunie.—
Ord. Sur., sh. 65, 1870.
Cluny, a parish of Aberdeenshire, whose church stands
2 miles SSW of Monymusk station on the Alford Valley
railway, this being 20.? miles NW of Aberdeen,_ with
which it communicates daily by coach. The parish of
Cluny had a detached part separated from the remainder
of the parish by an intervening portion of the parish
of Midmar. In 1891 the Boundary Commissioners
effected an exchange of territory between these parishes,
with the result of connecting tho detached part of
Cluny with the main portion of the parish, and of
transferring to Midmar an intrusivo peninsula of tha

Set display mode to: Large image | Transcription
Images and transcriptions on this page, including medium image downloads, may be used under the Creative Commons Attribution 4.0 International Licence unless otherwise stated.
(276) Page 268

| | |
| --- | --- |
| Permanent URL | https://digital.nls.uk/97396558 |
1901 - Ordnance gazetteer of Scotland
Description
A graphic and accurate description of every place in Scotland. Edited by Francis H. Groome. New ed., with census appendix 1901. Edinburgh: T.C. and E.C. Jack, 1901. This edition contains all the printed matter of the large 6 vol. edition, the revisions made in 1895 and subsequent partial revisions. Copy lacks title page.
Shelfmark
Map.Ref.C18
Additional NLS resources:
Attribution and copyright:

The physical item used to create this digital version is out of copyright

More information
Gazetteers of Scotland, 1803-1901
Description
20 volumes of the most popular descriptive gazetteers of Scotland, providing a comprehensive geographical encyclopaedia of Scotland in the 19th century. Principal places in Scotland, including towns, counties, castles, glens, antiquities and parishes, are listed alphabetically. Each entry includes detailed historical and geographical information about each place.
More information