‹‹‹ prev (237) Page 229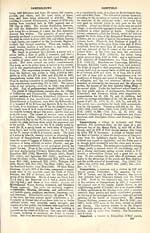 (239) next ››› Page 231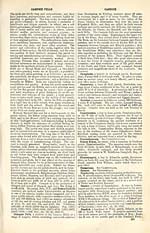 Download files
Complete book:
Individual page:
Thumbnail gallery: Grid view | List view
CAMPFIELD
Aberdeenshire, 6 miles NW of Banchory. It has a post
office under Banchory.
Campfield, a place in Monyrnusk parish, Aberdeen-
shire, on the river Don, 16 miles WNW of Aberdeen.
It is said to have got its name from the encamping at it of
Robert Bruce's army on the eve of the battle of Inverurie.
Camphill, an estate, with a mansion, in Cathcart
parish, Renfrewshire, on the verge of the county, a little
NE of Crossmyloof. A green hill here, with vestiges of
an ancient camp, commands an extensive view over the
surrounding country, away to the heights of Dumbarton-
shire and Argyllshire.
Camphouse, a place in Gretna parish, Dumfriesshire,
on the line of the Roman road from England to Bruns-
wark, and itself supposed to have been the site of a
Roman fort.
Camp-Knowe. See Blantyre.
Cample, a rivulet of Morton and Closeburn parishes,
Dumfriesshire. It rises on Wedder Law (2185 feet) at
the boundary between Morton and Lanarkshire ; runs
8 miles southward and west-south-westward, chiefly on
the boundary between Morton and Closeburn ; and falls
into the Nith, 1J niile SW of Thornhill. It is an ex-
cellent trouting stream.
Campmuir, a hamlet in Kettins parish, Forfarshire,
2 miles S of Cupar- Angus. Outlines of a Roman camp,
with only one gate, towards the larger camp at Cupar, are
in its vicinity ; and here, according to Skene, the ninth
legion was surprised in 83 A. D. by the Caledonians, who,
however, were routed, Agricola falling on their rear.
Campmuir, a place on Langhope-Birks farm in Lang-
ton parish, Berwickshire. It has traces of an encamp-
ment made by a party of troops stationed at it after the
rebellion of 1715 to overawe the Jacobites.
Camps, a rivulet of Crawford parish, Lanarkshire. It
rises, in several head-streams, on heights contiguous to
the boundary with Peeblesshire, and runs about 6 miles
west-south-westward, through a moorish, mountainous
tract, to the river Clyde opposite Crawford village. A
Roman camp adjoins it on Whitecanip farm.
Campsail, a bay in Roseneath parish, Dumbarton-
shire, on the SW side of Gare Loch, opposite Row vil-
lage, and immediately SE of Roseneath pier. Measur-
ing just 1 mile across the entrance, it has a semicircular
outline and very beautiful shores, and affords one of the
best sheltered anchorages on the W coast of Scotland.
It was often, in mediaeval times, a station of the royal
navies of Scotland ; was, for some time, during the last
war with France, the station of a line-of-battle ship ; was
adopted, about 1830, as the retreat of the cutters of the
Royal Yacht Club ; and bore on its bosom, during a night
of 1848, the royal yacht with the royal family on board.
Campsbank, an eminence (400 feet) in Carnock parish,
SW Fife, adjacent to the Stirling and Dunfermline rail-
way, and J mile SE of Carnock village. It is supposed
to have been occupied by a Roman camp, and it com-
mands extensive views of the basin of the Forth from
Stirling to Edinburgh.
Campsie, a picturesque cataract on the river Tay, near
the W end of Cargill parish, and a short distance above
Stanley village, in Perthshire. It is formed by a rugged
basaltic dyke, which crosses the river's bed, and exteuds
many miles both N and S ; it is mentioned in tho Fair
Maid of Perth, and it affords good scope for salmon fish-
ing.
Campsie, a hamlet and a parish of S Stirlingshire.
The clachan or hamlet, with a post office under Glasgow,
and a branch of the Royal Bank, lies in the mouth of
Campsie or Kirkton Glen, 5 furlongs from Campsie Glen
station; commands a strikingly picturesque view around
and up the glen; consists chiefly of straggling cottages,
interspersed with gardens, trees, and hedgerows ; and
contains an inn, the manse, and the belfry and burying-
ground of the old parish church, witli ancient font and
sepulchral slab. Here lie buried the martyr William
Boick, who suffered at Glasgow in 1083 ; the Campsie
minister John Collins, murdered by the Laird of Bel-
glass on his way from a presbytery meeting in 1648 ;
John Ji';ll of Antkumony ; that quaint original, the
230
CAMPSIE
geographer James Bell (1769-1833) ; the Campsie poet
William Muir, over whose grave a handsome monument
was erected in 1857 ; and, last but not least, Norman
Macleod, D.D. (1812-72).
The ancient parish was larger than the present, being
curtailed iu 1649 by the annexation of one portion to
Kilsyth, and of another to Baldernock. Till then it ex-
tended about 11 miles from E to W, from Garrel Glen to
Craigmaddie Muir. Fringed to the S by a morass which
flanked the course of the river Kelvin and was impassable
in winter, it was bounded on the W by a line extend-
ing from the lofty eminence of Earls Seat to Cadder
House ; and it formed a very sequestered district, the
eastern division of tho ancient thanedom of Lennox.
It escaped the turmoil and disasters from war and public
commotions which afflicted most parts of the kingdom ;
and it retained old customs longer than most other dis-
tricts, being marked not a little by its old-world manners.
The powers of a feudal baron were exercised in it so late
as 1639, when Lord Kilsyth hanged one of his servants
on Gallow Hill iu the barony of Bencloich ; and down
to 1744 blackmail was paid by its farmers to Macgregor
of Glengyle for protection against the Highland caterans.
The present parish, besides .Campsie hamlet, contains
the town of Lennoxtown, and the villages of Milton
of Campsie, Biedstone, Torrance, and Balgrochan, the
three last lying respectively.lj mile N, 2f miles W, and
3 miles W by N, of Kirkintilloch ; and it is traversed,
past Birdstone and Milton, to Lennoxtown, by the Camp-
sie branch of the North British railway, and from Len-
noxtown, west-north-westward, by the Blane Valley
railway. The parish is bounded N by Killearn and
Fintry, E by Fintry and Kilsyth, S by Kirkintilloch in
Dumbartonshire and Cadder in Lanarkshire, SW by
Baldernock, and W by Strathblane. Its length, from
N to S, varies between 3J and 6J miles ; its greatest
breadth, from E to W, is 5| miles ; and its area is 17,976§
acres, of which 105J are water. The watershed of the
Campsie Fells forms almost all the northern, and the
river Kelvin — here a small sluggish stream — traces most
of the southern, boundary. Part of the Campsie Fells,
cut into sections by deep romantic ravines and glens,
constitutes the northern district, summits here from E
to W being Brown Hill (1297 feet), Lairs (1652),* Hole-
head (1801), Inner Black Hill (1572), *Hart Hill (1697),
*Earls Seat (1894), and *Dumbreck (1664), of which
those marked with asterisks culminate on the northern
or western border. The South Brae, an eastern pro-
longation of the Kilpatrick Hills, with a culminating
altitude of 758 feet above sea-level, constitutes the west-
ern part of the southern district ; and the Strath of
Campsie, not more than i mile broad in the extreme W,
but gradually expanding till it becomes lost in the great
strath of the Forth and Clyde Canal toward the E and
the SE, constitutes all the remaining district. Three
principal burns, and upwards of a dozen smaller ones,
coming down from the Fells, form Glazert Water, which
runs across the low country to the Kelvin, at a point
nearly opposite to Kirkintilloch. The chief glens are
famous for their picturesqueness, presenting at points a
striking miniature resemblance to the Trossachs, their
bottoms strewn with fallen blocks, their precipitous sides
shaggy with wood or shelved with artificial terrace-paths.
They are, too, one of the best haunts for naturalists
within easy reach of Glasgow ; so that, altogether, they
form a powerful attraction to every class from the great
metropolis of the West. Kirkton Glen, striking north-
ward and north-eastward from Campsie hamlet, is the one
most commonly frequented ; but Fin Glen, north-west-
ward from the same, is little inferior in most attractions,
and for at least its length of way, its volume of water,
and its cascades, is superior. The Strath of Campsie, for
about 1J mile from the western boundary, is a dark
dingle or little else than a glen, traversed by the Pow
Burn, between the Campsie Fells and the South Brae ;
and, along tho southern border adjacent to tho Kelvin,
is flat alluvial ground, continuous with tho Balmore
Hauglis ; but elsewhere is so undulating that scarcely a
stretch of 200 yards of level road can bo found upon it.

Set display mode to: Large image | Transcription
Images and transcriptions on this page, including medium image downloads, may be used under the Creative Commons Attribution 4.0 International Licence unless otherwise stated.
(238) Page 230

| | |
| --- | --- |
| Permanent URL | https://digital.nls.uk/97396102 |
1901 - Ordnance gazetteer of Scotland
Description
A graphic and accurate description of every place in Scotland. Edited by Francis H. Groome. New ed., with census appendix 1901. Edinburgh: T.C. and E.C. Jack, 1901. This edition contains all the printed matter of the large 6 vol. edition, the revisions made in 1895 and subsequent partial revisions. Copy lacks title page.
Shelfmark
Map.Ref.C18
Additional NLS resources:
Attribution and copyright:

The physical item used to create this digital version is out of copyright

More information
Gazetteers of Scotland, 1803-1901
Description
20 volumes of the most popular descriptive gazetteers of Scotland, providing a comprehensive geographical encyclopaedia of Scotland in the 19th century. Principal places in Scotland, including towns, counties, castles, glens, antiquities and parishes, are listed alphabetically. Each entry includes detailed historical and geographical information about each place.
More information