‹‹‹ prev (256) Page 434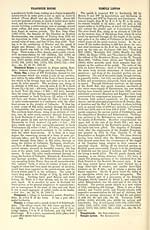 (258) next ››› Page 436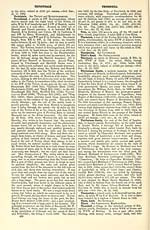 Download files
Complete book:
Individual page:
Thumbnail gallery: Grid view | List view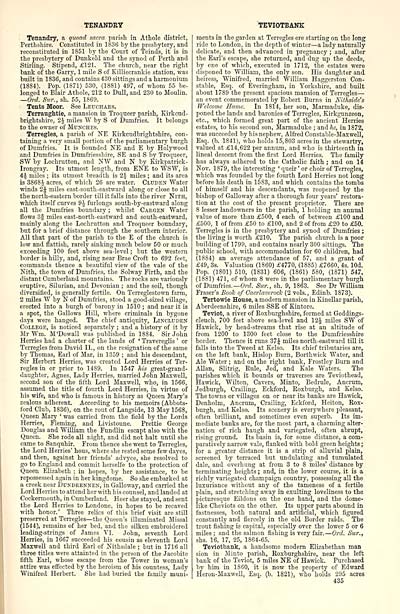 TENANDRY
Tenandry, a quoad sacra parish in Athole district,
Perthshire. Constituted in 1836 by the presbytery, and
reconstituted in 1851 by the Court of Teinds, it is in
the presbytery of Dunkeld and the synod of Perth and
Stirling. Stipend, £121. The church, near the right
bank of the Garry, 1 mile S of Killiecrankie station, was
built in 1836, and contains 430 sittings and a harmonium
(1884). Pop. (1871) 530, (1881) 497, of whom 55 he-
longed to Blair Athole, 212 to Dull, and 230 to Moulin.
— Oral. Svr., sh. 55, 1869.
Tents Moor. See Let/chars.
Terraughtie, a mansion in Troqueer parish, Kirkcud-
brightshire, 2J miles W by S of Dumfries. It belongs
to the owner of Munches.
Terregles, a parish of NE Kirkcudbrightshire, con-
taining a very small portion of the parliamentary burgh
of Dumfries. It is bounded NE and E by Holywood
and Dumfries in Dumfriesshire, SE and S by Troqueer,
SWby Lochrutton, and NW and N by Kirkpatrick-
Irongray. Its utmost length, from ENE to WSW, is
44 miles ; its utmost breadth is 24 miles ; and its area
is 38684 acres, of which 26 are water. Clttden Water
winds 2J miles east-south-eastward along or close to all
the north-eastern border till it falls into the river Nith,
which itself curves 94, furlongs south-by-eastward along
all the Dumfries boundary ; whilst Cargen Water
flows 3§ miles east-north-eastward and south-eastward,
mainly along the Lochrutton and Troqueer boundary,
but for a brief distance through the southern interior.
All that part of the parish to the E of the church is
low and flattish, rarely sinking much below 50 or much
exceeding 100 feet above sea-level ; but the western
border is hilly, and, rising near Brae Croft to 692 feet,
commands thence a beautiful view of the vale of the
Nith, the town of Dumfries, the Solway Firth, and the
distant Cumberland mountains. The rocks are variously
eruptive, Silurian, and Devonian ; and the soil, though
diversified, is generally fertile. On Terreglestown farm,
2 miles W by N of Dumfries, stood a good-sized village,
erected into a burgh of barony in 1510 ; and near it is
a spot, the Gallows Hill, where criminals in bygone
days were hanged. The chief antiquity, Lincluden
College, is noticed separately ; and a history of it by
Mr Wm. M'Dowall was published in 1884. Sir John
Herries had a charter of the lands of ' Travereglis ' or
Terregles from David II., on the resignation of the same
by Thomas, Earl of Mar, in 1359 ; and his descendant,
Sir Herbert Herries, was created Lord Herries of Ter-
regles in or prior to 1489. In 1547 his great-grand-
daughter, Agnes, Lady Herries, married John Maxwell,
second son of the fifth Lord Maxwell, who, in 1566,
assumed the title of fourth Lord Herries, in virtue of
his wife, and who is famous in history as Queen Mary's
zealous adherent. According to his memoirs (Abbots-
ford Club, 1836), on the rout of Langside, 13 May 1568,
Queen Mary ' was carried from the field by the Lords
Herries, Fleming, and Livistoune. Prettie George
Douglas and William the Fundlin escapt also with the
Queen. She rode all night, and did not halt until she
came to Sanquhir. From thence she went to Terregles,
the Lord Herries' hous, where she rested some few dayes,
and then, against her friends' advyce, she resolved to
go to England and commit berselfe to the protection of
Queen Elizabeth ; in hopes, by her assistance, to be
repossessed again in her kingdome. So she embarked at
a creek near DirNDRENNEN/in Galloway, and carried the
Lord Herries to attend her with his counsel, and landed at
Cockermouth, in Cumberland. Heer she stayed, and sent
the Lord Herries to Londone, in hopes to be recaved
with honor.' Three relics of this brief visit are still
preserved at Terregles— the Queen's illuminated Missal
(1544), remains of her bed, and the silken embroidered
leading-strings of James VI. John, seventh Lord
Herries, in 1667 succeeded his cousin as eleventh Lord
Maxwell and third Earl of Nithsdale ; but in 1716 all
three titles were attainted in the person of the Jacobite
fifth Earl, whose escape from the Tower in woman's
attire was effected by the heroism of his countess, Lady
Winifred Herbert. She had buried the family muni-
TEVIOTBANK
ments in the garden at Terregles ere starting on the long
rido to London, in the depth of winter — a lady naturally
delicate, and then advanced in pregnancy ; and, after
the Earl's escape, she returned, and dug up the deeds,
by one of which, executed in 1712, the estates were
disponed to William, the only son. His daughter and
heiress, Winifred, married William Haggerston Con-
stable, Esq. of Everingham, in Yorkshire, and built
about 1789 the present spacious mansion of Terregles —
an event commemorated by Robert Burns in Nilhside's
Welcome Harm. In 1814, her son, Marmaduke, dis-
poned the lands and baronies of Terregles, Kirkgunzeon,
etc., which formed great part of the ancient Herries
estates, to his second son, Marmaduke ; and he, in 1872,
was succeeded by his nephew, Alfred Constable-Maxwell,
Esq. (b. 1841), who holds 15,803 acres in the stewartry,
valued at £14,622 per annum, and who is thirteenth in
lineal descent from the first Lord Herries. The family
has always adhered to the Catholic faith ; and on 14
Nov. 1879, the interesting ' queir ' or choir of Terregles,
which was founded by the fourth Lord Herries not long
before his death in 1583, and which contains the tombs
of himself and his descendants, was reopened by the
bishop of Galloway after a thorough four years' restora-
tion at the cost of the present proprietor. There are
8 lesser landowners in the parish, 1 holding an annual
value of more than £500, 4 each of between £100 and
£500, 1 of from £50 to £100, and 2 of from £20 to £50.
Terregles is in the presbytery and synod of Dumfries ;
the living is worth £210. The parish church is a poor
building of 1799, and contains nearly 300 sittings. The
public school, with accommodation for 60 children, had
(1884) an average attendance of 57, and a grant of
£49, 3s. Valuation (1860) £4770, (1885) £7660, 4s. lOd.
Pop. (1801) 510, (1831) 606, (1861) 580, (1S71) 547,
(1881) 471, of whom 8 were in the parliamentary burgh
of Dumfries.— Ord. Sur., sh. 9, 1863. See Dr William
Fraser's Book of Caerlaverock (2 vols., Edinb. 1873).
Tertowie House, a modern mansion in Kinellar parish,
Aberdeenshire, 6 miles SSE of Kintore.
Teviot, a river of Roxburghshire, formed at Geddings-
cleuch, 700 feet above sea-level and 12J miles SW of
Hawick, by head-streams that rise at an altitude of
from 1200 to 1300 feet close to the Dumfriesshire
border. Thence it runs 37| miles north-eastward till it
falls into the Tweed at Kelso. Its chief tributaries are,
on the left bank, Hislop Burn, Borthwick Water, and
Ale Water ; and on the right bank, Frostley Burn and
Allan, Slitrig, Rule, Jed, and Kale Waters. The
parishes which it bounds or traverses are Teviothead,
Hawick, Wilton, Cavers, Minto, Bedrule, Anerum,
Jedburgh, Crailing, Eckford, Roxburgh, and Kelso.
The towns or villages on or near its banks are Hawick,
Denholm, Anerum, Crailing, Eckford, Heiton, Rox-
burgh, and Kelso. Its scenery is everywhere pleasant,
often brilliant, and sometimes even superb. Its im-
mediate banks are, for the most part, a charming alter-
nation of rich haugh and variegated, often abrupt,
rising ground. Its basin is, for some distance, a com-
paratively narrow vale, flanked with bold green heights ;
for a greater distance it is a strip of alluvial plain,
screened by terraced but undulating and tumulated
dale, and overhuDg at from 3 to 8 miles' distance by
terminating heights ; and, in the lower course, it is a
richly variegated champaign country, possessing all the
luxuriance without any of the tameness of a fertile
plain, and stretching away in exulting loveliness to the
picturesque Eildons on the one hand, and the dome-
like Cheviots on the other. Its upper parts abound in
fastnesses, both natural and artificial, which figured
constantly and fiercely in the old Border raids. The
trout fishing is capital, especially over the lower 5 or 6
miles ; and the salmon fishing is very fair. — Ord. Sur.,
shs. 16, 17, 25, 1864-65.
Teviotbank, a handsome modern Elizabethan man
sion in Minto parish, Roxburghshire, near the left
bank of the Teviot, 5 miles NE of Hawick. Purchased
by him in 1860, it is now the property of Edward
Heron-Maxwell, Esq. (b. 1821), who holds 295 acres
435

Set display mode to: Large image | Transcription
Images and transcriptions on this page, including medium image downloads, may be used under the Creative Commons Attribution 4.0 International Licence unless otherwise stated.
(257) Page 435

| | |
| --- | --- |
| Permanent URL | https://digital.nls.uk/97390686 |
Volume 6
Attribution and copyright:

The physical item used to create this digital version is out of copyright

More information
1884-1885 - Ordnance gazetteer of Scotland
Description
A survey of Scottish topography, statistical, biographical, and historical. Edited by Francis H. Groome. Edinburgh: Thomas C. Jack, 1884-85. "General survey": v.6, 134 p. at end.
Shelfmark
Map.Ref.C18
Additional NLS resources:
More information
Gazetteers of Scotland, 1803-1901
Description
20 volumes of the most popular descriptive gazetteers of Scotland, providing a comprehensive geographical encyclopaedia of Scotland in the 19th century. Principal places in Scotland, including towns, counties, castles, glens, antiquities and parishes, are listed alphabetically. Each entry includes detailed historical and geographical information about each place.
More information