‹‹‹ prev (194) Page 156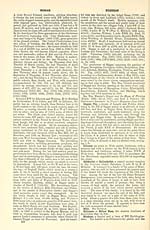 (196) next ››› Page 158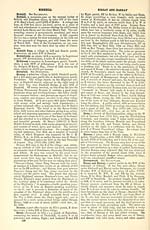 Download files
Complete book:
Individual page:
Thumbnail gallery: Grid view | List view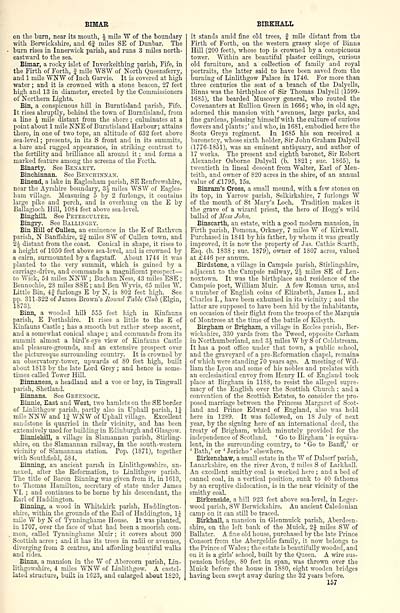 BIHAR
on the burn, near its mouth, \ mile TV of the boundary
with Berwickshire, and 6| miles SE of Dunbar. The
burn rises in Innerwick parish, and runs 3 miles north-
eastward to the sea.
Bimar, a rocky islet of Inverkeithing parish, Fife, in
the Firth of Forth, f mile WSW of North Queensferry,
and 1 mile WWW of Inch Garvie. It is covered at high
water ; and it is crowned with a stone beacon, 27 feet
high and 13 in diameter, erected by the Commissioners
of Northern Lights.
Bin, a conspicuous hill in Burntisland parish, Fife.
It rises abruptly, behind the town of Burntisland, from
a line \ mile distant from the shore ; culminates at a
point about 1 mile NNE of Burntisland Harbour ; attains
there, in one of two tops, an altitude of 632 feet above
sea-level ; presents, in its S front and in its summits,
a bare and rugged appearance, in striking contrast to
the fertility and brilliance all around it ; and forms a
marked feature among the screens of the Forth.
Binarty. See Benaety.
Binchinnan. See Benchinnasj.
Binend, a lake in Eaglesham parish, SE Renfrewshire,
near the Ayrshire boundary, 3J miles WSW of Eagles-
ham village. Measuring 5 by 2 furlongs, it contains
large pike and perch, and is overhung on the E by
Ballagioch Hill, 1084 feet above sea-level.
Binghill. See Peteucultee.
Bingry. See Ballixgby.
Bin Hill of Cullen, an eminence in the E of Rathven
parish, N Banffshire, 2j miles SW of Cullen town, and
2J distant from the coast. Conical in shape, it rises to
a height of 1050 feet above sea-level, and is crowned by
a cairn, surmounted by a flagstaff. About 1744 it was
planted to the very summit, which is gained by a
carriage-drive, and commands a magnificent prospect —
to Wick, 54 miles NNW ; Buehan Ness, 43 miles ESE ;
Bennochie, 28 miles SSE ; and Ben Wyvis, 65 miles W.
Little Bin, 4| furlongs E by N, is 802 feet high. See
pp. 311-322 of James Brown's Round Table Club (Elgin,
1S73).
Binn, a wooded hill 555 feet high in Kinfauns
parish, E Perthshire. It rises a little to the E of
Kinfauns Castle ; has a smooth but rather steep ascent,
and a somewhat conical shape ; and commands from its
summit almost a bird's-eye view of Kinfauns Castle
and pleasure-grounds, and an extensive prospect over
the picturesque surrounding country. It is crowned by
an observatory-tower, upwards of 80 feet high, built
about 1813 by the late Lord Grey ; and hence is some-
times called Tower Hill.
Binnaness, a headland and a voe or bay, in Tingwall
parish, Shetland.
Binnans. See Greenock.
Birrnie, East and West, two hamlets on the SE border
of Linlithgow parish, partly also in Uphall parish, 1J
mile NNW and 1| WNW of Uphall village. Excellent
sandstone is quarried in their vicinity, and has been
extensively used for building in Edinburgh and Glasgow.
Binniehill, a village in Slamannan parish, Stirling-
shire, on the Slamannan railway, in the south-western
vicinity of Slamannan station. Pop. (1S71), together
with Southfield, 584,
Binning, an ancient parish in Linlithgowshire, an-
nexed, after the Reformation, to Linlithgow parish.
The title of Baron Binning was given from it, in 1613,
to Thomas Hamilton, secretary of state under James
VI. ; and continues to be borne by his descendant, the
Earl of Haddington.
Binning, a wood in Whitekirk parish, Haddington-
shire, within the grounds of the Earl of Haddington, 1 J
mile W by N of Tynninghame House. It was planted,
in 1707, over the face of what had been a moorish com-
mon, called Tynninghame Muir ; it covers about 300
Scottish acres ; and it has its trees in radii or avenues,
diverging from 3 centres, and affording beautiful walks
and rides.
Binns, a mansion in the W of Abercorn parish, Lin-
lithgowshire, 4 miles WNW of Linlithgow. A castel-
lated structure, built in 1623, and enlarged about 1S20,
BIRKHALL
it stands amid fine old trees, f mile distant from the
Firth of Forth, on the western grassy slope of Binns
HUl (200 feet), whose top is crowned by a conspicuous
tower. Within are beautiful plaster ceilings, curious
old furniture, and a collection of family and royal
portraits, the latter said to have been saved from the
burning of Linlithgow Palace in 1746. For more than
three centuries the seat of a branch of the Dalyells,
Binns was the birthplace of Sir Thomas Dalyell (1599-
1685), the bearded Muscovy general, who routed the
Covenanters at Rullion Green in 1666 ; who, in old age,
adorned this mansion with ' avenues, large parks, and
fine gardens, pleasing himself with the culture of curious
flowers and plants ;' and who, in 1681, embodied here the
Scots Greys regiment. In 16S5 his son received a
baronetcy, whose sixth holder, Sir John Graham Dalyell
(1776-1851), was an eminent antiquary, and author of
17 works. The present and eighth baronet, Sir Robert
Alexander Osborne Dalyell (b. 1821 ; sue. 1865), is
twentieth in lineal descent from Walter, Earl of Men-
teith, and owner of S20 acres in the shire, of an annual
value of £1795, 15s.
Binram's Cross, a small mound, with a few stones on
its top, in Yarrow parish, Selkirkshire, 7 furlongs W
of the mouth of St Mary's Loch. Tradition makes it
the grave of a wizard priest, the hero of Hogg's wild
ballad of Mess John.
Binscarth, an estate, with a good modern mansion, in
Firth parish, Pomona, Orkney, 7 miles W of Kirkwall.
Purchased in 1841 by his father, by whom it was greatly
improved, it is now the property of Jas. Cathie Scarth,
Esq. (b. 1833 ; sue. 1879), owner of 1807 acres, valued
at £446 per annum.
Birdstone, a village in Campsie parish, Stirlingshire,
adjacent to the Campsie railway, 2-J miles SE of Len-
noxtown. It was the birthplace and residence of the
Campsie poet, William Muir. A few Roman urns, and
a number of English coins of Elizabeth, James I., and
Charles I., have been exhumed in its vicinity ; and the
latter are supposed to have been hid by the inhabitants,
on occasion of their flight from the troops of the Marquis
of Montrose at the time of the battle of Kilsyth.
Birgham or Brigham, a village in Eccles parish, Ber-
wickshire, 330 yards from the Tweed, opposite Carham
in Northumberland, and 3J miles W by S of Coldstream.
It has a post office under that town, a public school,
and the graveyard of a pre-Reformation chapel, remains
of which were standing 70 years ago. A meeting of Wil-
liam the Lyon and some of his nobles and prelates with
an ecclesiastical envoy from Henry II. of England took
place at Birgham in 1188, to resist the alleged supre-
macy of the English over the Scottish Church ; and a
convention of the Scottish Estates, to consider the pro-
posed marriage between the Princess Margaret of Scot-
land and Prince Edward of England, also was held
here in 1289. It was followed, on 18 July of next
year, by the signing here of an international deed, the
treaty of Brigham, which minutely provided for the
independence of Scotland. ' Go to Birgham ' is equiva-
lent, in the surrounding country, to ' Go to Banff, ' or
' Bath,' or ' Jericho ' elsewhere.
Birkenshaw, a small estate in the W of Dalserf parish,
Lanarkshire, on the river Avon, 2 miles S of Larkhall.
An excellent smithy coal is worked here ; and a bed of
cannel coal, in a vertical position, sunk to 40 fathoms
by an eruptive dislocation, is in the near vicinity of the
smithy coal.
Birkenside, a hill 923 feet above sea-level, in Leger-
wood parish, SW Berwickshire. An ancient Caledonian
camp on it can still be traced.
Birkhall, a mansion in Glenmuick parish, Aberdeen-
shire, on the left bank of the Muick, 1\ miles SW of
Ballater. A fine old house, purchased by the late Prince
Consort from the Abergeldie family, it now belongs to
the Prince of Wales ; the estate is beautifully wooded, and
on it is a girls' school, built by the Queen. A wire sus-
pension bridge, 80 feet in span, was thrown over the
Muick before the house in 18S0, eight wooden bridges
having been swept away during the 32 years before.
157

Set display mode to: Large image | Transcription
Images and transcriptions on this page, including medium image downloads, may be used under the Creative Commons Attribution 4.0 International Licence unless otherwise stated.
(195) Page 157

| | |
| --- | --- |
| Permanent URL | https://digital.nls.uk/97371106 |
Volume 1
Attribution and copyright:

The physical item used to create this digital version is out of copyright

More information
1884-1885 - Ordnance gazetteer of Scotland
Description
A survey of Scottish topography, statistical, biographical, and historical. Edited by Francis H. Groome. Edinburgh: Thomas C. Jack, 1884-85. "General survey": v.6, 134 p. at end.
Shelfmark
Map.Ref.C18
Additional NLS resources:
More information
Gazetteers of Scotland, 1803-1901
Description
20 volumes of the most popular descriptive gazetteers of Scotland, providing a comprehensive geographical encyclopaedia of Scotland in the 19th century. Principal places in Scotland, including towns, counties, castles, glens, antiquities and parishes, are listed alphabetically. Each entry includes detailed historical and geographical information about each place.
More information