‹‹‹ prev (152) Page 118
(154) next ››› Page 120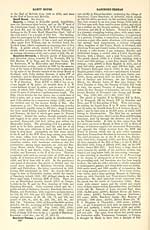 Download files
Complete book:
Individual page:
Thumbnail gallery: Grid view | List view
BALQUHOLLY
have been built in 1631, but Muir's Church Architecture
(1861) ascribes it to the First Pointed period, i.e., to the
12th or 13th century ; anyhow, Robin Oig, Rob's fifth
and youngest son, here wedded the widow whom he had
ravished from Balfron, and hither three years later his
corpse, after execution, was brought by a large company
of sorrowing kinsfolk. Robin it was that in 1736 on In-
vernenty farm shot one of those Maclaurins, the writ for
whose ejectment was served by a young attorney — the
future Sir Walter Scott. This was in 1790, and, eight
years after, the estate of Edenchip, between Lochearn-
head village and the station, was purchased from the
Commissioners of Forfeited Estates by Sir John Murray
of Lanrick, Bart. (ere. 1795), chief of the Gregor clan,
whose descendant, Sir Malcolm Macgregor, fifth Bart,
(b. 1873 ; sue. 1879), is owner of 4050 acres in the shire,
of an annual value of £1131, 5s. Another proprietor,
David Carnegie, Esq. of Stronvar, near the SE corner
of Loch Voil, holds 22,205 acres of £3558, 10s. value ;
and 3 more hold £500 and upwards, 2 between £100
and £500, mansions being Craigrule on the N shore of
Loch "Voil and Edinample Castle near Lochearnhead.
A native was Dugald Buchanan (1716-68), the eminent
Gaelic poet. Balquhidder is in the presbytery of Dun-
blane and synod of Perth and Stirling ; the living is
worth £305. The present church (1855 ; 460 sittings) is
a handsome Gothic edifice, and there is also a Free
church ; while, besides 2 schools at Lochearnhead, Bal-
quhidder public school and Strathyre Society's school,
with respective accommodation for 88 and 50 children,
had (1879) an average attendance of 26 and 18, and
grants of £36, 3s. and £29. Valuation (1881) £8832,
Is. 5d. Pop., mostly Gaelic speaking, of civil parish,
(1801) 1377, (1831) 1049, (1851) 874, (1871) 743, (1881)
759. Pop. of quoad sacra parish, which includes part
of Connie, (1881) 904. See pp. 217, 235-240, of Dorothy
Wordsworth's Tour in Scotland (ed. by Princ. Shairp,
1874), and vol. ii., pp. 243-250, 279-280, of Jn. S.
Keltie's Scottish Highlands (1875). — Ord. Sur., shs. 38,
46, 1871-72.
Balquholly, an ancient baronial castle in Turriff parish,
Aberdeenshire, now mainly demolished, but partly in-
corporated (1814) with Hatton Castle. It belonged to
the Mowats, and was the residence of Sir Thomas
Urquhart of Cromarty (c. 1605-60), translator of Ra-
belais.
Balranald, a small harbour in North Uist, Outer He-
brides, Inverness-shire.
Balruddery, an estate, with a handsome modern man-
sion, in Lift' and Benvie parish, Forfarshire, 6i miles W
by N of Dundee. The mansion, on a south-eastward
slope, commands an extensive view over the Firth of
Tay ; the estate contains romantic, finely -wooded dells,
and is notable both for rare indigenous plants and for
the exhumation of interesting fossils.
Balshagry, a hamlet in Govan parish, Lanarkshire, a
short distance WNW of Glasgow Botanic Garden. Re-
cent marine shells, like extant ones in the Firth of
Clyde, have been found in stratified clay, in the hamlet's
vicinity, at a height of not less than 80 feet above sea-
level.
Balshando, a small lake in Lundie parish, Forfar-
shire, sending off a head-stream of Dighty Water.
Balta, an islet in Unst parish, Shetland, lying to the
E of Unst island. Balta Sound, separating it from Unst,
is 2 miles long, and about \ mile wide, and is so closed
at the ends by Balta as to look, at a distance, like a lake.
The land on both sides of the Sound is in a state of high
cultivation. A hamlet here bears the name of Balta-
sound, and has a post office under Lerwick, with money
order, savings' bank, and telegraph departments, and a
public school, which, with accommodation for 100 chil-
dren, had (1879) an average attendance of 42, and a
grant of £89, 8s. 5d.
Baltebun. See Saddel.
Balthayock, a detached section of Kinnoul parish,
Perthshire. Lying \ mile E of the main body of the
parish, it has an extreme length from NW to SE of 2J
miles, and varies in breadth from 5 furlongs to 1 mile.
BALWEARIE
Balthayock House in the S, 3 miles E of Perth, dates
partly from 1578, partly from some two centuries earlier;
it is the seat of Wm. Lowson, Esq. Balthayock Castle,
close by, is the ruin of an oblong tower, supposed to
have belonged to the Knights Templars.
Baltilly, an estate, with a modern mansion, in Ceres
parish, Fife, just to the W of Ceres village.
Balvag. See Balquhidder.
Balvaird. See Abeenethy, Perthshire.
Balvenie, an ancient castle in Mortlach parish, Banff-
shire, on the left bank of the Fiddich, a little below the
influx of the Dullan, 5 furlongs N of Dufftown. It crowns
a beautiful wooded knoll, and commands a rich though
limited range of charming scenery. Uninhabited more
than a century, it now is merely a well-preserved shell,
which retains, however, its original architectural features.
It is of various dates, large, massive, and very magnifi-
cent. The oldest part is traditionally called a Pictish
tower, but the general characteristics are those of the
Scottish Baroniai style. It belonged to successively the
Comyns, the Douglases, the Stuarts, and the Inneses
(1615), and it is now the property of the Earl of Fife.
The motto of the Stuarts, Earls of Athole, ' Fvrth. For-
tvin. And. Fil. thi. Feitris,' is inscribed on its front, high
over a massive iron gate. A member of the house of
Douglas, in the 15th century, took from it the title of
Lord Balvenie ; and a member of the house of Innes
in 1628 was created a baronet of Nova Scotia, under the
title of Sir Robert Innes of Balvenie. Two views of it
are given in Billings' Baronial Antiquities (1852). The
'new Castle of Balvenie,' \\ mile N of Dufftown, is a
large, white, mill-like edifice (c. 1765), in good repair,
but long untenanted.
Balvicar, a village in Seil island, Kilbrandon parish,
Argyllshire, 14 miles SSW of Oban.
Balvie, an estate, with a mansion, in New Kilpatrick
parish, Dumbartonshire, \\ mile W of Milngavie.
Balvraid. See Dornoch.
Balwearie, a ruined tower in Abbotshall parish, Fife,
2 miles W by S of Kirkcaldy. It must have been 50 or
60 feet high and 43 square, with walls of 6J feet thick-
ness; but only the E wall, and fragments of the N
and S walls, now remain. From the 13th to the 17 th
century it was held by a branch of the Scotts, repre-
sented to-day by the Scotts of Ancrum ; and the second
of the line was one Sir Michael Scott, whom Boece iden-
tified with the dread wizard of Dante's Inferno and Sir
Walter's Lay. (See Melkose. ) Dates hardly favour
Hector's theory, inasmuch as the wizard, after studying
at Oxford, Paris, Padua, and Toledo, became astrologer
to Kaiser Frederick II., who died in 1250 ; whilst Bal-
wearie's Baron sailed in 1290 to Norway to bring back
Margaret the infant queen, in 1292 swore fealty to
Edward I., and in 1310 went on a second embassy to
Norway to demand the cession of the Orkney Isles. One
is loth to give up the picture drawn in Tytler's Scottish
Worthies of ' the white-haired, venerable sage sitting in
Oriental costume on the roof of his tower, observing the
face of the heavens and communing with the stars ; '
still it seems safer merely to make Balwearie the scene of
Lammikin's black revenge, as sung in the good old ballad.
Or there is that weird legend of almost the last of its
lords, which must be true, since Knox himself it is that
tells the tale: — -'How terrible a vision the prince,
James V., saw lying in Linlithgow, that night in 1539
that Thomas Scott, justice clerk, died in Edinburgh,
men of good credit can yet report. For, afraid at mid-
night or after, he called aloud for torches, and raised all
that lay beside him in the palace, and told that Thomas
Scott was dead, for he had been at him with a company
of devils, and had said unto him these words, " O woe
to the day that ever I knew thee or thy service ; for
serving of thee against God, against His servants, and
against justice, I am adjudged to endless torments."
How terrible voices the said Thomas Scott pronounced
before his death, men of all estates heard ; and some
that yet live can witness his voice ever was ' ' Justo Dei
judicio condemnatus sum" (By God's just judgment I
am doomed).' Balwearie has given the title of Baron
119

Set display mode to: Large image | Transcription
Images and transcriptions on this page, including medium image downloads, may be used under the Creative Commons Attribution 4.0 International Licence unless otherwise stated.
(153) Page 119

| | |
| --- | --- |
| Permanent URL | https://digital.nls.uk/97370602 |
Volume 1
Attribution and copyright:

The physical item used to create this digital version is out of copyright

More information
1884-1885 - Ordnance gazetteer of Scotland
Description
A survey of Scottish topography, statistical, biographical, and historical. Edited by Francis H. Groome. Edinburgh: Thomas C. Jack, 1884-85. "General survey": v.6, 134 p. at end.
Shelfmark
Map.Ref.C18
Additional NLS resources:
More information
Gazetteers of Scotland, 1803-1901
Description
20 volumes of the most popular descriptive gazetteers of Scotland, providing a comprehensive geographical encyclopaedia of Scotland in the 19th century. Principal places in Scotland, including towns, counties, castles, glens, antiquities and parishes, are listed alphabetically. Each entry includes detailed historical and geographical information about each place.
More information