‹‹‹ prev (150) Page 116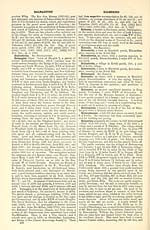 (152) next ››› Page 118
Download files
Complete book:
Individual page:
Thumbnail gallery: Grid view | List view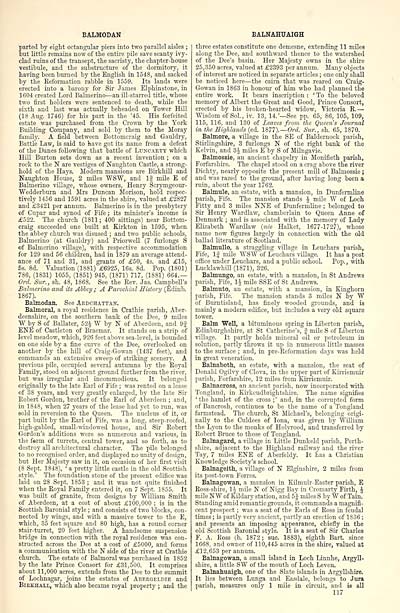 BALMODAN
parted by eight octangular piers into two parallel aisles ;
but little remains now of the entire pile save scanty ivy-
clad ruins of the transept, the sacristy, the chapter-house
vestibule, and the substructure of the dormitory, it
having been burned by the English in 1548, and sacked
by the Reformation rabble in 1559. Its lands were
erected into a barony for Sir James Elphinstone, in
1604 created Lord Balmerino — an ill-starred title, whose
two first holders were sentenced to death, while the
sixth and last was actually beheaded on Tower Hill
(18 Aug. 1746) for his part in the '45. His forfeited
estate was purchased from the Crown by the York
Building Company, and sold by them to the Moray
family. A field between Bottomcraig and Gauldry,
Battle Law, is said to have got its name from a defeat
of the Danes following that battle of Luxcarty which
Hill Burton sets down as a recent invention ; on a
rock to the N are vestiges of Naughton Castle, a strong-
hold of the Hays. Modern mansions are Birkhill and
Naughton House, 2 miles WSW, and If mile E of
Balmerino village, whose owners, Henry Scrymgeour-
Wedderburn and Mrs Duncan Morison, hold respec-
tively 1456 and 1591 acres in the shire, valued at £2827
and £3421 per annum. Balmerino is in the presbytery
of Cupar and synod of Fife ; its minister's income is
£522. The church (1811; 400 sittings) near Bottom-
craig succeeded one built at Kirkton in 1595, when
the abbey church was disused ; and two public schools,
Balmerino (at Gauldry) and Priorwell (7 furlongs S
of Balmerino village), with respective accommodation
for 129 and 56 children, had in 1879 an average attend-
ance of 71 and 31, and grants of £50, 4s. and £15,
5s. 8d. Valuation (1881) £6925, 16s. 8d. Pop. (1801)
786, (1831) 1055, (1851) 945, (1871) 717, (1S81) 664.—
Ord. Sur., sh. 48, 1868. See the Rev. Jas. Campbell's
Balmerino and its Abbey ; A Parochial History (Edinb.
1867).
Balmodan. See Ardchattan.
Balmoral, a royal residence in Crathie parish, Aber-
deenshire, on the southern bank of the Dee, 9 miles
W by S of Ballater, 52£ W by N of Aberdeen, and 9f
ENE of Castleton of Braemar. It stands on a strip of
level meadow, which, 926 feet above sea-level, is bounded
on one side by a fine curve of the Dee, overlooked on
another by the hill of Craig-Gowan (1437 feet), and
commands an extensive sweep of striking scenery. A
previous pile, occupied several autumns by the Royal
Family, stood on adjacent ground further from the river,
but was irregular and incommodious. It belonged
originally to the late Earl of Fife ; was rented on a lease
of 38 years, and very greatly enlarged, by the late Sir
Robert Gordon, brother of the Earl of Aberdeen ; and,
in 1848, when 27 years of the lease had yet to run, was
sold in reversion to the Queen. The nucleus of it, or
part built by the Earl of Fife, was a long, steep-roofed,
high-gabled, small-windowed house, and Sir Robert
Gordon's additions were so numerous and various, in
the farm of turrets, central tower, and so forth, as to
destroy all architectural character. The pile belonged
to no recognised order, and displayed no unity of design,
but Her Majesty saw in it, on occasion of her first visit
(8 Sept. 1848), ' a pretty little castle in the old Scottish
style. ' The foundation stone of the present edifice was
laid on 28 Sept. 1853 ; and it was not quite finished
when the Royal Family entered it, on 7 Sept. 1855. It
was built of granite, from designs by William Smith
of Aberdeen, at a cost of about £100,000 ; is in the
Scottish Baronial style ; and consists of two blocks, con-
nected by wings, and with a massive tower to the E,
which, 35 feet square and 80 high, has a round corner
stair-turret, 20 feet higher. A handsome suspension
bridge in connection with the royal residence was con-
structed across the Dee at a cost of £5000, and forms
a communication with the N side of the river at Crathie
church. The estate of Balmoral was purchased in 1852
by the late Prince Consort for £31,500. It comprises
about 11,000 acres, extends from the Dee to the summit
of Lochnagar, joins the estates of Abf.rgeldie and
Birkhall, which also became royal property ; and the
BALNAHUAIGH
three estates constitute one demesne, extending 11 miles
along the Dee, and southward thence to the watershed
of the Dee's basin. Her Majesty owns in the shire
25,350 acres, valued at £2393 per annum. Many objects
of interest are noticed in separate articles ; one only shall
be noticed here — the cairn that was reared on Craig-
Gowan in 1863 in honour of him who had planned the
entire work. It bears inscription : ' To the beloved
memory of Albert the Great and Good, Prince Consort,
erected by his broken-hearted widow, Victoria R. —
Wisdom of Sol., iv. 13, 14.'— See pp. 65, 86, 105, 109,
115, 116. and 130 of Leaves from the Queen's Journal
in the Highlands (ed. 1877).— Ord. Sur., sh. 65, 1870.
Balmore, a village in the SE of Baldernock parish,
Stirlingshire, 3 furlongs N of the right bank of the
Kelvin, and 3J miles E by S of Milngavie.
Balmossie, an ancient chapelry in Monifieth parish,
Forfarshire. The chapel stood on a crag above the river
Dichty, nearly opposite the present mill of Balmossie ;
and was razed to the ground, after having long been a
ruin, about the year 1762.
Balmule, an estate, with a mansion, in Dunfermline
parish, Fife. The mansion stands £ mile W of Loch
Fitty and 3 miles NNE of Dunfermline ; belonged to
Sir Henry Wardlaw, chamberlain to Queen Anne of
Denmark ; and is associated with the memory of Lady
Elizabeth Wardlaw (nie Halket, 1677-1727), whose
name now figures largely in connection with the old
ballad literature of Scotland.
Balmullo, a straggling village in Leuchars parish,
Fife, If mile WSW of Leuchars village. It has a post
office under Leuchars, and a public school. Pop. , with
Lucklawhill (1871), 326.
Balmvmgo, an estate, with a mansion, in St Andrews
parish, Fife, 1J mile SSE of St Andrews.
Balmuto, an estate, with a mansion, in Einghorn
parish, Fife. The mansion stands 3 miles N by W
of Burntisland, has finely wooded grounds, and is
mainly a modern edifice, but includes a very old square
tower.
Balm Well, a bituminous spring in Liberton parish,
Edinburghshire, at St Catherine's, f mile S of Liberton
village. It partly holds mineral oil or petroleum in
solution, partly throws it up in numerous little masses
to the surface ; and, in pre-Reformation days was held
in great veneration.
Balnaboth, an estate, with a mansion, the seat of
Donald Ogilvy of Clova, in the upper part of Kirriemuir
parish, Forfarshire, 12 miles from Kirriemuir.
Balnacross, an ancient parish, now incorporated with
Tongland, in Kirkcudbrightshire. The name signifies
'the hamlet of the cross ;' and, in the corrupted form
of Bancrosh, continues to be the name of a Tongland
farmstead. The church, St Michael's, belonging origi-
nally to the Culdees of Iona, was given by William
the Lyon to the monks of Holyrood, and transferred by
Robert Bruce to those of Tongland.
Balnagard, a village in Little Dunkeld parish, Perth-
shire, adjacent to the Highland railway and the river
Tay, 7 miles ENE of Aberfeldy. It has a Christian
Knowledge Society's school.
Babnageith, a village of N Elginshire, 2 miles from
its post-town Forres.
Balnagowan, a mansion in Kilmuir-Easter parish, E
Ross-shire, 1 J mile N of Nigg Bay in Cromarty Firth, J
mile NW of Kildary station, and 5 J miles S by W of Tain.
Standing amid romantic grounds, it commands a magnifi-
cent prospect ; was a seat of the Earls of Ross in feudal
times ; is partly very ancient, partly an erection of 1836 ;
and presents an imposing appearance, chiefly in the
old Scottish Baronial style. It is a seat of Sh- Charles
F. A. Boss (b. 1872; sue. 1883), eighth Bart since
1668, and owner of 110,445 acres in the shire, valued at
£12,653 per annum.
Balnagowan, a small island in Loch Linnhe, Argyll-
shire, a little SW of the mouth of Loch Leven.
Balnahuaigh, one of the Slate islands in Argyllshire.
It lies between Lunga and Easdale, belongs to Jura
parish, measures only 1 mile in circuit, and is all
117

Set display mode to: Large image | Transcription
Images and transcriptions on this page, including medium image downloads, may be used under the Creative Commons Attribution 4.0 International Licence unless otherwise stated.
(151) Page 117

| | |
| --- | --- |
| Permanent URL | https://digital.nls.uk/97370578 |
Volume 1
Attribution and copyright:

The physical item used to create this digital version is out of copyright

More information
1884-1885 - Ordnance gazetteer of Scotland
Description
A survey of Scottish topography, statistical, biographical, and historical. Edited by Francis H. Groome. Edinburgh: Thomas C. Jack, 1884-85. "General survey": v.6, 134 p. at end.
Shelfmark
Map.Ref.C18
Additional NLS resources:
More information
Gazetteers of Scotland, 1803-1901
Description
20 volumes of the most popular descriptive gazetteers of Scotland, providing a comprehensive geographical encyclopaedia of Scotland in the 19th century. Principal places in Scotland, including towns, counties, castles, glens, antiquities and parishes, are listed alphabetically. Each entry includes detailed historical and geographical information about each place.
More information