William Dunbar: The Tua Mariit Wemen and the Wedo (pp.177-188 in the volume) with William Dunbar: Lament for the Makars (pp.189-191 in the volume) with William Dunbar: Kynd Kittok (p.192 in the volume) with William Dunbar: The Testament of Mr Andro Kennedy (pp.193-196 in the volume) (Page 17 of 20)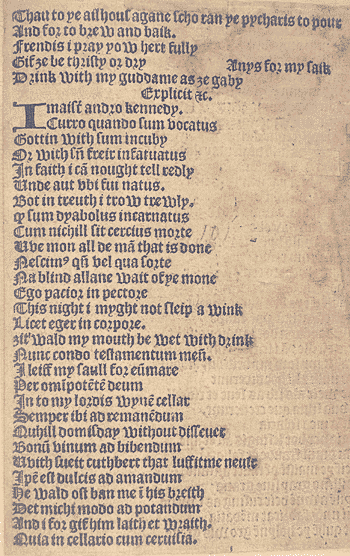 (p.193) Than to ye ailhous agane scho ran ye pycharis to pour
And for to brew and baik.
Frendis i pray yow hertfully
Gif ze be thristy or dry Anys for my saik
Drink with my guddame as ze ga by
Explicit &c.
I maister andro kennedy.
Curro quando sum vocatus
Gottin with sum incuby
Or with sum freir infatuatus
In faith i can nought tell redly
Unde aut vbi fui natus.
Bot in treuth i trow trewly.
quod sum dyabolus incarnatus
Cum nichill sit cercius morte
Uve mon all de man that is done
Nescimus quando vel qua sorte
Na blind allane wait of ye mone
Ego pacior in pectore
This night i myght not sleip a wink
Licet eger in corpore.
zit wald my mouth be wet with drink
Nunc condo testamentum meum.
I leiff my saull for euermare
Per omnipotentem deum
In to my lordis wyne cellar
Semper ibi ad remanendum
Quhill domisday without disseuer
Bonum vinum ad bibendum
Vvith sueit cuthbert that luffit me neuir
Ipse est dulcis ad amandum
He wald oft ban me in his breith
Det michi modo ad potandum
And i forgif him laith et wraith.
Quia in cellario cum ceruisia.