William Dunbar: The Tua Mariit Wemen and the Wedo (pp.177-188 in the volume) with William Dunbar: Lament for the Makars (pp.189-191 in the volume) with William Dunbar: Kynd Kittok (p.192 in the volume) with William Dunbar: The Testament of Mr Andro Kennedy (pp.193-196 in the volume) (Page 1 of 20)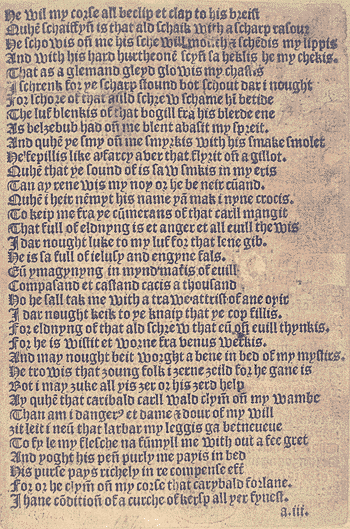 (p.177) He wil my corse all beclip et clap to his breist
Quhen schaiffyne is that ald schaik with a scharp rasour
He schowis one me his schewill mouth & schendis my lippis
And with his hard hurcheone scyne sa heklis he my chekis.
That as a glemand gleyd glowis my chaftis
I schrenk for ye scharp stound bot schout dar i nought
For schore of that auld schrew schame him betide
The luf blenkis of that bogill fra his blerde ene
As belzebub had one me blent abasit my spreit.
And quhen ye smy one me smyrkis with his smake smolet
He fepillis like a farcy aver that flyrit one a gillot.
Quhen that ye sound of his saw sinkis in my eris
Than ay renewis my noy or he be neir cumand.
Quhen i heir nemmyt his name yan mak i nyne crocis.
To keip me fra the cummerans of that carll mangit
That full of eldnyng is et anger et all euill thewis
I dar nought luke to my luf for that lene gib.
He is sa full of ielusy and engyne fals.
Euer ymagynyng in mynd materis of euill
Compasand et castand cacis a thousand
How he sall tak me with a trawe at trist of ane oyir
I dar nought keik to ye knaip that ye cop fillis.
For eldnyng of that ald schrew that euer one euill thynkis.
For he is w[a]istit et worne fra venus werkis.
And may nought beit worth a bene in bed of my mystirs.
He trowis that zoung folk i zerne zeild for he gane is
Bot i may zuke all yis zer or his zerd help
Ay quhen that caribald carll wald clyme one my wambe
Than am i dangerus et daine & dour of my will
zit leit i neuer that larbar my leggis ga betuene
To fyle my flesche na fummyll me without a fee gret
And yoght his pene purly me payis in bed
His purse pays richely in recompense efter
For or he clyme one my corse that carybald forlane.
I haue conditioun of a curche of kersp all yer fynest.