John Lydgate: The Complaint of the Black Knight with When by Divine Deliberation (Page 25 of 28)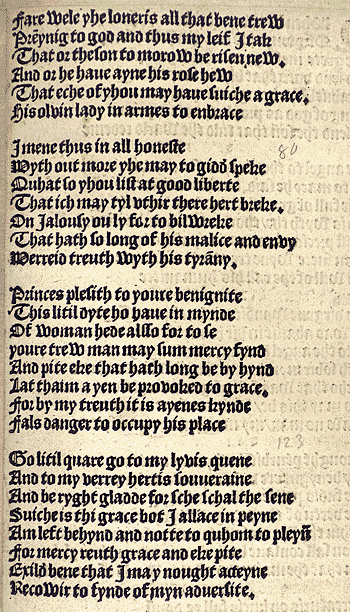 (p.1 Fare wele yhe loueris all that ben trew
Preying to god and thus my leif I tak
That or the son to morow be risen new.
And or he haue ayen his rose hew
That eche of yhou may haue suiche a grace.
His owin lady in armes to enbrace

I mene thus in all honeste
Wyth out more yhe may to gidder spekee
Quhat so yhou list at good liberte
That ich may tyl vthir there hert breke.
On Ialousy only for to be wreke
That hath so long of his malice and envy
Werreid treuth wyth his tyranny.

Princes plesith to youre benignite
This litil dyte to haue in mynde
Of womanhede alsso for to se
youre trew man may sum mercy fynd
And pite eke that hath long be byhynd
at thaim ayen be provoked to grace.
For by my treuth it is ayenes kynde
Fals danger to occupy his place

Go litil quare go to my lvyis quene
And to my verrey hertis souueraine
And be ryght gladde for sche schal the sene
Suiche is thi grace bot I allace in peyne
Am left behynd and notte to quhom to pleyne
For mercy reuth grace and eke pite
Exilde bene that I may nought atteyne
Recowir to fynde of myn aduersite.