William Dunbar: The Tua Mariit Wemen and the Wedo (pp.177-188 in the volume) with William Dunbar: Lament for the Makars (pp.189-191 in the volume) with William Dunbar: Kynd Kittok (p.192 in the volume) with William Dunbar: The Testament of Mr Andro Kennedy (pp.193-196 in the volume) (Page 13 of 20)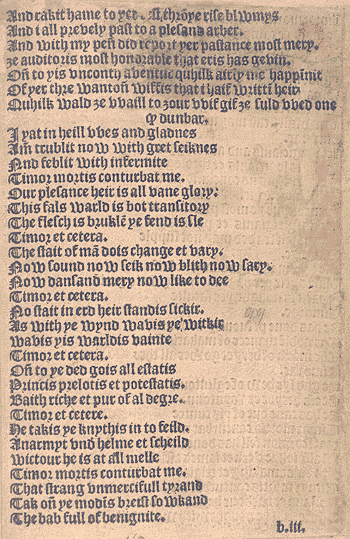 (p.189) And rakit hame to yer rest throgh ye rise blwmys
And i all prevely past to a plesand arber.
And with my pene did report yer pastance most mery.
ze auditoris most honorable that eris has gevin.
Oneto yis vncouth aventur quhilk airly me happinnit
Of yer thre wantoun wiffis that i haif writtin heir
Quhilk wald ze vvaill to zour vvif gif ze suld vved one
quod dunbar.
I yat in heill vves and gladnes
Am trublit now with gret seiknes
And feblit with infermite
Timor mortis conturbat me.
Our plesance heir is all vane glory.
This fals warld is bot transitory
The flesch is brukle the fend is sle
Timor et cetera.
The stait of man dois change et vary.
Now sound now seik now blith now sary.
Now dansand mery now like to dee
Timor et cetera.
No stait in erd heir standis sickir.
As with ye wynd wavis ye wickir
wavis yis warldis vainte
Timor et cetera.
Oneto ye ded gois all estatis
Princis prelotis et potestatis.
Baith riche et pur of al degre.
Timor et cetere.
He takis ye knychtis in to feild.
Anarmyt vnder helme et scheild
wictour he is at all melle
Timor mortis conturbat me.
That strang vnmercifull tyrand
Tak one ye moderis breist sowkand
The bab full of benignite.