The National Library of Scotland holds a wealth of material related to the history and development of Scottish education.
Official publications
The Scottish school examination papers are part of the National Library of Scotland's collection of Official Publications. As well as the full collection of school examinations papers that runs from 1888 to the current day, this collection has a wealth of additional material from the Scottish Education Department, now Education Scotland.
It also contains material from the UK and Scottish Parliaments and all of their respective government departments and agencies. Visit the Official Publications pages on the Library's main website for further details.
Education Department circulars
The Scottish Education Department circulars are an important resource, as little of the provision of education in Scotland was governed by Acts of Parliament.
You can find circulars issued between 1906 and 1942 using browse and search.
Moving image
Below is a small selection of films about education and schools on the Moving Image Archive catalogue. Visit the Moving Image Archive pages on the Library's main website for more information.
Books and publications
School magazines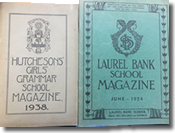 At the National Library we have a wide selection of school magazines from across Scotland. Check our main catalogue to see if we hold your school's magazine. If we don't, do you have copies that you would like to donate to the Library? Contact modern@nls.uk to find out how to donate your copy.
School inspection reports
The inspection of Scottish schools that was established by Henry Craik, back in 1886, is still ongoing today and is now conducted by Education Scotland. Check our main catalogue under the name of the Scottish school to find the inspection reports that we hold.