(2) next ››› Page [2]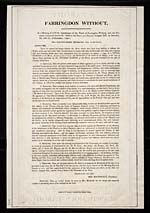 Download files
Individual page:
Thumbnail gallery: Grid view | List view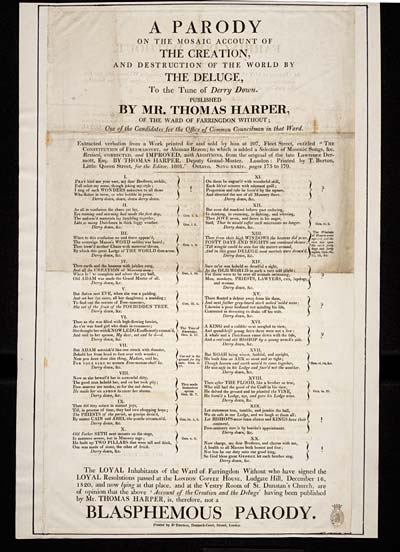 A PARODY
ON THE MOSAIC ACCOUNT OF
THE CREATION,
AND DESTRUCTION OF THE WORLD BY
THE DELUGE,
To the Tune of Derry Down.
PUBLISHED
BY MR. THOMAS HARPER,
OF THE WARD OF FARRINGDON WITHOUT ;
One of the Candidates for the Office of Common Councilman in that Ward.
Extracted verbatim from a Work printed for and sold by him at 207, Fleet Street, entitled " THE
CONSTITUTION of FREEMASONRY, or Ahiman Rezon ; to which is added a Selection of Masonic Songs, &c.
Revised, CORRECTED, and IMPROVED, with ADDITIONS, from the original of the late Lawrence Der-
mott, Esq. BY THOMAS HARPER, Deputy Grand-Master. London : Printed by T. Burton,
Little Queen Street, for the Editor. 1801." Octavo. SONG xxxiv. pages 175 to 179.
I.
PRAY lend me your ears, my dear Brethren, awhile,
Full sober my sense, though joking my style ;
I sing of such WONDERS unknown to all those
Who flutter in verse, or who hobble in prose.
Derry down, down, down derry down.
!
II.
As all in confusion the chaos yet lay,
Ere evening and morning had made the first day,
The unform'd materials lay tumbling together,
Like so many Dutchmen in thick foggy weather.
Derry down, &c.
Gen. i. 5.
Gen. i. 2.
III.
When to this confusion no end there appear'd,
The sovereign Mason's WORD sudden was heard ;
Then teem'd mother Chaos with maternal throes,
By which this great Lodge of THE WORLD then arose.
Derry down, &c.
Geo. i. 3.
IV.
Then earth and the heavens with jubilee rung,
And all the CREATION of Masonry sung :
When lo ! to complete and adorn the gay ball,
Old ADAM was made the Grand Master of all.
Derry down, &c.
Gen. i. 28.
V.
But Satan met EVE, when she was a gadding,
And set her (as since, all her daughters) a madding ;
To find out the secrets of Free-masonry,
She eat of the fruit of the FORBIDDEN TREE.
Derry down, &c.
VI.
Then as she was filled with high-flowing fancies,
As e'er was fond girl who deals in romances ;
She thought her with KNOWLEDGE sufficiently cramm'd,
And said to her spouse, My dear, eat and be d—d.
Derry down, &c.
The Tree of
Knowledge.
Gen. ii. 17.
VII.
But ADAM astonish'd like one struck with thunder,
Beheld her from head to foot over with wonder ;
Now you have done this thing, Madam, said he,
FOR YOUR SAKE no women Free-masons shall be.
Derry down, &c.
Cursed is the
ground fur thy
sake. Gen. iii.
17.
VIII.
Now as she bewail'd her in sorrowful ditty,
The good man beheld her, and on her took pity ;
Free-masons are tender, so for the sad dame,
He made her an APRON to cover her shame.
Derry down, &c.
They made
themselves
aprons.
Gen. iii. 7.
IX.
Then did they solace in mutual joys,
Till, in process of time, they had two chopping boys ;
The PRIESTS of the parish, as gossips devis'd,
By names CAIN and ABEL the youths circumcis'd.
Derry down, &c.
Gen. iv. 1, 2.
X.
Old Father SETH next mounts on the stage,
In manners severe, but in Masonry sage ;
He built up TWO PILLARS that were tall and thick,
One was made of stone, the other of brick.
Derry down, &c.
Gen. v. S.
XI.
On them he engrav'd with wonderful skill,
Each lib'ral science with adamant quill ;
Proportion and rule he form'd by the square,
And directed the use of all Masonry there.
Derry down, &c.
?
XII.
But soon did mankind behave past enduring,
In drinking, in swearing, in righting, and whoring,
Then JOVE arose, and fierce in his anger,
Said, That he would suffer such miscreants no longer.
Derry down, &c.
Geo. vi. 8.
XIII.
Then from their high WINDOWS the heavens did pour,
FORTY DAYS AND NIGHTS one continual shower ;
'Till nought could be seen but the waters around,
And in this great DELUGE most mortals were drown'd.
Derry down, &c.
The Windows
of Heaven were
opened, and the
the earth forty
days and forty
nights. Gen. vii.
11, 19, &c.
XIV.
Sure ne'er was beheld so dreadful a sight,
As the OLD WORLD in such a very odd plisht ;
For there were to be seen all animals swimming,
Men, monkeys, PRIESTS, LAWYERS, cats, lapdogs,
and women.
Derry down, &c.
?
XV.
There floated a debtor away from his duns,
And next father grey-beard stark naked 'midst nuns ;
Likewise a poor husband not minding his life,
Contented in drowning to shake off his wife.
Derry down, &c.
?
XVI.
A KING and a cobbler next mingled to view,
And spendthrift young heirs there were not a few :
A whale and a Dutchman came down with the tide,
And a rev'rend old BISHOP by a young wench's side.
Derry down, &c.
?
XVII.
But NOAH being wisest, faithful, and upright,
He built him an ARK so stout and so tight ;
Though heaven and earth seem'd to come together,
He was safe in his Lodge and fear d not the weather.
Derry down, &c.
Gen. vi. 14, &c.
XVIII.
Then after THE FLOOD, like a brother so true,
Who still had the good of the Craft in his view,
He delved the ground and he planted the VINE,
He form'd a Lodge, aye, and gave his Lodge wine.
Derry down, &c.
Gen. ix. 20.
XIX.
Let statesman toss, tumble, and jumble the ball,
We sit safe in our Lodge, and we laugh at them all :
Let BISHOPS wear lawn sleeves and KINGS have their
ointment,
Free-masonry sure is by heaven's appointment.
Derry down, &c.
!
XX.
Now charge, my dear Brethren, and chorus with me,
A health to all Masons both honest and free ;
Nor less be our duty unto our good king,
So God bless great GEORGE let each brother sing.
Derry down, &c.
!
The LOYAL Inhabitants of the Ward of Farringdon Without who have signed the
LOYAL Resolutions passed at the LONDON COFFEE HOUSE, Ludgate Hill, December 16,
1820, and now lying at that place, and at the Vestry Room of St. Dunstan's Church, are
of opinion that the above ' Account of the Creation and the Deluge having been published
by Mr. THOMAS HARPER, is, therefore, not a
BLASPHEMOUS PARODY.
Printed by E THOMAS, Denmark-Court, Straud, London.
Set display mode to:
Universal Viewer |
Mirador | Large image | Transcription
Images and transcriptions on this page, including medium image downloads, may be used under the Creative Commons Attribution 4.0 International Licence unless otherwise stated.
(1) Page [1]
Permanent URL
https://digital.nls.uk/85447164
More information
Parody on the Mosaic account of the creation, and destruction of the world by the deluge
Description
" ... to the tune of Derry down : Published by Mr Thomas Harper of the ward of Farringdon Without; one of the candidates for the office of common councilman in that ward. Extracted verbatim from a work printed for and sold by him at 207, Fleet Street, entitled "The Constitution of Freemasonry, or Ahiman Rezon; to which is added a selection of Masonic songs, &c. revised, corrected, and improved, with additions, from the original of the late Lawrence Dermott, Esq. By Thomas Harper, deputy Grand-master. London: Printed by T. Burton, Little Queen Street, for the editor. 1801." Octavo. Song xxxiv. pages 175-179." First line reads: Pray lend me your ears, my dear brethren, awhile. A satire on Freemasonry: with a satirical account of a meeting of the inhabitants of Farringdon Without, held December 16th, 1820, printed on the verso. In two columns.
Shelfmark
Crawford.EB.3016
Additional NLS resources:
More information
English ballads
Description
Collection of 2,300 broadside ballads, mostly printed in England in the 19th century. Topics range from courtship, crime, disasters and emigration to fashion, theatre, politics, laments sports and old age. Includes ballads on Scotland and Ireland. Part of the Crawford Collections on deposit from the Balcarres Heritage Trust.
Attribution and copyright:

Reproduced with permission from materials on loan to the National Library of Scotland from the Balcarres Heritage Trust.

More information