Hint to husbands and wives
Download files
Individual page: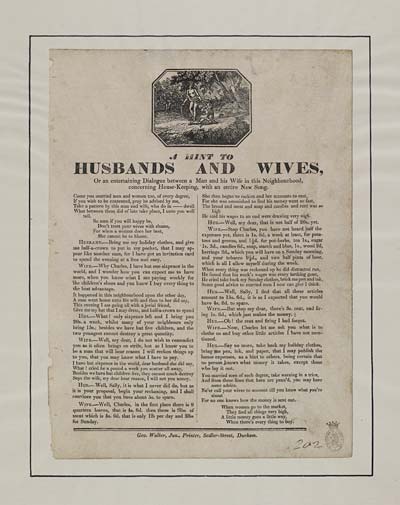 [NLS note: a graphic appears here - see image of page]
A HINT TO
HUSBANDS AND WIVES,
Or an entertaining Dialogue between a Man and his Wife in this Neighhourhood,
concerning House-Keeping, with an entire New Song.
Come you married men and women too, of every degree,
If you wish to be contented, pray be advised by me,
Take a pattern by this man and wife, who do in —— dwell
What between them did of late take place, I unto you well
tell.
So men if you will happy be,
Don't treat your wives with shame,
For when a woman does her best,
She cannot be to blame.
HUSBAND.—Bring me my holiday clothes, and give
me half-a-crown to put in my pocket, that I may ap-
pear like another man, for I have got an invitation card
to spend the evening at a free aud easy.
WIFE.—Why Charles, I have but one sixpence in the
world, and I wonder how you can expect me to have
more, when you know what I am paying weekly for
the children's shoes and you know I buy every thing to
the best advantage.
It happened in this neighbourhood upon the other day,
A man went home unto his wife and thus to her did say,
This evening I am going all with a jovial friend,
Give me my hat that I may dress, and half-a-crown to spend
HUS.—What ! only sixpence left and I bring you
20s. a week, whilst many of your neighbours only
bring 15s.; besides we have but five children, and the
two youngest cannot destroy a great quantity.
WIFE.—Well, my dear, I do not wish to contradict
you as it often brings on strife, but as I know you to
be a man that will hear reason I will reckon things up
to you, that you may know what I have to pay.
I have but sixpence in the world, dear husband she did say,
What ! cried he a pound a week you scatter all away,
Besides we have but children five, they cannot much destroy
Says the wife, my dear hear reason, I will not you annoy.
HUS.—Well, Sally, it is what I never did do, but as
it is your proposal, begin your reckoning, and I shall
convince you that you have about 5s. to spare.
WIFE.—Well, Charles, in the first place there is 8
quartern loaves, that is 4s. 8d. then there is 9lbs of
meat which is 4s. 6d. that is only 1lb per day and 3lbs
for Sunday.
She then began to reckon and her accounts to cast,
For she was astonished to find his money went so fast,
The bread and meat and soap and candles and rent was so
high
He said his wages to an end were drawing very nigh.
HUS.—Well, my dear, that is not half of 20s. yet.
WIFE.—Stop Charles, you have not heard half the
expenses yet, there is 1s. 6d. a week at least, for pota-
toes and greens, and 11/2d. for pot-herbs, tea 1s., sugar
1s. 3d., candles 6d., soap, starch and blue, 1s., wood 2d,
herrings 2d., which you will have on a Sunday morning,
and your tobacco 91/2d., and two half pints of beer,
which is all I allow myself during the week.
When every thing was reckoned up he did distracted run,
He found that his week's wages was every farthing gone,
He cried take back my Sunday clothes, brink me pen and ink,
Some good advice to married men I now can give I think.
HUS.—Well, Sally, I find that all these articles
amount to 15s. 6d., it is as I expected that you would
have 4s. 6d. to spare.
WIFE.—But stop my dear, there's 3s. rent, and fir-
ing 1s. 6d., which just makes the money.
Hus.—Oh ! the rent and firing I had forgot.
WIFE.—Now, Charles let me ask you what is to
clothe us and buy other little articles I have not men-
tioned.
HUS.—Say no more, take back my holiday clothes,
bring me pen, ink, and paper, that I may publish the
house expenses, as a hint to others, being certain that
no person knows what money it takes, except those
who lay it out.
You married men of each degree, take warning in a trice,
And from these lines that here are penn'd, you may have
some advice.
Ne'er call your wives to account till you know what you're
about
For no one knows how the money is sent out.
When women go to the market,
They find all things very high,
A little money goes a little way,
When there's every thing to buy.
Geo. Walker, Jun., Printer, Sadler-Street, Durham.
Set display mode to:
Universal Viewer |
Mirador | Large image | Transcription
Images and transcriptions on this page, including medium image downloads, may be used under the Creative Commons Attribution 4.0 International Licence unless otherwise stated.
(1) Hint to husbands and wives
Permanent URL
https://digital.nls.uk/74892571
Description
" ... or an entertaining dialogue between a man and his wife in this neighhourhood [sic], concerning house-keeping, with an entire new song". First line reads: Come you married men and women too, of every degree. In prose and verse. In two columns with an illustration above the title.
Shelfmark
Crawford.EB.1952
Additional NLS resources:
More information
Courtship & marriage
More information
English ballads
Description
Collection of 2,300 broadside ballads, mostly printed in England in the 19th century. Topics range from courtship, crime, disasters and emigration to fashion, theatre, politics, laments sports and old age. Includes ballads on Scotland and Ireland. Part of the Crawford Collections on deposit from the Balcarres Heritage Trust.
Attribution and copyright:

Reproduced with permission from materials on loan to the National Library of Scotland from the Balcarres Heritage Trust.

More information