Download files
Individual page: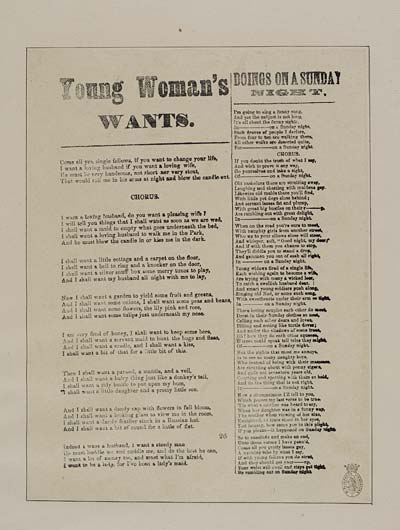 Young Woman's
WANTS.
Come all you single fellows, if you want to change your life,
I want a loving husband if you want a loving wife,
He must be very handsome, not short nor very stout,
That would roll me in his arms at night and blow the candle out.
CHORUS.
I want a loving husband, do you want a pleasing wife ?
I will tell yon things that I shall want as soon as we are wed,
I shall want a maid to empty what goes underneath the bed,
I shall want a loving husband to walk me in the Park,
And he must blow the candle in or kiss me in the dark.
I shall want a little cottage and a carpet on the floor,
I shall want a bell to ring and a knocker on the door,
I shall want a silver snuff box some merry tunes to play,
And I shall want my husband all night with me to lay,
Now I shall want a garden to yield some fruit and greens,
And I shall want some onions, I shall want some peas and beans,
And I shall want some flowers, the lily pink and rose,
And I shall want some tulips just underneath my nose.
I am very fond of honey, I shall want to keep some bees,
And I shall want a servant maid to hunt the bugs and fleas,
And I shall want a cradle, and I shall want a kiss,
I shall want a bit of that for a little bit of this.
Then I shall want a parasol, a mantle, and a veil,
And I shall want a hairy thing just like a donkey's tail,
I shall want a tidy bustle to put upon my bum,
I shall want a little daughter and a pretty little son.
And I shall want a dandy cap with flowers in full bloom,
And I shall want a looking glass to view me in the room,
I shall want a dandy feather stuck in a Russian hat
And I shall want a bit of round for a little of flat.
26
Indeed I want a husband, I want a steady man
He must huddle me and cuddle me, and do the best he can,
I want a lot of money too, and must what I'm afraid,
I want to be a lady, for I've been a lady's maid.
DOINGS ON A SUNDAY
NIGHT.
I'm going to sing a funny song,
And yet the subject is not long,
It's all about the funny sights,
In—————on a Sunday night,
Such roves of people I declare,
From four to ten are walking there,
All other walks are deserted quite,
For—————on a Sunday night
CHORUS.
If you doubt the truth of what I say,
And wish to prove it any way,
Go yourselves and take a sight,
Of—————on a Sunday night.
Old achelors there are strutting away,
Laughing and chatting with maidens gay,
Likewise old maids there you'll find,
With little pet dogs close behind ;
And servant lasses fat and plump,
With great big bustles on their r——— ,
Are rambling out with great delight,
In——————on a Sunday night.
When on the road you're sure to meet,
With naughty girls from another street,
Who up to your elbows close will steer,
And whisper, soft, " Good night, my dear
And if with them you chance to stop,
They'll diddle you to stand a drop,
And gammon you out of cash all right,
In ——— on a Sunday night.
Young widows fired of a single life,
Each wishing again to become a wife,
Are trying with many a wicked lear,
To catch a swellish husband dear.
And smart young soldiers push along,
Singing old Ned, or some such song.
With sweethearts under their arm so tight,
In ——— on a Sunday night.
There loving couples each other do meet,
Drest in their Sunday clothes so neat,
Calling each other dears and loves,
Billing and cooing like turtle doves ;
And under the shadows of some trees,
Oh ! how they do each other squeeze,
If trees could speak tell tales they might,
Of—————on a Sunday night.
But the sights that most me annoys,
Is to see so many naughty boys,
Who instead of being with their manners,
Are strutting about with penny cigars,
And girls not seventeen years old,
Courting and sporting with them so bold,
And do the thing that is not right,
In—————on a Sunday night.
Now a circumstance I'll tell to you,
Which proves my last verse to be true,
'Tis what a mother was heard to say,
When her daughter was in a funny way,
The mother when viewing of her size,
Exclaimed, as tears stood in her eyes,
You huzzy, how same you in this plight,
If you please—it happened on Sunday night
So to conclude and make an end,
Unto these verses I have penn'd,
Come all you pretty lasses gay,
A warning take by what I say,
If with young fellows you do strut,
And they should get your—up,
Your waist will swell and stays get tight,
By rambling out on Sunday night.
Set display mode to:
Universal Viewer |
Mirador | Large image | Transcription
Images and transcriptions on this page, including medium image downloads, may be used under the Creative Commons Attribution 4.0 International Licence unless otherwise stated.
(1) Young woman's wants
Permanent URL
https://digital.nls.uk/74892301
Description
Two ballads.Young woman's wants - first line reads: Come all you single fellows, if you want to change your life. Doings on a Sunday night - first line reads: I'm going to sing a funny song. In two columns.
Shelfmark
Crawford.EB.1860
Additional NLS resources:
More information
Courtship & marriage
More information
English ballads
Description
Collection of 2,300 broadside ballads, mostly printed in England in the 19th century. Topics range from courtship, crime, disasters and emigration to fashion, theatre, politics, laments sports and old age. Includes ballads on Scotland and Ireland. Part of the Crawford Collections on deposit from the Balcarres Heritage Trust.
Attribution and copyright:

Reproduced with permission from materials on loan to the National Library of Scotland from the Balcarres Heritage Trust.

More information